Everyone's favorite cookie...chocolate chip.  These is definitely a healthier alternative that doesn't disappoint on taste.  These cookies are chewy and full of flavor.  I like the palm sugar in this recipe as it gives the cookies a bit of a caramel flavor.  Enjoy!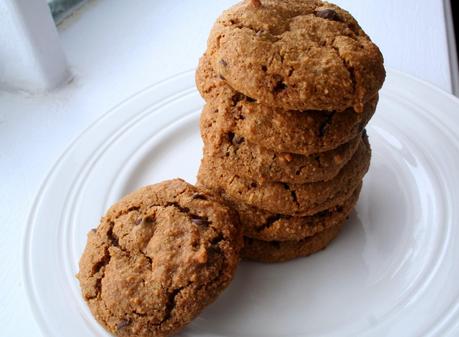 Ingredients
1 1/4 cup sifted ground almonds or almond flour
1/4 cup arrowroot or tapioca starch
3 tablespoons sifted coconut flour
1/4 teaspoon sea salt
1/2 teaspoon baking soda
3 tablespoons coconut oil melted and cooled
2 eggs at room temperature and beaten
1 teaspoon vanilla
1/3 cup dairy/gluten free chocolate chips (Enjoy Life or President's Choice)
Directions
Preheat oven to 325 F and prepare cookie trays.
In a mixing bowl combine almond flour, tapioca starch, coconut flour, coconut sugar, sea salt and baking soda.
In a medium size bowl combine eggs, coconut oil and vanilla.
Add egg mixture to dry ingredients and stir to fully combine.  Stir in chocolate chips.
Place cookie batter in fridge for 30 minutes or freezer for 10-15 minutes.
Roll dough into balls and place on cookie sheet, they will flatten as they bake.
Place in oven for 10-13 minutes or until lightly brown on the top.
Place on a wire rack to cool.