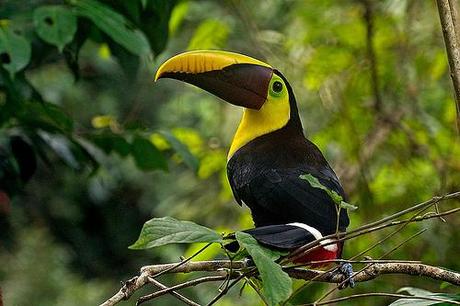 The Osa Peninsula in Costa Rica is a biodiversity hotspot containing some of the world's most unique species. Unfortunately, the region now faces major pressure from industry as the government proposes construction of a new airport on the peninsula.
Last October, President Laura Chinchilla and the Minister of Public Works and Transport, Francisco Jiminez, announced plans to build an international airport just a few miles from the town of Sierpe.
The proposed site for the development also backs on to the Terraba-Sierpe National Wetlands, an area with huge ecological importance in the region. The wetlands play an important environmental role, aiding in storm protection, natural drought mitigation and are a natural habitat for endemic species. The wetlands are also recognised internationally as Wetlands of International Importance due to their economic value, with ecosystem services generating approximately $2 billion per year.
The proposal comes at a time when unemployment and poverty are high, aiming to create jobs and provide income for struggling communities. Opponents of the proposal however, are sceptical that an international airport will remedy the situation with claims that similar strategies have been implemented unsuccessfully in other regions of the country.
President Laura Chinchilla stated that the project was "of national importance" for the Costa Rican people despite public concern about damage to the environment and network of ecotourism lodges.
Costing the government $35 million, construction is planned to begin in 2012 and continue through to 2016. The impact of the project will have devastating effects in the Terraba-Sierpe National Wetland and surrounds, placing increased pressure on a number of already endangered species in the region.
Show your support for the Osa Peninsula and help to stop the construction of the proposed international airport here.
Holly Alsop