Find this doll and my other work at https://www.etsy.com/listing/736086948/gothic-doll-art-doll-girl-in-black-and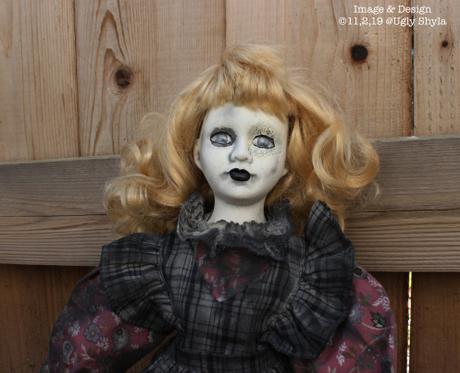 Materials
porcelain, fabric, wig, paint
Gothic Doll , Art Doll Girl in Black And White Plaid By Ugly Shyla , Creepy cute , Unique Doll , Macabre Doll , Gothic Gifts , Spooky Doll
Title: Girl in Black And White Plaid By Ugly Shyla
Notes:Doll has been hand painted with high quality paints and customized to make her a one of a kind work of art.She is signed on the back of her neck.
IF YOU ARE FROM OUTSIDE OF THE USA CONVO ME FOR A SHIPPING QUOTE BEFORE BUYING.
Measurements: The doll is 18 inches Just as a size reference a united states dollar bill is about 2 inches wide and 6 inches long.
Medium: porcelain and paint.
Clothing: vintage dip dyed doll clothes.
I offer payment plans for items or orders over 100.00.If you would like to do a layaway on this doll convo me before purchase for info.
SOCIAL MEDIA
Make sure to follow me on social media
I'm on Facebook under Ugly Shyla
And on instagram @UglyShyla
ABOUT ME & MY WORK:
I am a published and exhibited doll artist.
Ugly Art Dolls have been displayed in galleries, art shows and in the St. Elizabeth's Doll Museum; my dolls have also have been featured in print, in magazines such as Bizarre, Lollipop, SPIN,Swag Huffington Post,Etsy's Keep It Weird blog and Haute Macabre and Justice Howards book Voodoo.
My art dolls have also been photographed in John Santerineross' photography book, "Dream." Ugly Art Dolls have also been used as photo props by Kattaryna Breaux, Caleb Storms, The Joker/Razorblade Grin, and Saryn Angel.They have also been seen on ABC,MSNBC,CBS and other major news stations when I was interviewed about my famous painting Squirrel Winkelhimer Smith.
My main inspiration for my art dolls and other art is drawn from imagery captured within my dreams,and my artwork is also influenced by religious,spiritual and occult imagery.
My dolls are what is known as fine art dolls; they are not children's toys. Some of the subject matter dealt with in my work is very serious, and the dolls are also too delicate to be handled by small children.
As well as a professional doll artist, I'm a established alternative model, modeling extensively for photographers such as Steve Diet Goedde, Lithium Picnic and John Santerineross.
I'm also squirrel momma to the famous painting squirrel Winkelhimer Smith https://www.etsy.com/shop/paintingsquirrel.
All art posted on my Etsy Shop http://www.etsy.com/shop/uglyartdotnet are copyright protected by
Ugly Shyla/Uglyart.net. Reproduction for commercial purposes is prohibited without prior written consent from me/Ugly Shyla.All images and art are sole property of Ugly Shyla,and in such may not be downloaded,reproduced,copied,defaced,edited without written permission from Me/Ugly Shyla. Violators can and will be prosecuted in a court of law.
Please read the descriptions carefully.There are no returns or refunds unless the item is grossly misrepresented.
All sales final.