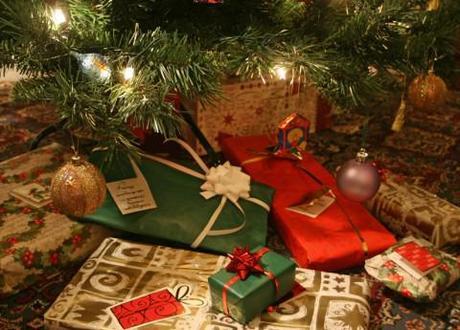 An Amazon Kindle Fire under the tree this year? Lucky news junkie! Photo credit: Alan Cleaver, http://www.flickr.com/photos/alancleaver/4085081401/
Got a news junkie on your holiday list this year? The kind of person who knows his Liberal Democrats from his liberal agendas, her Rick Perrys from her other desperate GOP candidates? We, the unabashed news addicts of The Periscope Post, can help.
For someone you really like
With news organizations scrambling to launch multimedia, super slick iPad apps, staying informed has never been easier (or trendier). But now, Amazon getting in on the action with its new Kindle Fire, which, at a mere $199, is already a respectable counter to Apple's tablet hegemony. So, what can the Kindle Fire offer? The Wall Street Journal, The Huffington Post, Yahoo, the US political webmag Politico, and the Associated Press all have apps available through the Amazon App Store and most are free; whether or not you'll like them, we can't say, but the Kindle Fire has won some pretty favourable reviews so far.
For The Telegraph reader in your life
Strike a sartorial blow against that bastion of the lefty liberal media, The Guardian – after all, look what they said about the riots.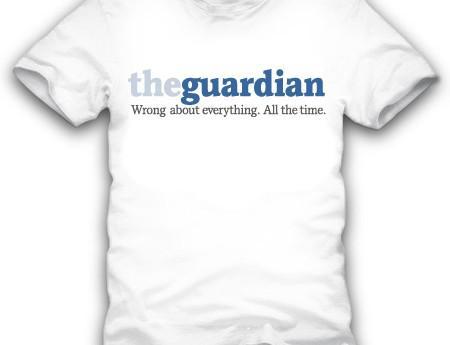 The Guardian t-shirt. Photo credit: Daily Mash's Shot Dead in the Head web shop
For The Guardian reader in your life
Undoubtedly one of the big news stories of  2011 was the publication of WikiLeaks' US Embassy diplomatic cables in The Guardian, The New York Times and elsewhere. While WikiLeaks founder Julian Assange subsequently fell out pretty spectacularly with The Guardian, it doesn't mean readers of the left-leaning newspaper are no longer interested in the flamboyant whistleblower (who is presently fighting extradition to Sweden over accusations he raped a woman and sexually molested another in Stockholm in August last year). Treat Guardianistas to Assange's unauthorised autobiography.
For the citizen journalist
Know someone whose first thought during the London riots was "How fast can I get to Clapham?" And they weren't being paid to do it? This year, help them get going on their own citizen journalist project with their very own domain name from GoDaddy.com, a free account from blog platform WordPress, and an Eye-fi SD memory card with built-in wi-fi that will allow them to upload high-quality images and video from anywhere. If they've already got a blog, why not go old school and turn their digital words into physical words? Blurb will work with most blogging platforms to turn blogs into real books – so your citizen journalist can say they've actually been published. And if your citizen journo is of a pithier bent, you can also have their 200 best tweets turned into a real, hardcover book with TweetBookz.

For the real hack
We like to call this "The Glenn Mulcaire Gift Hamper", after the former footballer turned private investigator whose voicemail hacking for the dearly departed News of the World kicked off the massive media soul searching of the phone hacking scandal. So, what do you need – aside from a complete lack of morality – to be the consummate hack? To start with, anything that the Online Spy Shop sells; a trench coat with big lapels for those dark alley meetings; a subscription to Private Eye, just for fun; and a commemorative copy of the final News of the World ever.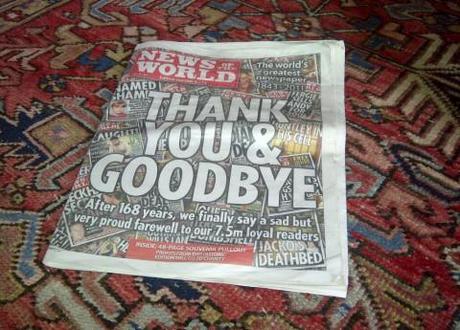 The final edition of The News of the World, which was shuttered after new hacking allegations came to light. Photo credit: Archie Thomas
For the argumentative type
For the serious journalist and anyone who wants to act like one, The Frontline Club is it: Networking events, debates, serious discussions with serious people, a bar – this place has it all. Full membership is open to "journalists, other media and people committed to press freedom" who have been proposed and seconded by an existing member; an associate membership, however, is a bit easier to achieve and gets you access to networking events and discounts at the Frontline restaurant. And if "membership" sounds a bit too much like commitment, debate forum Intelligence Squared may even be a better option: Featuring debates on religion, politics, Facebook, nuclear power, Christopher Hitchens, Intelligence Squared events are where smart people go on dates.
Current affairs debating forum Intelligence Squared is where smart people go on dates.
For the film-loving wannabe hack
If there's a better film about journalism and public relations than British director Alexander Mackendrick's 1959 classic The Sweet Smell of Success then the Periscope team is yet to see it. It stars Burt Lancaster as a powerful gossip columnist and Tony Curtis as an ambitious press agent.

More Christmas »