Curious to know more about Gorgias?
Great!
In this post, I've featured Gorgias Review that includes detailed insights of its features & benefits, pricing, functionality, pros & cons and much more.
So let's get started here...
Gorgias Review 2020: Should You Go For It? (MUST READ)
In-Depth Gorgias Review
Gorgias is a customer service platform where you can manage your customer support in one place. Customers can contact you on multiple channels. You can also collect customer service messages from all channels (email, live chat, phone, etc.) to help you optimize your support tickets.
Gorgias's simple mission is to help you deliver independent e-commerce products with outstanding customer service. It allows your agents to focus on being productive that advises customers rather than responding to repeated emails throughout the day.

Gorgias strives to free up its employees' time to focus on cash-generating activities by automatically answering basic customer questions. Not only that, Gorgias also monitors the impact of customer service at the sales level. With this information, you can ensure that your customer engagement becomes part of a profitable sales strategy.
Features & Benefits of Gorgias:
Connect All Your Support Channel
Gorgias helps you manage all your customer support channels like email, Facebook Messenger, Live Chat, Instagram, phone chat, etc all in one place.

Set Up Smart Autoresponder
Gorgias has set an autoresponder for repetitively asked queries of customers. They will get satisfactory responses from these bots. If not, the queries forward to your employees for a better solution. This will help boost your economy and your employees' productivity as well.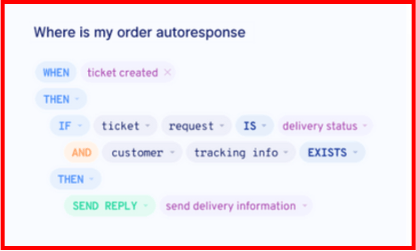 All Help Desk Features
Conversation History and Order Data
Gorgias keeps all conversations with the same client in one place, regardless of channel.
This way, you can easily browse and track your conversation history.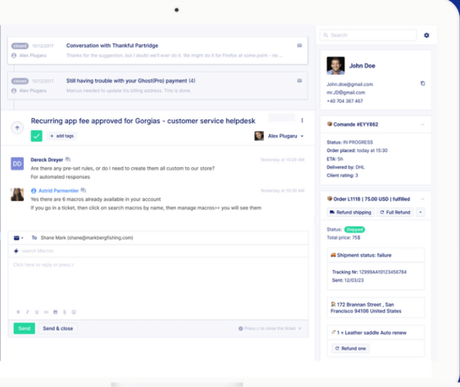 Gorgias downloads relevant information from Shopify or e-commerce to provide you with detailed customer information in a clear panel: order information, tracking number, and more.
Add customer accounts and orders to other apps from your helpdesk: refund, cancel orders, change addresses.
Drive Revenue with Chat Campaigns
Don't wait for the website's visitors to contact you. You can trigger live chat conversations with them and give them advice on the product based on the cart content. You can also guide them through checkout to grow your revenues.
Data-Rich Macros
You can create message templates that include customer information such as order details and tracking numbers. You don't have to do much copy and pasting because within a click you can send more personalized messages.
Customer Satisfaction
It will help you create various customer satisfaction surveys which you can use instantly after answering your customers and they will give their opinion at that time.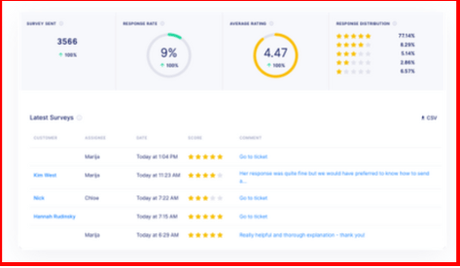 Monitor Your Team's Performance
To understand customer requests, it gives you major customer service KPIs. It helps you to measure the response time, resolution time and also lets you track satisfaction scores. With this tool, you can monitor or measure your team's performance. After that, you can also send your statistics to your preferable BI tool.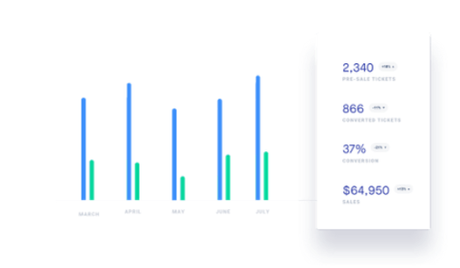 Earn Money Using Revenue Statistics
With the help of revenue statistics, you can earn money. It helps you measure the impact of chat on sales and also lets you convert support into real money. If the customer conversion and the revenue generated by pre-sale tickets are good then you can also give rewards to your agents.
Gorgias Chrome Extension
Gorgias is an awesome free Chrome extension that lets you create custom templates that can be used in any email application, with the ability to customize predefined outgoing messages on behalf of the recipient.
For example, if you want to answer a customer service question, you can create a template that says "Hello [sender's name], thank you for contacting our technical support" and adds it to the message with a simple shortcut.
Other variables include the sender's name, email address, and content. It would be nice to see options such as the current day, date and time available on the menu. I hope they are included in the update.
The Chrome Extension of Gorgias can
Although Gorgias is already a pure tool for personal use, its paid version for groups is meaningful. By working with a team, you can automatically share these templates with colleagues for uniform messages.
How to use Gorgias?
Gorgias is definitely a powerful tool for automatic text distribution for Gmail and LinkedIn. The choice of options is good and allows you to create HTML shortcut templates from keywords with a simple graphical interface.
When you spend most of your daily projects responding to emails, you can effectively use your answers to pre-use responses or instant text messages. If you use Gmail, Facebook, or LinkedIn to work, there's a free Chrome extension called Gorgias to make your work easier.
This free add-on provides Gmail with some basic templates, such as greetings, termination/subscription, with quick insertion options for yours. Use a few shortcuts via email to fill in emails from people who work as professionals. You can look at the email templates you can create with Gorgias to simplify the flow of your project. Once the extension is installed, just enter the link and press Tab. This automatically inserts the defined text into the template.
Aim Of Gorgias
In their mission statement, they clearly mentioned that they want to help those independent e-commerce brands so they can provide better customer service to their consumers. It helps them focus the support team on becoming sales associates who can advise their customers and provide better options instead of answering repetitive emails all day long.
It helps you by freeing the time which you waste on replying to those emails and lets you focus on those activities which can generate more money. It replies basic customer questions automatically instead of you or your team. These things impact your sales rates and that is why they also track the impact of your customer service on your revenue.
All these things can help you increase your sales and your customer's satisfaction level will surely increase as well. They also claim that it can increase your productivity by 40% which is really awesome.
Gorgias Integrations
It is a very versatile and adaptable platform because it works with over 20 plugins and it has the highest reviews on Shopify and Magento. This platform can help solve problems of other platforms and the list of plugins it is integrated with:

and they are adding more and more applications on a regular basis. They are also providing you a mobile application so that you can provide customer service instantly to your customers. It also supports multiple brands.
Pricing Plans Offered By Gorgias
They offer two different sets of plans one is having a yearly subscription and another is having a monthly subscription. The only difference is that once you take the yearly subscription then you can't cancel it before the timing period expires and monthly, you can cancel the subscription in a month.
In both, you have to pay monthly. The best part about it is that they also have a free version and also you can get a demo any time you want. In the yearly subscription, you will also get a discount of two months meaning you don't have to pay for two months. These are the plans of Gorgias:
Basic
Pro
Advanced
Enterprise

The best part about it is that you have to pay for only those tickets that you respond to via Gorgias which means you don't have to pay for every ticket you receive. In every plan, you will get the same features mentioned above.
Gorgias Customer Reviews & Testimonials
Basically, this is a website for customer support services so as expected the customer support provided by Gorgias to their users is also extraordinary. It has the highest rating of 4.8 on the Shopify app store where customers have given many positive reviews about it. It is really easy to use and also provides video support which helps teams to get started. Here is the customer testimonials from TrustPilot.

They offer 24/7 customer support to their users via live chat and it also has extensive support documentation on their website. You can also get trained personally by them and you can also talk to them through online live chat and webinars.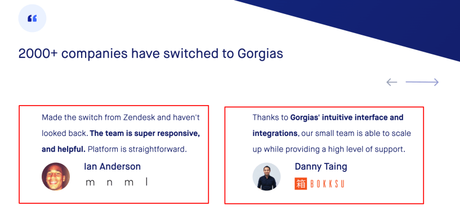 Who Should Consider Using Gorgias?
People who are using e-commerce websites to sell their products and want to maintain good relationships with their customers should consider using Gorgias. It is really hard to reply to consumer's queries on a daily basis and every query is having the same type of questions. It can waste a lot of time of yours and your support team.
Gorgias helps you by saving your time because it replies to those same queries automatically on a daily basis and forwards those queries to the support team which requires human interaction. In this way, you can focus your time on generating more money related ideas instead of replying to those same emails. Your support team can also help quickly to those customers who require immediate attention and in this way, your website's customer satisfaction score will rise up.
Pros and Cons Of Gorgias
Pros
Cons
Gorgias Review Conclusion:
It helps you to optimize your customer service which is amazing. With the help of Gorgias, you can increase your sales. The automated specialist is the best feature of Gorgias because it automatically responds to your customer's most frequently asked questions.
Small businesses can also afford it and make their customer support service better. As we all know that if a customer is satisfied then he will certainly buy more from you and recommend you to others. You will only find positive reviews of Gorgias on every website because it is only helpful to their users. Now the choice is yours, test it yourself and then purchase any plan.
Best for all types of business.
Increase in productivity by 40%
An effective auto-expanding tool
Effective email templates
It is a fast, efficient and powerful customer support tool
They offer a free trial so that you can get an overview of the features of Gorgias.
Customer satisfaction can be measured through surveys provided by Gorgias.
The automation service is not with every plan.
Quick Links: