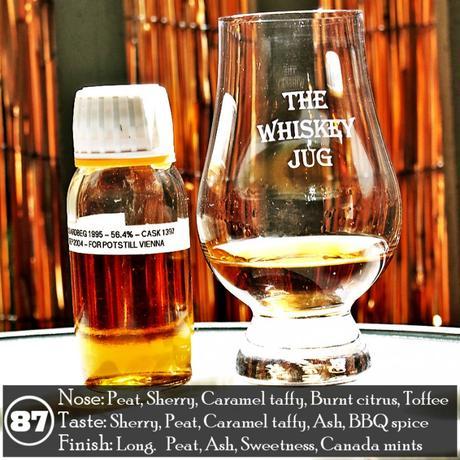 Until I received this sample from a friend I had never heard of the Gordon & Macphail Spirit of Scotland 1995 Ardbeg. It's a release I have been wholly unfamiliar with and looking around online there's really not a whole lot about this particular bottle. However after doing some internet research / snooping I was able to uncover some info about this whisky.
As the date denotes this is a 1995 vintage of Ardbeg and as the label on the sample denotes it was bottled for Potstill Vienna which is "Austria's Finest Whisky Store". It was, obviously, created as an Austrian export and interestingly of all, it was aged in a sherry cask. So in essence this an 8-9 year old single cask of Ardbeg that was aged in a sherry cask and bottled at cask strength. Sounds tasty.
Gordon & Macphail Spirit of Scotland 1995 Ardbeg Review
Distiller: Ardbeg
Age: 8-9 years
ABV: 56.4%
Price: $160+
Non-Chill Filtered
Natural Color
Cask Strength
Cask: 1397
Distilled: 1995
Bottled: 9-10-2004
EYE
Ruddy carmel
NOSE
Peat and sherry combine with caramel taffy, burnt citrus, toffee, Kansas style BBQ and wood varnish. There is a light nutty character that struggles to make itself known, but shows up every now and then.
PALATE
The sherry sweetness hits first followed by peat, caramel taffy, ash, savory bbq spices and smoked meat. There is a Bazooka Joe quality that shows up towards the end right before the finish along with a touch of raw grain.
FINISH
Long peaty and ashy with notes of sugary sweetness and Canada Mints.
BALANCE, BODY & FEEL
Decent balance with a medium body. It runs a bit hot but manageable; a splash of water doesn't seem to do much to tame it.
OVERALL
Gordon & Macphail Spirit of Scotland 1995 Ardbeg is an interesting whisky. I've always wanted to know what a single barrel of sherry cask Ardbeg tasted like and now that I have I'm wondering how it would taste after a few more rotations around the sun. This one is 8-9 years old and it doesn't quite taste "done". Like it was paused 3/4 of the way through it's maturation and if it had gotten another 2-3 years I'm sure it would have been spectacular.
SCORE: 87/100