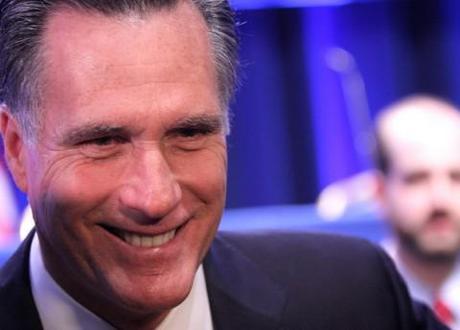 Mitt Romney. Photo credit: Gage Skidmore, http://flic.kr/p/9itVJF
Republican presidential candidate Mitt Romney has won the Arizona and Michigan primaries, beating off surging social conservative Rick Santorum. But has Romney really done enough to consolidate his frontrunner status?
As Romney's home state, Michigan was widely considered a "must-win" primary for the former Massachusetts governor. And win Romney did – but only by a small margin, taking 41 percent of the vote to Santorum's 38 percent. Arizona provided a more comprehensive victory, as many commentators had expected.
All eyes now turn to Super Tuesday, when ten states will vote. And the outlook for Romney is not entirely rosy: Santorum is currently polling ahead of Romney in two of the key states, Ohio and Tennessee; and Newt Gingrich may be plotting a comeback that has the potential to throw the GOP race deeper into chaos.
The importance of delegates. As Chris Cilllizza pointed out on a Washington Post blog, Arizona is a "winner-takes-all" primary, which means Romney takes all 29 of the state's delegates; Michigan, by contrast, will see delegates shared out according to congressional district and overall results. Romney is currently leading his GOP rivals on delegate numbers – but all that could change after Super Tuesday. If no candidate wins the 1,144 delegates needed to claim the nomination outright, the presidential candidate will be decided at the Republican National Convention in August. "Could a brokered convention — where no single candidate has enough delegates to win the nomination outright and a fight on the floor of the convention occurs — really happen?" asked Bryan Monroe at CNN. Monroe suggested that Republican leaders would be keen to avoid "bad blood" at the Convention, and in this scenario would work out a behind-the-scenes deal with the candidates.
Rick Santorum gaffe round-up. Santorum used "some odd and religiously toned rhetoric to describe President Obama and suggest the country is degenerating into moral ruin. He said he 'almost threw up' in reaction to John F. Kennedy's 1960 speech on religion, and his robocalls targeting Michigan Democrats, urging them to vote for him in the Republican primary, also sparked controversy," reported Amanda Paulson at The Christian Science Monitor.
Santorum and Romney weakened. The battle for Michigan and Arizona has weakened both Romney and Santorum, wrote John Dickerson at Slate. Santorum managed to raise doubts among Republicans over his ability to take on Obama, after a series of provocative statements, while Romney "underscored his fundamental vulnerability: He struggled to win party stalwarts in a head-to head fight despite superior finances, a vast organizational advantage, and local roots", said Dickerson. There's no doubt that Romney's latest victories have put him ahead in the race, but given how divided the Republican Party is, an overall win is far from guaranteed. And, said Dickerson, Romney may yet face a fresh challenge from former House Speaker Newt Gingrich: "If Gingrich rises again and keeps splitting the vote with Santorum, it could be a long summer with Santorum winning the Midwest, Gingrich the South, and Romney the states of any true size."
"We didn't win by a lot, but we won by enough and that's all that counts," said Mitt Romney after his Michigan primary win, reported CNN.
Don't forget Gingrich. Danny Yadron reported on a Wall Street Journal blog that the former House Speaker, who won South Carolina back in January before losing momentum, is planning a comeback in the Southern states: "Facing long odds in the Michigan polls and nationwide, Mr. Gingrich spent the past week campaigning in Washington state, Idaho, California, Tennessee and in Georgia, where he had represented a congressional district. It's part of a bet by Mr. Gingrich's campaign that if he wins here and picks up enough delegates elsewhere, he can hold on as the primary campaign trail moves South." According to Yadron, Gingrich is also hoping for a Santorum stutter after the Michigan result.
Santorum blew it. "The fact that [Santorum] came within four percentage points of a candidate who made a big display of his hometown roots — and still had to heavily outspend his rival — just underscores how soft Romney's support was, and what Santorum could have accomplished if he had any semblance of a campaign infrastructure," argued Maggie Haberman at Politico. According to Haberman, Romney still has to overcome the fact that much of the GOP base is unenthusiastic about his candidacy but "fortunately for him, his rivals keep committing disqualifying acts".
Mitt Romney gaffe round-up. According to The Wall Street Journal, super-rich Romney's missteps have been largely wealth-related, including his remark that his wife "drives a couple of Cadillacs" and that "I have some great friends who are NASCAR team owners."
Romney versus Obama. "This 'victory' isn't much of a win. A great primary-season triumph is one that carries through to November. When Obama won Iowa in 2008, or Wisconsin, it felt like a presaging of November, like the candidate was riding a tailwind. This feels nothing like that," wrote Michael Tomasky at The Daily Beast. Tomasky said that while Romney may have beaten Santorum in the Michigan primary, he wouldn't be able to beat Obama in the state in a general election – and this is one of the most serious problems with the former Massachusetts governor's campaign.