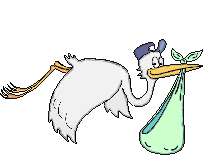 How the GOP, apparently,
think babies arrive...
This is in the larger context of state level anti-abortion legislation, as well as state level and federal level cuts to the funding of health care for women, notably Planned Parenthood but also cutting funding to other clinics, and an overall domestic spending that affects poor women and children.  Conservatives consistently act to benefit special interests, primarily wealthy people and corporations while intentionally harming those most vulnerable.  Conservatives are not only appallingly incompetent at any form of economic policy, they do real damage in their failed attempts at governance that harm people individually and weaken the nation as a whole. 
In the previous post, I had suggested that male legislators on the GOP side of the aisle should be required to undergo labor pain simulations before they voted on any legislation that adversely had an impact on women -- especially on choice and reproduction.  While my co-blogger Penigma seems to find this a demand that GOP male legislators be tortured, I would point out that fairly large numbers of men, acting in solidarity with their wives or partners during pregnancy, undergo this experience voluntarily as an exercise in empathy.  That was precisely the purpose for which I presented this demand, as the overwhelmingly male body of legislators at both the state and federal levels, particularly in leadership and policy determining positions, appear to be in dire need of better empathy in their characters.
In that context and for that purpose, in addition to the experience of simulated labor, I would argue as well that the experiences in the video below could only improve on the current deficiencies on the right.
I don't think I'm being too harsh here in my criticism of the failures of compassion and empathy among the right wingers.  Here are a few examples of what I mean.
From the Daily Tribune and the AP (bold face and enlarged type are my emphasis added - DG):
Republican-controlled House passes sweeping cuts to domestic programs




WASHINGTON (AP) -- Jolted to action by deficit-conscious newcomers, the Republican-controlled House passed sweeping legislation early Saturday to cut $61 billion from hundreds of federal programs and shelter coal companies, oil refiners and farmers from new government regulations.


The $1.2 trillion bill covers every Cabinet agency through the Sept. 30 end of the budget year, imposing severe spending cuts aimed at domestic programs and foreign aid, including aid for schools, nutrition programs, environmental protection, and heating and housing subsidies for the poor.  
T

he measure faces a rough ride in the Democratic-controlled Senate, even before the GOP amendments adopted Thursday, Friday and early Saturday morning pushed the bill further and further to the right on health care and environmental policy. Senate Democrats promise higher spending levels and are poised to defend Obama's health care bill, environmental policies and new efforts to overhaul regulation of the financial services industry.

Changes rammed through the House on Friday and Saturday would shield greenhouse-gas polluters and privately owned colleges from federal regulators, block a plan to clean up the Chesapeake Bay, and bar the government from shutting down mountaintop mines it believes will cause too much water pollution, siding with business groups over environmental activists and federal regulators in almost every instance.




"This is like a Cliff Notes summary of every issue that the Republicans, the Chamber of Commerce, and the (free market) CATO Institute have pushed for 30 years," said Rep. Edward Markey, D-Mass. "And they're just going to run them through here."




Across four long days of freewheeling debate, Republicans left their conservative stamp in other ways.

They took several swipes at the year-old health care law, including voting for a ban on federal funding for its implementation. At the behest of anti-abortion lawmakers, they called for an end to federal funding for Planned Parenthood.




Republicans awarded the Pentagon an increase of less than 2 percent increase, but domestic agencies would bear slashing cuts of about 12 percent. Such reductions would feel almost twice as deep since they would be spread over the final seven months of the budget year.




Republicans recoiled, however, from some of the most politically difficult cuts to grants to local police and fire departments, special education and economic development. Amtrak supporters easily repelled an attempt to slash its budget.




"The bill will destroy 800,000 American jobs," said House Democratic Leader Nancy Pelosi, D-Calif., citing a study by the left-leaning Economic Policy Institute. "It will increase class sizes and take teachers out of the classrooms ... It will jeopardize homeless veterans, make our communities less secure, threaten America's innovation."


The Environmental Protection Agency was singled out by Republicans eager to defend business and industry from numerous agency regulations they say threaten job-creation and the economy. The EPA's budget was slashed by almost one-third, and then its regulatory powers were handcuffed in a series of floor votes.



Proposed federal regulations would be blocked on emission of greenhouse gases, blamed for climate change, and a proposed regulation on mercury emissions from cement kilns would also be stopped. Additionally, the bill also calls for a halt to proposed regulations affecting Internet service providers and privately-owned colleges, victories for the industries that would be affected.




The 359-page bill was shaped beginning to end by the first-term Republicans, many of them elected with tea party backing.





Highlights of proposals in House GOP spending bill
WASHINGTON (AP) -- The House Republicans' $1.2 trillion bill for financing federal programs through Sept. 30, when the current budget year ends, includes many spending cuts and prohibitions that make a showdown with President Barack Obama and Senate Democrats inevitable.

Among the biggest flashpoints are provisions that would:




--Cut about $60 billion in spending from last year's levels in many domestic programs, including education, environmental protection and community services.




--Block money to implement Obama's health care overhaul law enacted last year.




--Bar federal funds for Planned Parenthood, which provides abortion and family planning services with its hundreds of clinics across the U.S. The organization says 90 percent of the $363 million a year it receives in government aid comes from Washington or the federal-state Medicaid program.




--Eliminate federal family planning and teen pregnancy prevention grants.




--Block federal aid to overseas groups that provide abortions or counsel women about them.
Here is another example.  I would point out that the overwhelmingly white male GOP appears to assert on a regular basis that women exaggerate and lie; also that they should just 'keep their legs together', and that they cannot be entrusted with making medical decisions about their own bodies and health with accurate medical information -- so they legalize state-mandated lying and give cover to doctors to lie to their patients under the justification of conscience.  Examples of that would be requiring doctors to give medically inaccurate information to women, such as abortions lead to or cause breast cancer (they do not) or exempting from malpractice claims for providing false information to a patient or withholding information to a patient, if a doctor opposes abortion and believes that patient might consider having one, up to and including deceiving a patient about being pregnant.  No such provision for being dishonest with a patient, for matters of conscience of the doctor, exists for any interaction between a doctor and male patients; no state mandated requirement of false information, intruding on the relationship between doctor and patient, exists for any interaction with male patients either.  These are exclusively male driven, and imposed exclusively on women.
I call that a war on women.  I call it unfair.  I call it discriminatory.  I call it harmful and damaging.  I call it in need of serious correction and change.  It is worth noting that the Universal Declaration of Human Rights does not recognize a right to weapons of deadly force (i.e. guns) but does recognize a right to autonomy and self determination (i.e. reproductive choice) and a right to medical care; the GOP, mired in the last century or earlier (say, the stone age?) believes the reverse, that there in an inherent right to the means to kill other people or yourself, but no right to health care.  How significant and how sad they get it precisely reversed -- and how predictable!
From the
RHeality Check.org
:
House Passes 'Disgustingly Cruel' 20-Week Abortion Ban

The Republican-dominated U.S. House voted 242 to 184 Wednesday to pass a bill that would ban abortion after 20 weeks nationwide, with no exceptions for a woman's health or fetal anomalies, and with rape and incest exceptions that advocates call callous and cruel.


"This bill is a danger to women's lives and well-being, an affront to their dignity, and a threat to the rights and liberties all Americans hold dear," Nancy Northup, president of the Center for Reproductive Rights, said in a statement after the bill's passage.


While supporters said the bill is necessary because 20-week-old fetuses can feel pain, medical experts disagree. Critics charged that the bill is unconstitutional and intended to help end legal abortion in America by challenging Roe v. Wade.


"It's the beginning of the end of abortion—at 20 weeks, at 17 weeks, at 12 weeks, at one week, at conception," Rep. Steve Cohen (D-TN) said on the House floor. "This is an anti-abortion bill. It's not about fetal pain, it's not about 20 weeks."




This isn't the first time the House has passed a 20-week abortion ban, but Sen. Mitch McConnell (R-KY) has promised the unprecedented step of taking the bill up in the Senate.




President Obama has threatened to veto the bill. White House Press Secretary Josh Earnest called the bill "disgraceful" at a press conference Wednesday, and said that the president "strongly opposes" it.
And last but not least, the paternalistic notarized note legislation for a woman to make a medical decision about her pregnancy.  I would point out that no comparable legislation exists for any male procedure; for example, no notarized note is required before a man gets a vasectomy, even if that could dramatically affect the options for his spouse to become pregnant.  No, those permission slips are only required for women, never men.
From
Rheality Check.org
:
Missouri Bill Amending Informed Consent Law to Require Permission From Father Prior to Abortion (HB 131)

HB 131 would amend Missouri's informed consent law (Mo. Rev. Stat. § 188.027) to add a provision that would prohibit an abortion from being performed or induced unless and until the father of the unborn child provides written, notarized consent to the abortion, except in cases where the woman upon whom the abortion is to be performed or induced was the victim of rape or incest and the pregnancy resulted from the rape or incest.


If the father of the unborn child is deceased, the woman upon whom the abortion is to be performed or induced would be required to sign a notarized affidavit attesting to this fact.




The bill would prohibit a physician from performing or inducing an abortion unless and until the physician has obtained the written consent required in these provisions. The bill would further require the physician to retain a copy of the consent or affidavit in the patient's medical record.