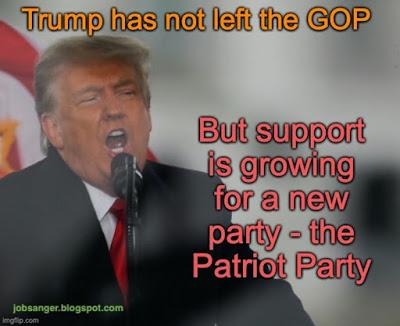 In an effort to retain control of the Republican Party, Donald Trump tossed out the idea of starting his own political party -- the Patriot Party.
Elected GOP officials, afraid of losing their jobs if the Republican vote was splintered because of that new party, immediately fell in line and bowed to Trump's wishes. These political cowards cared more about their own jobs than the reputation and future of their party.
But their efforts may be in vain. There is evidence that the idea of a new Patriot Party is growing among Trump supporters.
Consider this from Reuters.com:
Far-right backers of Donald Trump are drumming up support on social media for the idea of a "Patriot Party," using references to militia groups and promoting a mix of conspiracy theories, according to a study published on Tuesday.
The online campaign for a proposed alternative to the Republican Party has heavily promoted "Stop the Steal" events throughout the country, including the violent siege of Capitol Hill on Jan. 6, pushing the false claim that the former U.S. President lost November's election due to widespread fraud. 
Amid a rift with several Republican leaders over the Capitol riot, Trump has talked about forming a new political party, his advisers say.
However, Trump's "Save America PAC" action committee says he has set aside the idea for now.
On Facebook, the effort appears to be decentralized but growing rapidly, with some "Patriot Party" groups gaining thousands of members in a matter of days, according to the research conducted by watchdog group the Tech Transparency Project. . . .
TTP said it found 51 groups and 85 pages on Facebook promoting Patriot Party iconography to tens of thousands of followers in a count it conducted on Jan. 20, more than half created since the Nov. 3 election.
Facebook has removed some of the accounts, including a group created Jan. 17 that gained 105,000 members over the eight days it existed, but enforcement has been "piecemeal" and dozens of others remain active on the platform, TTP said. . . .
Support for the Patriot Party movement has also flourished on other social media platforms and online news sites, peaking around Inauguration Day on Jan. 20, according to data from media intelligence firm Zignal Labs.