Excited about Google's Santa Tracker for 2018? It's back again! This time Santa's village has lots of fresh features. Google introduced fresh elements to the town every year, and this time there are lots of things to do as compared to last year.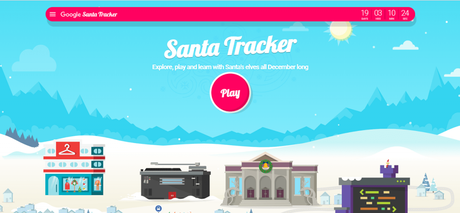 People are enjoying the annual tradition of Santa's village from year's, and this time it's going to be a 15th year in the row. It is one of the best places to entertain kids throughout December. They ca plat games, learn foreign languages, funny ways to learn to code and watch animated shorts.
What's new in Santa's village for 2018 is shared on the blog post written on the "The Keyword" by Mrs. Claus, Vice President of Products Santa Tracker and Santa's Village. In the blog post, she explained about the new game "Elf Maker" in which player can customize elf the way they want from head to feet.
Apart from the game, it has a quiz in which you have answer question related to holiday traditions based on by Google Earth and holiday pictures from Local Guides. There's a Translation game that will serve people of all age group in learning holiday expressions in different languages. This translation game is using Google Translate for the results.
Google's Santa Tracker and Google's Santa Village
The best part is that Google's Santa Tracker is back again for Google's Christmas celebrations. Interested people (kids and naive adults) can track Santa on December 24th, 2018 while he's traveling across the world distributing gifts to everyone (the one who're on Santa's Nice list).
People all across the globe will be able to follow Santa using Google's Santa Tracker. Using the tracker, everyone can track the location of the Santa on Google Maps. At the moment, the tracker feature bolted till December 24th, the same day Santa start doing his work.
How to Explore Santa's Village using Google
1. First of all, you need to head over to Santa's Village website. The page will open with fantastic background music featuring timer.
2. Here on this page, you can click on the specific building to start playing games, watch something entertaining and learn how to code or something new. You can also click on the Play button; this will randomly open anything.
The list of Santa's Village element includes:
Santa's Village Games to Play
Play: Elf Maker
Play: Wrap Battle
Play: Code Boogie
Play: Santa's Canvas
Play: Gumball Tilt
Play: Penguin Dash
Play: Speed Sketch
Play: Santa Selfie
Play: Santa Search
Play: Gift Slingshot
Play: Elf Jamband
Play: Elf Jetpack
Play: Reindeer Runner
Play: Elf Ski
Play: Snowball Strom
Play: Present Drop
Santa's Village Learn Something New
Learn: Code Lab
Learn: Map Quiz
Learn: Holiday Traditions
Learn: Season of giving
Learn: Present Bounce
Santa's Village Watch Short animated Movies
Watch: A day at the museum
Watch: Elf Car
Santa's Village Other Elements
Translations
Santa Postcards
You can also click on the 'Hamburger icon' available on the upper left side to find out more options which include Google's Santa Tracker.
How to Track Santa on Google Maps
1. Visit Santa's Village site.
2. Next, click on the Hamburger icon on the upper left side. Here you will find Track Santa option click on it. This will take you to Google maps and show you the exact location of the Santa.
Note: Track Santa feature is locked at the moment and will be enabled on December 24, 2018. So don't forget to check it out.
Google has also released the Santa Tracker app which you can download to track Santa right from your Android phone.
That's it!
Are your excited about Google's Santa Village and Google Santa Tracker? At the moment, what would you like to do, play the game, learn how to code, or watch short animated? Let me know your thoughts.