Life is so much easier before Edison invented electricity.
Cursed you, sir.
No. Blessed you, sir!
*
I've been hearing about these Google+ rumors since a couple months a go–well, I don't really remember since when, exactly, the only when that I can remember is reading Tom Felton's twit, saying that he'd be very delighted if someone invited him to this Google+ (or G+).
(Please don't ask me to provide proof for Tom Felton's twit, I can barely track it. Go do it yourself.)
So, as usual, I google "Google+". (I don't know what would I be without Google, hahaha.)

Then I found out that until you got invitation from someone who already got a G+ account, all you can do is read and tour the Google+ without actually joining G+.
At first I thought it's just another project to improve Google's search engine.
Then, after touring the G+ myself, I found out that it's a kind of social network launched by Google.
Well, this should be interesting, I thought.
After friendster became a hit long time a go (I don't really know whether it's still a hit now, but the last time I checked, many people are still enthusiastically using friendster), and then facebook was booming around the world, not to mention MySpace (which is not really a public interest for Indonesian, really, and so I deleted my account), Tagged (account deleted), Plurk (deleted as well), and twitter, now we have Google+.
The reactions were overall positive, I suppose, despite some critics here and there. (Well, at least according to most that I read, don't know if you've been reading the negative ones.)
Then one day, voila! My friend sent me an invitation to join Google+.
Yay! was my first reaction.
Why? Because of these stupid invitations thingy makes G+ sounds like a very exclusive club. And since I'm pretty much an internet-addict (more like a social networking-addict and Google-addict–not to mention a WordPress-addict), I'm very excited to try out this new social network-slash-whatever-you-name-it-Google+.
I've been reading this guy Matthew Smith's review on Google+ as well, only a couple day before my friend sent me the Google+ invitation, which gets me more and more curious about it.
So, yea, Yay! was my first reaction.
Then I explored this Google+.
And explored.
And explored.
And explored.
Well, okay. There's nothing much to be explored yet, actually.
So I made an account. And then created my circles (and found out some of my friends have a Google+ account already). Then edited my About Me. And finally posted some status (yea, still very much influenced by facebook and twitter, I suppose).
Later I started to shared (well, '+1′ it, actually) some articles in my Google+.
And so far?
Well, so far… so good. I mean, I don't really think I ought to criticize anything yet, really.
Google+ is still very new, and I'm still adjusting to use it, as well as Google might added some changes here and there soon.
I think it's pretty much similar to friendster, facebook and twitter (as well as the other social networks out there): changes happen, whether the users like it or not.
The first time I joined facebook, I really don't know what to do since only few–VERY FEW, actually–of my friends who knew about this facebook. The only one person who really knew about this facebook was my teacher Neny Isharyanti and at that time I was in awe that she knew facebook as well.
And then more people joined.
Including some friends. (finally, yay!)
So my 'Friends' list grew bigger… and BIGGER.
And then facebook started to change its appearance.
I remembered one of my friends who protested A LOT about this changes in his status and he even made a group, demanding the old facebook appearance.
Yet now, I bet he barely remember what the old facebook looked like.
I don't remember it myself.
And then twitter came.
And my first reaction was… "that's it? No games? No applications? No quizzes?"
But I made an account anyway.
Compared to how massive I use my twitter now… I should probably laugh at myself.
Anyway, we're talking about Google+ right now.
So, I've been adding friends to my circle, posting some status, pictures, sharing some articles online, and exploring here and there.
Well, so far so good, indeed.
One of my friends said that he thought Google+ was not too elegant compared to facebook.
I'm not gonna say he's right or wrong.
And it's not that I disagree, somehow.
I love simplicity anyway, so… I'm just okay with it so far. It's simple.
About the lack of application–well, I don't really play games or use massive applications on facebook anyway. I really use it merely to keep in touch with my friends, and share articles or blog posts that I read. Or movie trailers.
As well as promoting my blog.
And then we talked about how the 'circle' in Google+ is pretty similar to 'Groups' in facebook.
I guess so.
Then I realized that I never really added anyone in Google+. I found out later there's a 'Following' circle as well.
So basically, it's also pretty similar to twitter, eh? I don't need to add someone, and others don't really need to confirm any of my request in order for me to follow their updates.
Interesting.
Another thing that I noticed is the very similarities of the 'share' box in Google+ with the 'status' box in facebook. Put your cursor there and they have the 'add link' button, 'add photos' button, 'add videos', and 'add location' button underneath the 'share' box. Of course, in facebook, those buttons are above the 'status' box, and they don't really have the 'add location' button in the facebook web, they have 'Questions' instead, but you get the idea.

Google+
facebook
Well, for people who have been very much used to facebook, it would be very easy for them (for 'us', actually) to adapt and adjust to this Google+.
Really, I don't have anything to be complained about.
I do think, though, that this Google+ is one sneaky way of Google to get everybody to have a Google account.
P.S. And I agree with this post, saying that Google+ would need these features for a better future.
P.S.S. And now I just installed a Surplus apps, which would allow me to share every thing in my Google+ without having to open my Google+ account.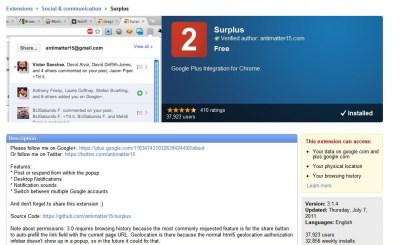 Surplus specification and reviews at Chrome Web Store.