Hey loveys,
I'M A STUDENT!! Hahaha.. today marks day #2 of my student life and so far I'm loving it!!! Minus the -35C weather we're having here in Toronto currently. It makes waiting for a street car UBER annoying. Yesterday I had a 3 hour English class and we had to actually write an Essay Diagnostic so she can tell where each student is at that's in her class in terms of writing. Frig, I hope I did ok. I had to write an entire essay off the top of my head about The Benefits of Healthy Stress Management. Good thing I know a thing or two about the benefits because every other option I had to write on I knew nothing about... dodged a bullet there! :)
Today I had a 2 hour math class and I have the cutest little Russian teach ever, Mr. Slakov. I think he's Russian... I may be wrong, so don't quote me, but he has a thick accent and everything. To be honest, I haven't taken a math class since grade 11, about 8 years ago... so my math is probably fairly rusty. We did a little assignment today in class about total revenue and total cost and figuring out how many customers a business would need to have each week in order to break even and stuff like that. I got all of the answers right, I just totally short cutted it and didn't show any of the work I was supposed to... I still got the same answer, but didn't include the following:
6.50x = 2555 + 1.50x
6.50x - 1.50x = 2555
(6.50 - 1.50)x = 2555
5x = 2555
x = 2555/5
x = 511
I TOTALLY FORGOT that this was necessary. There was no grades, however I do remember all that jazz now and can figure things out going forward. To be honest with you, I love math... algebra was my FAVOURITE class in highschool.. I'm not totally sure why, but I was really good at it and my brain works well with it. So hopefully this class is a lot of algebra and I'll be golden! That and I think Mr. Slakov will make math fun... at least I hope so! :) I was supposed to have another class today, Business Concepts, but unfortunately due to the weather it was cancelled so I got to come home 2 hours early! Yipeeee!!
Last night I went to the new GoodLife Fitness that's opening here in Toronto at Richmond/Bathurst for an exclusive VIP Blogger Event with a couple fun gals! When I first got there, Jason Sheridan (one of our VPs of Operations) was there and showed me where the changerooms were and took me on a tour of the whole club. The club itself is maaaassive. I didn't even realize the building it's in is as big as it is.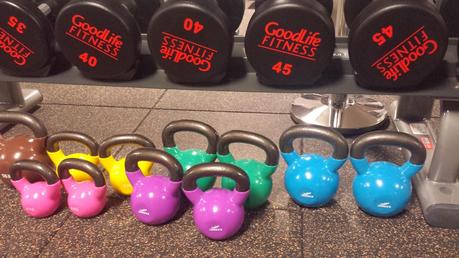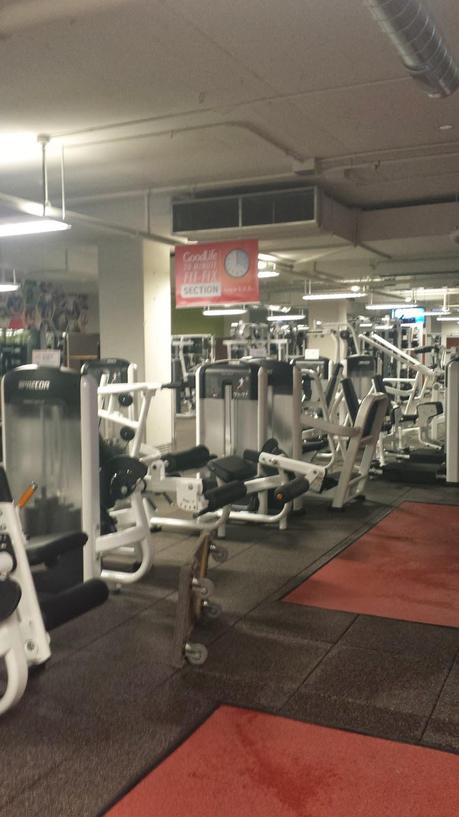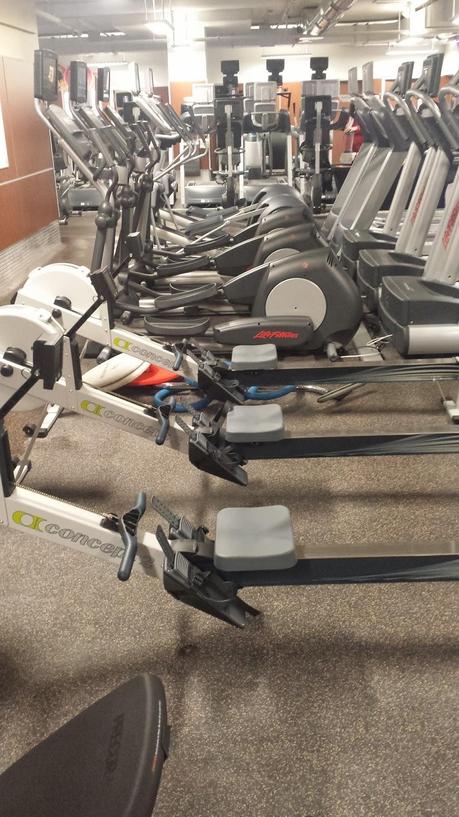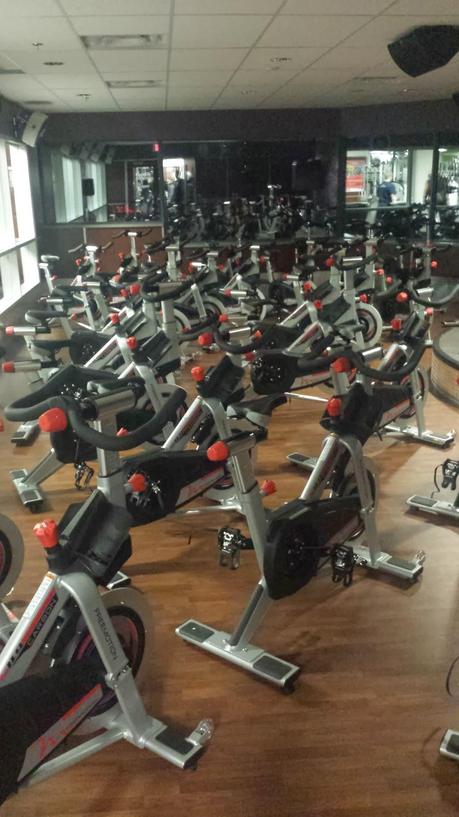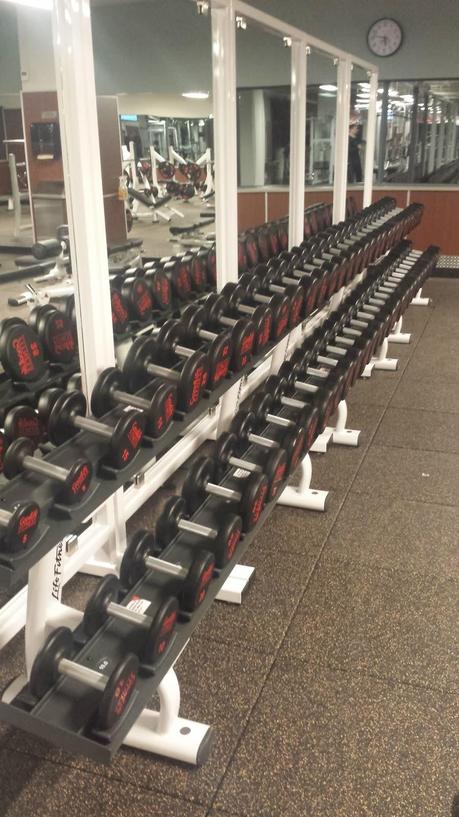 See how pretty it is? After we took a tour of the club, the bloggers went in for a 30 minute melody of different group exercises classes. We started off with Newbody, a low impact cardio class with hand weights, and got into CXWorx which is a core class using resistance tubes, then into BodyShred which is Jillian Michaels' 30 minute class.. guys... I did 5 minutes of this class and quickly made up my mind that I could never do a full 30 minutes of it... I mean, I might try someday, but not until I forget how hard the 5 minutes lol! Then we finished off with a nice relaxing 5 minutes of BodyFlow which was super nice, it's a yoga/tai chi/pilates combo class!
I hung out with Sarah from
Nancy Francis
and Krysten from
The Misadventures of a Darwinian Fail
all night so it was so fun catching up with these gals!!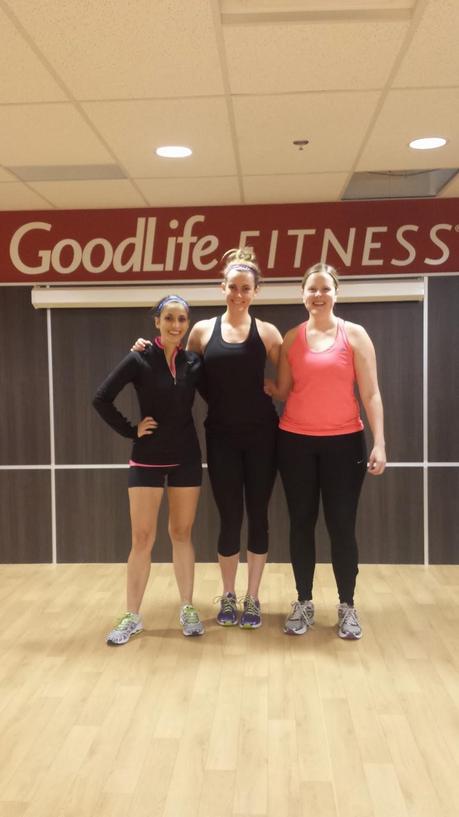 All 3 of us decided we are super uncoordinated together... team work! :)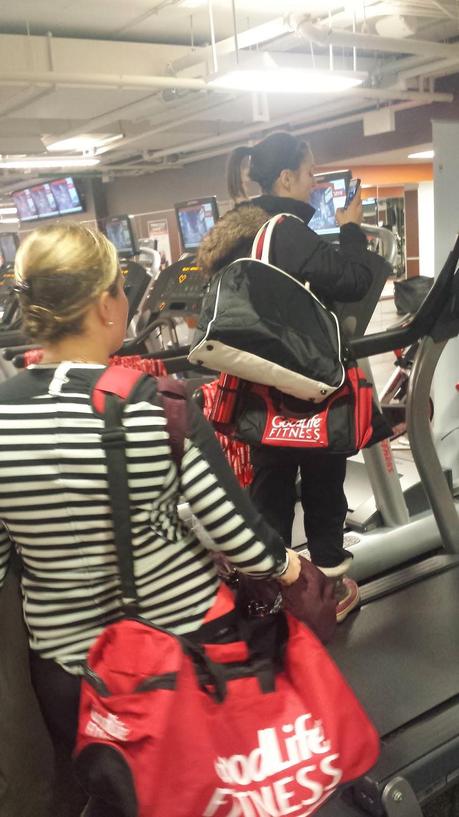 A candid shot of them checking out a treadmill!
Then right before we were leaving we managed to track down Tara from I'm Fit Possible so the girls could finally meet her in person! I've known Tara for a while just because we both worked for GoodLife, it was nice to see her!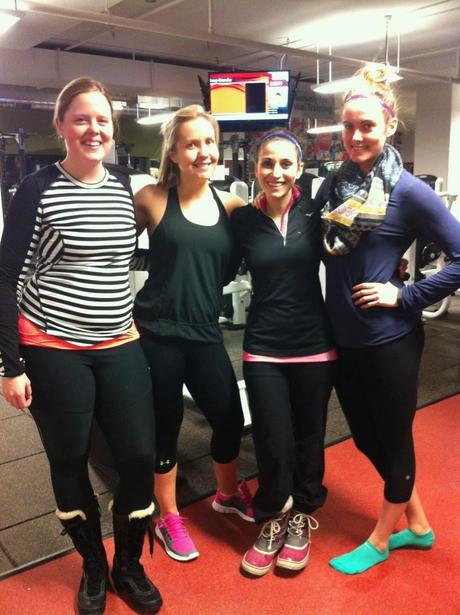 Check out my amazing socks. Haha. All in all it was a great night and I'm excited to go to the big Grand Opening party tonight and see how many people show up!! It will be so fun! I'm bringing my friend James with me so he will make the night even better!
How has your 2014 been so far? I know we're only a week in, but I hope it's off to a great start!!