Hi,guys. Do you know rpgshow?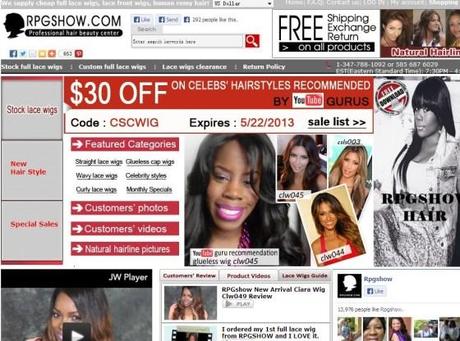 To express its appreciation, RPGSHOW.COM, the leading full lace wigs online retailer, decides to send coupons to its customers from 04/29/2013 to 05/08/2013. During these days customers can purchase lace wigs with excellent quality and reasonable price.
There are three kinds of coupons in this activity.
1. Coupon for VIP Customers, $30 off, Code: vip0429
2. Coupon for Gold VIP Customers, $50 off, Code: gold429
3. Coupon for Diamond VIP Customers, 20% off, Code: dv429
This is really a great present for rpgshow's VIP members. If you are not a VIP member, there is another way that you can also get coupon. The rpgshow group publishes coupons on http://www.retailmenot.com/view/rpgshow.com at regular time. New customers can find usable coupons from this site. Erena Marinac, sales manager of RPGSHOW, has said that the coupons on retailmenot.com are long standing and usable.
Nowadays more and more customers choose rpgshow; many of them have put their review videos on YouTube. For example, LakiaStar bought her wig with a coupon, and she got $35 off. This was her first glueless full lace wig from rpgshow, and she was very satisfied. After she wore this glueless straight lace wig, she has already been a black girl with long hair.
Rpgshow has also consummate repairing service for customers. New customers enjoy one time of repairing services for free within after-sale three months, which worth $40-$80. VIP customers have unlimited wig repairing service within after-sale three months, which worth $100.

About RPGSHOW.COM
RPGSHOW.COM was founded since 2006, now it has been one of the biggest lace wigs online retailers. Its products are made with 100% best Remy virgin hair. Remy hair remains silky, soft, and completely tangle-free throughout its lifetime. And can also keep for a long time. More importantly, rpgshow hold a professional hair stylists team, to keep trace with fashion trend and style different kinds of popular hairstyles.
Contact:
Website: http://www.rpgshow.com
E-Mail: [email protected]
Facebook: https://www.facebook.com/rpgshowwigs
Twitter: https://twitter.com/Rpgshow