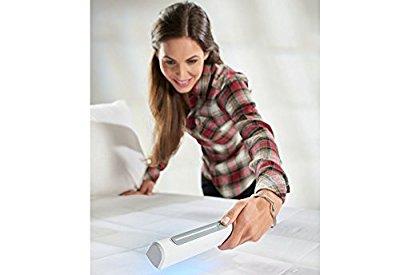 Sharper Image Travel UV Sanitizing Wand
Convenient, all-in-one sanitizing solution for your home or office.
It safely eliminates 99.9 percent of germs, viruses, bacteria, allergens, and flea and dust mite eggs from household surfaces and fabrics.
Naturally eliminates germs that cause colds, infections, asthma and allergic reactions
• Destroyed over 99.9% of E. coli in laboratory tests
• Chemical-free, Odorless, No harmful residue
• Hypoallergenic way to disinfect kitchen surfaces and utensils, beds, sofas, children's toys and more
• Safe and easy to use
• For Bedding/Mattresses: Hold the UV-C Light Sanitizing Wand approximately 1-2 inches from the surface and gradually move the wand over the entire area. Allow the light to stay on each area for 5-10 seconds to ensure optimum exposure.
• For Personal Hygiene items (hair brushes, toothbrushes, jewelry, razors)
Click to view product
Vote below
Good idea - or - Waste of Money?
Tell us what you think!
---
NOTE -
If any of the above links are not working or the freebies or coupons no longer available, please post a blog comment below and I'll edit it!
---