Interesting article in Sunday's New York Times about Kansas City, Charlie Parker, Count Basie, New York and a whole lot more today.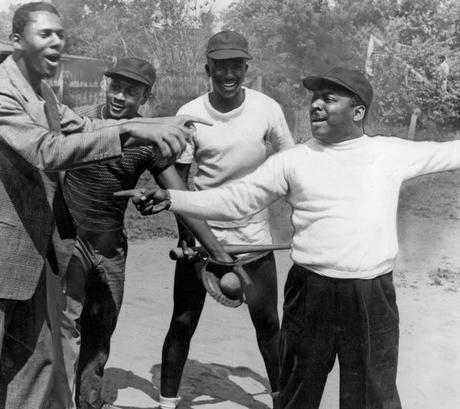 Count Basie, right, playing baseball in 1947.
Credit

Afro American Newspapers/Gado, via Getty Images
KANSAS CITY, Mo. —
After the Mets and the Royals had secured spots in the World Series, observers searched for connections between the teams. There seemed to be few.
But as the Series shifted from Kansas City to New York, it followed a well-trodden path, forged decades ago with the migration of some of the most influential musicians of the 20th century.
Just as Kansas City once effectively served as a feeder system of ballplayers to New York, Kansas City's hopping nightclub scene was the fertile ground that produced some of New York's top musical acts, and baseball was a cherished pastime for many of them....
It goes on.
...jazz, baseball, Kansas City and New York are closely intertwined in American culture.
"There was a time when everybody went to Kansas City," said Phil Schaap, a prominent jazz historian and archivist. "Many of them eventually moved on to New York and made it there. But Kansas City, along with New York, Chicago and New Orleans, is one of the citadels of jazz. And during the swing era, all the bands had teams."
Great stuff. Interesting article. You might want to check it out.
There's certainly more here than just our Royals to get attention from the Big
Apple
and world.