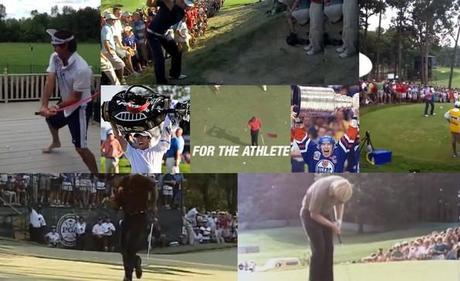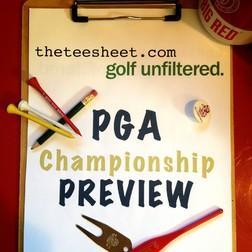 IT'S PGA CHAMPIONSHIP TIME!
It's tough being the least loved of the four majors. It's like being the Australian Open in tennis, the Belmont Stakes in horse racing when two different horses have won the Kentucky Derby and the Preakness, the Golden Globe Award for best picture, an American Music Award or an Olympic gold medal in trampoline. 
That said, the PGA Championship is an important and historical major and a great tournament (despite a ridiculous gimmick this year ... you're a major championship for god's sake ... try to act like one).
As we do with all majors, let's take a look at the recent past to get us in the proper mindset for the championship.
There was remarkably little drama last year as Rory McIlroy romped at Kiawah winning by a record 8 strokes and becoming the 6th youngest player ever to win 2 majors. McIlroy's 8 stroke margin of victory beat Jack Nicklaus' prior PGA Championship record of 7 strokes in 1980, which he accomplished at this year's venue Oak Hill Country Club outside of Rochester, NY. McIlroy so pleased with his win promptly changed his equipment.
2011 THE ORIGINAL DUFNERING?
Jason Dufner doesn't seem to carry the stigma of blowing the 2011 PGA Championship like Adam Scott at the 2012 Open or even Jean Van de Velde. Dufner has a 4 stroke lead over Keegan Bradley with 3 holes to play. Two bogeys by Dufner and two birdies by Bradley and we were into the playoff where Dufner's putting didn't hold up. By comparison, Scott in 2012 at the Open had a 4 stroke lead over Els with 4 holes to play. A couple things mitigate Dufner's position: (a) Robert Karlsson and Anders Hansen were within 2 and 3 strokes of Dufner as he stood on the 16th tee box so it must have felt tighter than Scott; (b) Scott made 4 consecutive bogies to lose while Dufner's three bogeys also coincided with Bradley's 2 bridies; (c) Dufner may not be as photogenic as Scott. 
It all started to unravel for Dufner with his bogey on the par 3 fifteenth hole. There an amazingly candid home video of this shot [right] in which you can really feel how deflated everyone was with the shot in the water. 
It also raises the question that if Jim Furyk had held on at Olympic Club earlier in that year for the U.S. Open and Dufner held on here, we would not have had long-putters Webb Simpson and Keegan Bradley as major champions. Would the USGA and R&A have acted so quickly to ban the anchored stroke had the only long putting major champions in recent memory was Hall of Famer Ernie Els and some vague recollection of Angel Cabrera and Vijay Singh having belly putters (or maybe they were just chubby?)
Who knows, maybe it would have made it easier to push the ban through?
2010 THE SMALLEST BUNKER IN MAJOR CHAMPIONSHIP LORE
Sure there's the bunker on the Road Hole at St. Andrews and the church pews at Oakmont, but the bunker with the biggest grain-of-sand to significance ratio has to be the tiny patch of dirt on which Dustin Johnson grounded his club before hitting his second shot on the 18th hole Sunday in the 2010 PGA Championship.
I knew as soon as I saw DJ hit that it was trouble for grounding his club (and I kinda think both the TV booth and DJ's caddie may have been a bit worried, at least subconsciously).
2009 YANG'N TIGER'S CHAIN
Up until the 2009 PGA, Tiger had never lost a major in which he held the 3rd round lead. No on could have predicted that a South Korean that picked up the game at age 19 would be the first to track down Tiger in a major. It's amazing to think Yang only picked up the game of golf the same year Tiger won his first USGA U.S. Junior Amateur title (1991). 
Yang's clutch and incredible 3-hybrid on the 18th hole to lock down the win should go down in history as one of the great shots in PGA Championship history.
Of course the other great moment was Yang lifting his golf bag over his head like the Stanley Cup.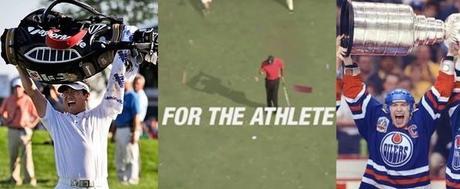 Y.E. Yang channeled the best celebration in all of sports in 2009 ... even Tiger and his shadow know it
2008 HARRINGTON AND SERGIO II
It was a great battle between Padraig Harrington and Sergio Garcia, only 15 months after their battle at Carnoustie for the Open. Harrington mad a ton of medium length putts and Garcia's putter couldn't hold up again (the iron into the lake on the 16th also didn't help).
Naturally after winning 3 of the previous 6 majors, Harrington would promptly decide to change his swing from primarily a cut to a draw. He has since only been in the top 5 once in the subsequent 19 majors. Tsk, tsk ... when will these players learn what Johnny Miller has always says, the greats all could rely on the cut shot when the pressure was on. Even Tiger is back to the cut as his go-to after his dalliance with trying to master the draw.
Speaking fo Tiger.
2000 THE FORCE WAS NOT WITH MAY
Maybe the most exciting PGA Championship to watch in recent memory. Bob May and Tiger battling head to head on the back nine and in the playoff was riveting. The playoff also made for one of Tiger's signature putts: the point, chase and whoot:
As an aside, one of the best bits of analysis at the time was the commentary by short game guru Dave Pelz. May made an amazing 12-15 foot putt from the fringe on the 72nd hole to get into the playoff with Woods. Pelz noted that May actually misread (or mis-hit) the putt but the ball broke left again because of a footprint on the line of the putt. If you ever watch that putt, it went in only because the ball miraculously turned back left a few feet from the hole ... all because of the depression made by a foot.
OAK HILL
It is a classic course worthy of both U.S. Opens and PGA Championships. Nicklaus and Trevino have won majors here. That said, it doesn't quite carry the requirement of pedigree and ball striking as a course like Muirfield.
The last PGA Champion here was Shaun Micheel, who has never won another PGA Tour event.  Micheel since 2003 has missed the cut more than he's made the cut in the majors (he's also failed to qualify for the majors more times than he has made the cut since that time).
Micheel will always have his famous shot on the 72nd hole at Oak Hill to lock down his major.
What about Oak Hill this year?
One way is to stay relaxed, drink some Gennesee Cream Ales and hit golf balls off your deck at your drunk buddy catching them out on the lawn.
That's what Bubba Watson appears seems to be doing this week.
As an aside, how popular would Watson be if his first name was Gerry or Lester? How much of his fame came with his name "Bubba"? Let's face it, it's fun to say and it let's us categorize Watson a southern good-ol' goofball. In reality, he is a little prickly. The name has to help.
That said, his golf game, home-made swing and ability to work the ball in every direction does make him fun to watch on the course.
By the way, his real name is Gerry Lester Watson. Not quite as fun.
TIGER
Tiger prepped by destroying the field at Firestone last week. During the prior week, he checked out Oak Hill and showed his knowledge of the greens and expectation that they will be on the bare side and fast this week.
In case you missed his 61 last Friday, here it is in 90 seconds. This is how Tiger really prepared for the PGA.
The PGA Championship has this summary of the 18th hole at Oak Hill which hopefully will be the site of Sunday drama between Tiger and Phil.
Finally, Nicklaus himself won at Oak Hill and here's the PGA's little reminder. Nice.
Douglas Han
Like Golf Videos of the Week? Please share by passing it on to a friend via email or any of the other buttons above. Have a submission? Please email video or link via the Contact Page.