Rory McIlroy, in a six-minute PGA golf video interview during the Grand Slam of Golf this week, slipped fans a few tips about how he managed to win the 2011 U.S. Open at Congressional, "you need a consistent shot-shift; you need to know what to do with the ball."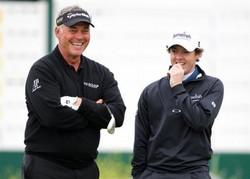 Darren Clarke, Rory McIlroy
Rory's shot-shaping draws were only one way in which this year's current "number three" golfer in the Official World Golf Rankings stayed in the mix. Balance and stability throughout the golf swing; standing wider on drives and in a more athletic position, is a key swing thought which Rory McIlroy uses along with the swing key of keeping his extension "nice and wide" through the swing. (Check out Rory's "puppy golf club cover" too!)
McIlroy, Darren Clarke, Charl Schwartzel and Keegan Bradley, the four major winners of the 2011 golf season, were on hand for a demonstration during this year's Grand Slam of Golf. Here are a few of the golf tips the three other winners had to offer.
Golf swing thoughts from The Open Championship winner, Darren Clarke, included the importance of controlling trajectory in windy conditions and a long-iron golf tip for amateurs: hit down on the ball with good body turn; no scooping!
Chipping has to do with rhythm, said Charl Schwartzel, so slow down during your shot and think about tempo and weight distribution.
2011 PGA Champion Keegan Bradley relied on putting to win and says that he places the top of the grip squarely in his navel and locks it in so it's in the same place every time, then forgets about swing mechanics and makes the putt!
The final round of the Grand Slam of Golf from Southhampton, Bermuda, is being televised on TNT and concludes on Wednesday October 19th. Check your local listings.
Voice your opinion on Twitter @Golf4Beginners and friend us on Facebook.
photo credit: AP