TAKEAWAY: Storytellers everywhere, rejoice. It is a grand time to be a storyteller, or to be in the audience for whom we create those stories. PLUS: Pages we like: Winnipeg Free Press

Are we in the midst of a journalistic Golden Age? Indeed, I agree.
Are journalists today more important than ever? Amen.
So, plenty of reasons for us in this great craft of ours to celebrate, as opposed to lamenting so much and constantly feeling nostalgic about what was.
These are the best of times to be a storyteller, I say repeatedly in all my workshops and seminars. That is why I think the better description is that today is the Golden Age of Storytelling.
We trained to be storytellers and now we have four things that make it mega time to be one:
An audience that has an insatiable appetite for information.
A variety of platforms in which to tell those stories, with our ability to customize the story to the specific platform.Bravo.
The social media channels facilitate the "spreading of the word" about our stories, while inspiring us by making clear what the trends and hot topics of discussions are.
The presence of disruption in every newsroom, a good thing to make us focus and to channel our positive energies in the right direction.
Two articles I have read this week point to the reasons we should be celebrating and not lamenting.
In one of those articles, Henry Blodget, describes his appearance in CNN's Reliable Sources and lists all the reasons why, in his view, we have entered a Golden Age for journalism. Blodget is quick to point out, however, that he refers to journalism and NOT to the newspaper business.
Here is one of those reasons on the Blodget list that I like very much:
Every journalist on earth can now reach nearly every human on earth —directly and instantly. On the Internet, everything is a click away. What's more, on the Internet, all stories can be stored permanently and viewed from anywhere, anytime. Compare that to the world of 20 years ago, when news had to be distributed on paper or broadcast over ephemeral air waves, and news consumers had to either lay their hands on a newspaper or magazine or plop themselves (at the appropriate time) in front of a radio or TV.
Read more: http://www.businessinsider.com/a-golden-age-for-journalism-2013-8#ixzz2bw361BGf
The rising status of journalists?
A second article reports a recent Pew study in which 54 percent of people surveyed believe journalists "are more important than in the past because they help make sense of all the information that is available," with young people more likely to see journalists as watchdogs.
Fantastic news, especially for those pessimistic journalists who believe that they have lost the time advantage, and, as a result, professional prestige now that everyone in possession of a camera is a reporter, photographer and videographer.
Nonsense, I say.
This Pew report shows that there is respect there for the work that journalists do. Perhaps the rise of citizen journalism has added to this newly gained respect for journalists. Those citizens who "report" on an incident they are involved with, or that they have witnessed, soon realize that it is not easy to do what a journalist does and do it well.
These are also the best of times to be a consumer of the media, what with the selection of stories and means to get them.
If you also add to that the fact that smart, rich men are showing up—cash in hand—-to buy newspapers across the land, then more reasons to celebrate this Summer of 2013.
A real Golden Age, as in the Golden Age of Greece, is propelled by some type of disruption and gives us great work and blocks on which to build .
For us in the media, let the Golden Age of Storytelling and the disruptions continue.
Pages We Like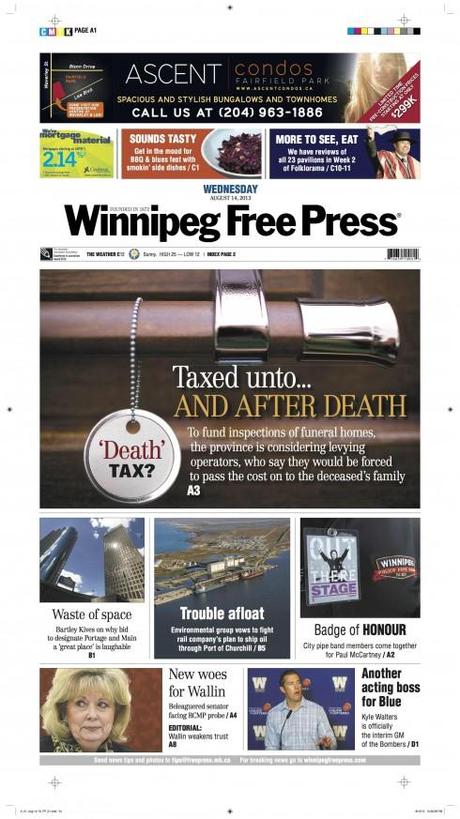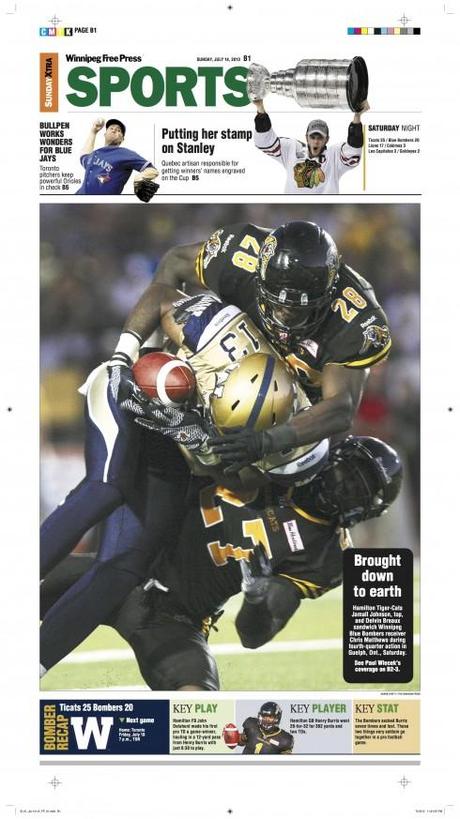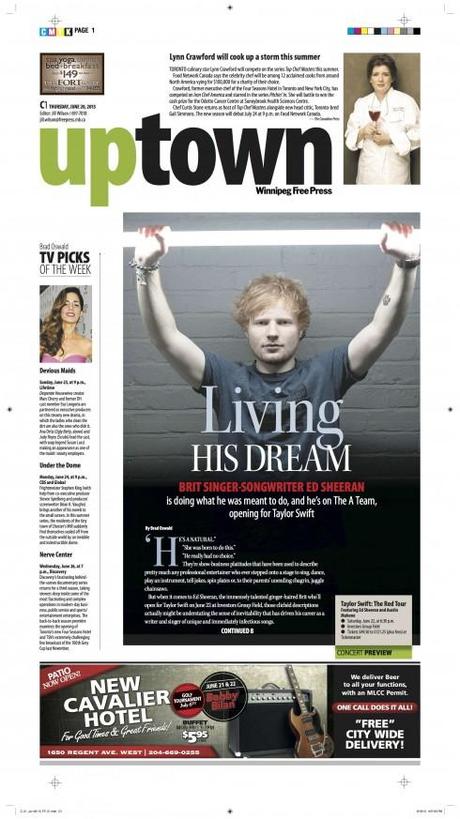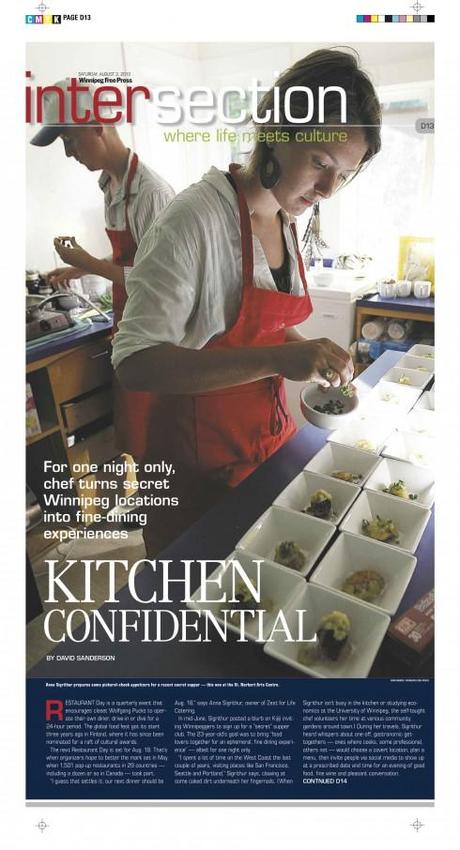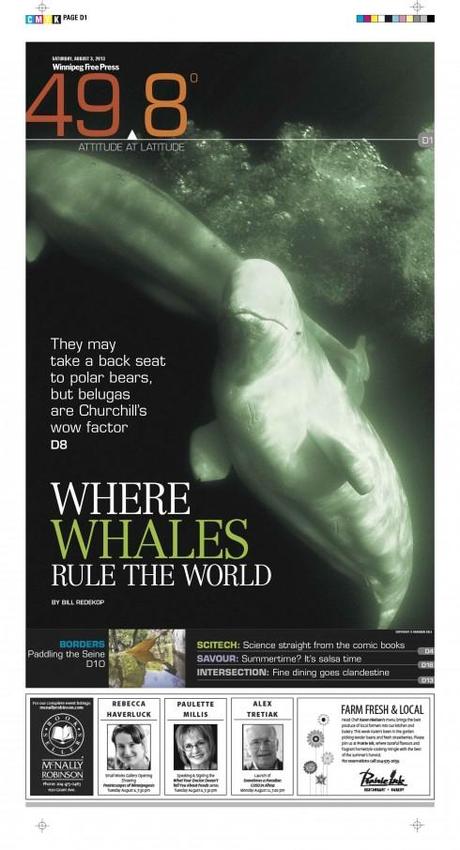 Pages from Canada's Winnipeg Free Press
Today's favorite pages come from Canada's Winnipeg Free Press. Especially the front page is a visually exciting display of images to give us an overview of what's in today's newspapers.
Readers like pages like this. Editors usually have more trouble accepting such pages. Some may say that there are not enough headlines on this front page, or that it is not newsy enough. This would be easily remedied devoting one of those blocks to a series of headlines.
Art director is Gordon Preece. I asked him about his overall design philosophy: "… the words panic and pressure come to mind."
On a more serious note, Gordon explained his newspaper's philosophy this way:
Our current front page concept has evolved over the years. It began when our former editor and current publisher came to me and said he wanted "the front page to be a not just a window into our paper but a door". That resulted in a front page that had as many as many as 15 or 16 entry points to inside stories. Recently we have cleaned it up by cutting the number to almost half, allowing a much more aggressive approach to our flare story and most times consuming almost half the page as it did in the example here. The typography is a combination of our headline font Centennial and our accent font Helvetica condensed.
I wanted to know more about the process of getting such a front page together, and the staff resources. I constantly hear from editors who tell me that "Flipboard" style front pages require more time and resources.
This is how Gordon explained it:
Most days the fronts develop from the afternoon news meeting at 2 pm and the main display done before 5 pm leaving the smaller boxes to be done at night, unless we are waiting for late breaking stories.
We have a small staff with limited resources so as in this case when art was not easily shot we resort to found art. In this case, the main photo was a wire image of a U.S. soldiers casket with his dog tag hanging from the handle. The tag was replaced with a blank key tag one of our clerks had, which I photographed on my desk with an iPhone.
The whole package came together within an hour, Gordon reported.
Generally we have been moving more and more to less and larger more compelling photographic art, playing to the strengths of the broadsheet format. Often full page poster fronts for our weekend display sections, Game day packages for sports and Entertainment packages. Our thinking being that there are few better ways in print to display images the way you can in a broadsheet product and that we should take advantage of that,embracing it,not shying away from it.
Meanwhile, in the world of brand evolution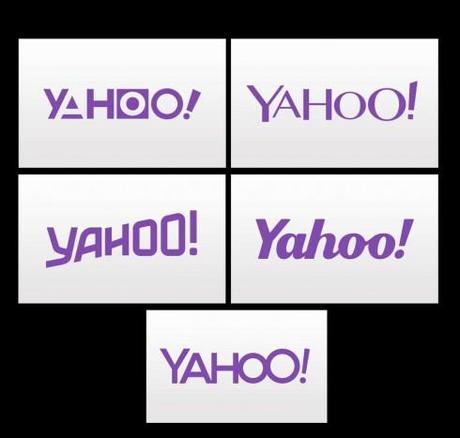 Yahoo tries out new logo ideas: 15 more concepts to be shown before the Sept. 5 decision date
Yahoo's management has decided to run a series of alternative logos throughout the month of August before launching an official new company logo on September 5.
That's one way to get yourself a new brand. Or is it?
Read more:
http://www.thedrum.com/news/2013/08/11/yahoo-draws-flak-us-over-its-plan-30-logos-30-days#RoLyqskttmhbuKoz.99
TheMarioBlog post #1315
Please enable JavaScript to view the &lt;a href="http://disqus.com/?ref_noscript"&gt;comments powered by Disqus.&lt;/a> <a href="http://disqus.com" class="dsq-brlink">comments powered by <span class="logo-disqus">Disqus</span></a> </li></article>