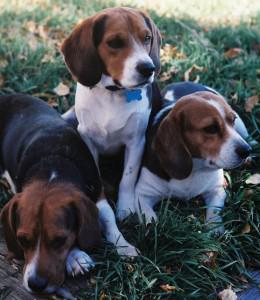 There was a phase in life (highschool, of course), when something in my blonde mind thought it would be a fantastic idea to get beagles.  Not just one, but two.  Of course.  And then, add some years, and I decided it would be an even more fantastic idea to have puppies and keep a puppy.  Which means I had three silly beagles with three silly noses who thought there was a silly rabbit 'round every corner.   Now, if you've ever had a beagle, you can empathize with my pain.  If not, you should take my advice: never, never look directly into the eyes of a sweet beagle puppy because they are 100% irresistible and you'll go home with one and find yourself eternally chasing it across the country.  But, the point became that: we had three beagles whom we loved dearly and who drove us mad and who all thought it incredibly fun to sleep together in a cupboard in the kitchen and sneak inappropriate food off our plates.
For, besides being to prone to follow their noses at every lousy whim, beagles are also exceptionally, ridiculously obsessed with food and treats.  And, while I'll believe your dog is just as shark-like as the next, I don't think I've ever seen the "devouring aspect" topped by anything but a beagle.  To keep up with three beagles in a cupboard who scavenged night and day for treats, my wondrous mom took matters into her own hands and began to make their treats for them.  Three Beagle Biscuits she called them. Healthy treats!  Green treats! She developed countless recipes like Itty Bitty Bites and Big Bites and Peanut Butter Bites and Carob Bites and loaded them with the good stuff like flaxseed oil and Omega 3 to make their sparkly beagle hairs glisten, a good dose of brewer's yeast to keep nasty fleas at bay and just the right touch of pumpkin for the Vitamin A that fought infections and kept them healthy.
Although at the time I didn't get all that excited about them, I have since made "green" a much bigger part of my lifestyle and think it's just as important in our pets' lives as it is in ours.  Turns out (and lucky for me), it's not even that difficult.  If you can roll out a batch of sugar cookies, you can whip up a batch of homemade, eco-friendly green treats for your hooligan.  Google homemade dog treats/homemade dog recipes and see the ones that fit your puppies' tastes best.  Peanut Butter Banana Bonanza vs. Turkey Stuffing Leftovers.  Ooey Gooey Carob vs. Tasty Pasty Liver Paste.  (Naming the treats is clearly the best part.)  If your puppy happens to be suffering from anything in particular or recovering from an injury, you can also easily find ingredients that help heal, boost immune system and strengthen bones, etc.
In case you need help to get started, here's a recipe that's as easy as it gets:
INGREDIENTS:
1 tablespoon honey
1 tablespoon peanut butter
3/4 cup whole wheat flour
1 egg
1/4 cup safflower oil
1 teaspoon baking soda
1/4 teaspoon salt
1/4 cup rolled whole oats
DIRECTIONS:
Melt honey and peanut butter mixture until liquid consistency.  Mix all other ingredients together.  Drop 1/2 teaspoon sized balls onto a cookie sheet and bake at 350º Fahrenheit.  8-10 minutes.  Makes approximately 45-50 biscuits.
Another one of the biggest perks, in addition to being eco-friendly, healthier and more affordable than traditional biscuits, is that you can easily work with your dog's allergies.  It's easy to get rid of nuts, eggs, wheat, etc., just find the appropriate recipe and go for it!
Author Tara Alley is a freelance writer who usually falls in love with every puppy she sees.  She's currently living and working out of Orange County, CA, working on a portable air conditioner guide for Air-n-Water.