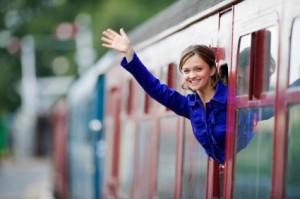 Saying goodbye is never easy and often a small gift is a way friends bid each other farewell. Even though they're popular, choosing a going away gift is not always easy. These ideas will help people who are searching for something meaningful and useful prior to a friend's sendoff.
A photographic gift
A picture is often one of the most valued items a person has to remember someone they left behind. A framed photograph of two friends makes a special goodbye gift. A scrapbook can also work well, especially if it includes a variety of experiences friends have shared, such as vacations and weddings. To make the scrapbook more personal, the giver can leave a few pages blank for the recipient to fill with his or her own favorite photographs. Including a disposable digital camera (widely available at retailers nationwide) or spare memory card can encourage future photographs to fill out the book. Help faraway friends remember the good times as they settle into a new home.
The gift of music
Songs often play a role in making friendships special. A group of friends may go see a show or concert together or have particular memories of college or a road trip built around a selection of songs. An MP3 player loaded with these types of sentimental songs can make a welcome going away gift. The friend who is moving will enjoy the trip down memory lane and the MP3 player will be useful long after boxes are unpacked in a new city.
A friendship box
A friendship box or shadow box is great for helping friends remember those they're leaving behind. Fill the friendship box with mementos like cards, handwritten memories, postcards, photographs or anything unique to the relationship. Enclose cherished objects in a shadow box and present the framed piece of art as something to be displayed in a friend's new residence. Anything that can fit inside either of the boxes is appropriate and will the recipient will enjoy the opportunity to remember great times.
A gift with geographic significance
If friends are going to end up somewhere very different than where they currently live, consider giving them a gift with geographic significance to their new location. For instance, if they are going to live overseas, perhaps a language guidebook could be helpful. A gift certificate to a store local to the area, which can be bought online, can also show some thought while meeting a practical need.
Something to make the move easier
While sentimental gifts are great, sometimes practical gifts are the most memorable. A gift card to a restaurant in the area where a friend will be living allows them an evening to not worry about where the pots and pans are, making those first nights in a new town less hectic. Gift certificates for moving services can cut some of the expenses of the move, which can add up quickly. A day at the spa right before the move is a chance to get a facial or massage, relieve tension and an opportunity for friends to spend a last afternoon together.
When considering these gifts, keep in mind a friend's packing restraints. While a large matted photograph or volume of books about a new city might be appreciated, they might not easily fit into a suitcase or overloaded car. Keep the gift appropriate, meaningful and easy to transport so parting ways is sentimental instead of stressed.