I think I'm very slowly edging my way out of my current recipe lull.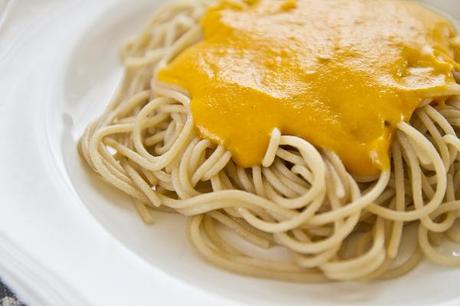 Since I've been off wheat (read as: in the past week) I've had to get pretty creative coming up with meals for myself that are both vegan AND wheat-free. Before I went on this ill-rationed food-eliminating spree, my idea of lunch was to slap some sort of cheese on some sort of bread and add a little fajita seasoning. Now, I start mentally laying out my meals and taking stock of ingredients days in advance.
What has become of me?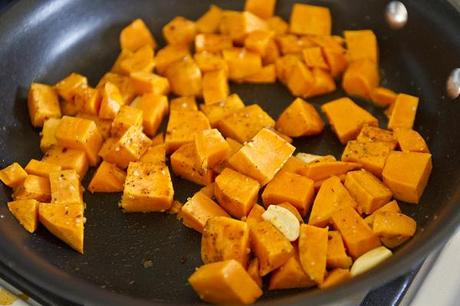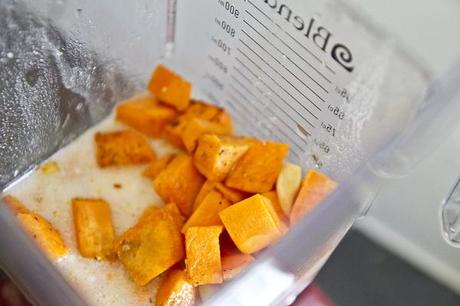 Of course, the upside to all this is that I'm now in an all but constant state of recipe invention, although my wheat withdrawal is making me crave some pretty bizarre things.
Sweet potatoes and pasta? Really?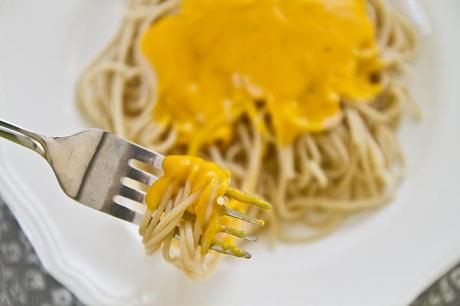 Going wheatless is daunting, to say the least, and all the more so for a starch whore like me. Working as many gluten-free carbs as I can into a single meal helps keep my mind from being haunted by thoughts like, "Where am I going to store all my flours if I end up having to go gluten-free for good?" and, "How am I supposed to get rid of all my bread and pasta?" and, "WHAT IF I CAN NEVER EAT OUT AGAIN?!?"
… the latter one actually doesn't bother me so much, because we can barely afford to eat out anyway.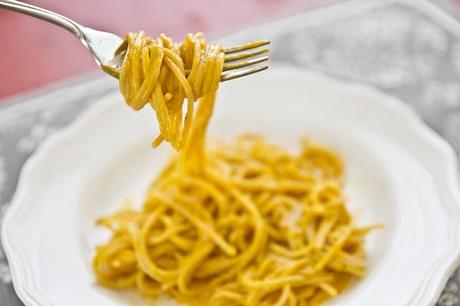 BUT when it comes to the former, this stuff is like a chill pill in pasta form. Eat some, and all those little gluten ghouls vanish in a puff of flour. Instead, you'll find yourself thinking things like, "This brown rice pasta almost tastes somewhat similar to the real stuff," and, "I love sweet potatoes with such an unholy passion that I don't mind eating nothing else for the rest of my natural-born life."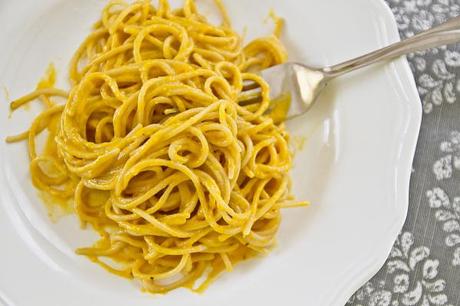 So now I have at least one weapon to fend off the impending despair of an ex-wheat existence. Sometimes one is enough. In the words of Taylor Mali, "This is delicious. This is good. We can really do this."
ingredients
1 medium sweet potato, peeled and cubed
1/2 – 2/3 c full fat coconut milk *
2 cloves garlic
1 tbsp olive oil
2 tsp salt, to taste
1-2 tsp Italian seasoning
1/2 tsp black pepper
1/4 tsp nutmeg
directions
1. Add garlic and olive oil to a medium skillet and saute over low heat until fragrant. Add sweet potato and seasoning (salt, pepper, Italian seasoning, and nutmeg) and toss to coat. Cover and cook for about 10 minutes, or until sweet potatoes are soft.
2. Add cooked (still warm!) sweet potatoes and coconut milk to a blender or food processor. Blend until smooth and creamy. Pour over gluten-free pasta (or the regular kind, if you're one of the normals) and serve. Store any leftover sauce tightly sealed in the fridge.
* Use more or less depending on how thick you prefer your sauce.