Do you ever look into your freezer and see a whole lot of frozen ripe bananas?  I have made this loaf twice this week trying to get use some of those bananas. This banana bread has great flavor and awesome texture, it does not last long. Hope you enjoy it as much as we do!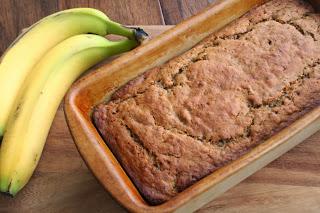 Ingredients
1/2 cup buckwheat flour
1/2 cup chickpea flour
1/2 cup teff flour
1/2 cup tapioca starch
1 tablespoon coconut flour
1 tablespoon baking powder
1 tablespoon psyllium husk
1/2 teaspoon baking soda
1/2 teaspoon sea salt
1 teaspoon cinnamon
1/3 cup grapeseed oil
1 egg
1 teaspoon gluten free vanilla
1/3 cup honey or other natural sweetener
3 drops liquid stevia
3 ripe bananas
Directions
Preheat to oven to 350 F and grease a loaf pan.
Combine all dry ingredients in a mixing bowl.
In a smaller bowl combine all wet ingredients including the banana.
Add banana mixture to flour mixture and stir to fully combine.
Pour batter into loaf pan and let sit for 5 minutes.
Bake in preheated oven for 45-50 minutes or until inserted toothpick comes out clean.