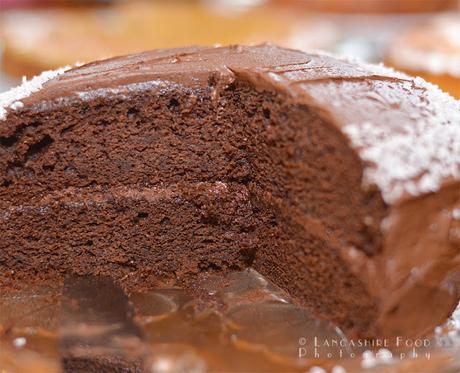 I love this cake, its so virtuous but so so delicious and really you can't tell its gluten free or dairy free, its so moist and chocolatey and very decadent yet light even with the frosting.
Our latest cake club theme was free from cakes and as I  have made this cake a few times gluten free previously successfully, I wanted to challenge myself and make it dairy free too, as often ceoliacs also suffer dairy issues as well. Amazingly this cake is even better dairy free and the vegan frosting is fabulous and if I dare say it, I think I prefer it to true buttercream.
Apologies for only one photograph, but whenever I make this cake it disappears way too quickly, the recipe is based on Phil Vickery's Gluten Free Chocolate fudge cake but made dairy free and with a vegan frosting.
For those of you who don't normally bake gluten free or dairy free, you'll be relieved to note that the recipe doesn't call for loads of weird and wonderful ingredients, and you can find everything you need in any decent supermarket.
What you need
Vegetable oil spray - for spraying your cake tins
225g plain gluten free flour ( I mix my own by using rice flour, finely ground polenta(cornmeal) and cornflour)
1 tsp xanthum gum (not absolutely necessary if you don't have it)*
1 tsp baking powder
1/2 tsp bicarb
50g Cocoa powder (I like Green and Blacks)
100g vegetable spread (I like vitalite)
250g dark brown sugar
3 eggs - free range
1 tsp vanilla paste
1 tsp glycerine (not vital if you can't find it)*
200ml - dairy free milk substitute( I used Coconut Dream)
*Both these ingredients assist in the texture of the cake but its still good without them
For the frosting
200g icing sugar
50g cocoa
50g vegetable margarine (vitalite or pure sunflower are both good)
2 tbsp vegetable milk
Couple of drops chocolate essence (optional)
Optional Dessicated coconut to decorate.
What you do
Pre heat the oven to 180c
Oil spray and base line 2 * 20cm round cake tins
Sieve the cocoa, flour, baking powder, xanthum gum and bicarb on to a plate
In a stand mixer, cream the vitalite and sugar until lighter in color and fluffy
Add the eggs, vanilla and glycerine and a little of the flour, mix slowly, continuing to add the flour, then add the milk to the bowl and continue to mix until a smooth well mixed batter is achieved.
Divide the mixture into the 2 prepared pans evenly, level the tops and place in the oven
Bake for approx 25 minutes, until the cakes test cooked with a cocktail stick
Remove from oven and cool in the tins for approx 10 minutes and then on a wire rack until fully cool.
To make the frosting, mix all the frosting ingredients in a mixer bowl and beat until you have a smooth fluffy frosting, cool in fridge before using to fill and decorate the cake
The frosting mixture is enough to fill the cake and frost the sides and top
To finish sprinkle a little dessicated coconut around the edge to finish