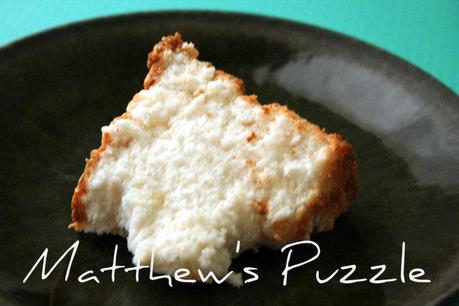 For Mother's Day my husband wanted to make me a special dessert that the whole family would enjoy, gluten free and diabetics, alike. He settled on Gluten Free Angel Food Cake. He actually served it with whipped cream and fresh strawberries, raspberries (my favorites) and blueberries. After searching the internet he found this recipe for Gluten Free Angel Food Cake and decided to try it. Luckily we had all the ingredients on hand as we keep a pretty well stocked Gluten Free pantry. This is probably the best tasting Gluten Free Angel Food Cake I have ever eaten. It tastes like traditional Angel Food Cake, and the texture was perfect. It also held up to the whipped cream and berries nicely. We thought it may actually hold up in a trifle if it was served immediately. My middle son liked it so much we were thinking of using it for his upcoming birthday. Wouldn't that make a great birthday cake, Gluten Free Angel Food Cake?
The original recipe can be found here, at A Taste of Home.
Ingredients – Gluten Free Angel Food Cake
1-1/2 cups egg whites (about 10)
3/4 cup plus 1/2 cup sugar, divided
1/4 cup cornstarch
1/4 cup white rice flour
1/4 cup tapioca flour
1/4 cup potato starch
1-1/2 teaspoons cream of tartar
3/4 teaspoon salt
3/4 teaspoon vanilla extract
Assorted fresh fruit, optional
Directions
Place egg whites in a large bowl; let stand at room temperature for 30 minutes. Sift 3/4 cup sugar, cornstarch, flours and potato starch together twice; set aside.
Add cream of tartar, salt and vanilla to egg whites; beat on medium speed until soft peaks form. Gradually add remaining sugar, about 2 tablespoons at a time, beating on high until stiff peaks form. Gradually fold in flour mixture, about 1/2 cup at a time.
Gently spoon into an ungreased 10-in. tube pan. Cut through the batter with a knife to remove air pockets. Bake on the lowest oven rack at 350° for 45-50 minutes or until lightly browned and entire top appears dry. Immediately invert pan; cool completely, about 1 hour.
Run a knife around side and center tube of pan. Remove cake to a serving plate. Top with fresh fruit if desired. Yield: 16 servings.
Editor's Note: Read all ingredient labels for possible gluten content prior to use. Ingredient formulas can change, and production facilities vary among brands. If you're concerned that your brand may contain gluten, contact the company.
Nutritional Facts 1 slice (calculated without fruit) equals 101 calories, trace fat (0 saturated fat), 0 cholesterol, 149 mg sodium, 23 g carbohydrate, trace fiber, 3 g protein. Diabetic Exchange: 1-1/2 starch.
This was the perfect ending to an amazing meal and I suggest you try this Gluten Free Angel Food Cake recipe from A Taste of Home! We will be keeping this one for years to come.