So I've been at it again.  Starting my gluten free baking over the Christmas holiday with my Mom has created a monster.
I have to admit that I have an addictive personality, so this is not surprising to me.  What is surprising is that gluten and dairy free baked goods are SO GOOD.
I'd love a volunteer taster – because my waistline and my bathroom scale are crying at the moment.
My tummy is happy though, because this is the first time I've been able to eat a good cookie or a good cake in years.
So I guess I can't win, it will either be one of the other, so I promise to continue for a little while longer, and while I attempt to do that,  please feel free to make these Gluten and Dairy free Chewy Chocolate Chip Cookies.
They are awesome.  Maybe a bit too awesome.  And they stay for quite a few days if you store them properly!
And they make a lot, so make sure you have others to help you eat them…or your waistline and mine may end up picketing outside our homes.
Enjoy!
Gluten free and dairy free chewy chocolate chip cookies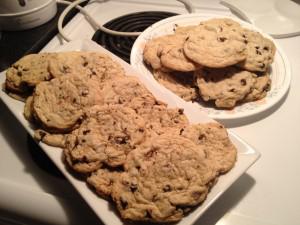 This was only some of the ones I made! (couldn't fit them all in the photo!)
Ingredients:
2 1/4 cups gluten free flour (I use Bob's Red Mill All-Purpose Flour, but any without Xantham Gum is appropriate) 1 teaspoon baking powder 1 teaspoon baking soda pinch of salt 1/2 teaspoon xanthan gum 3/4 cup dairy free butter (I use Earth Balance), room temperature 1 1/4 cups granulated sugar 3 egg whites 2 teaspoons vanilla 12 oz semi-sweet chocolate chunks
or
chips
Method:
Heat oven to 375°F. Line 2 baking sheets with parchment paper (or a silpat if you have one) to prevent the cookies from sticking. Combine all dry ingredients (except the sugar) in a medium bowl and set aside. Cream butter and sugar in large bowl until light in color and fluffy/creamy.  Scrape sides of bowl often.
Add eggs and vanilla. Continue beating, scraping bowl often, until well mixed.
Reduce speed to low and gradually adding flour mixture, until well mixed.
Remove from mixer and gently stir in chocolate chips with a spatula.
Drop dough onto parchment paper either by rounded tablespoonfuls or with an ice cream scoop.  Make sure they are about 2 inches apart to prevent them from running together while baking.
Bake for 12 minutes or until light golden brown. Let stand in baking sheets until cool and solid enough to handle, then remove from sheets and allow to cool completely on a wire cookie rack. Store in an airtight container. Enjoy! ********************************************************************************** This was a post was done as a part of
"Foodie February" over at Talking Momcents
. Go check it out – a lot of amazing recipes and food tips from some of your favorite bloggers, all linked up in one place.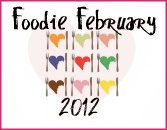 Join us!  We'd love to hear about your favorite recipes and spectacular food tips!