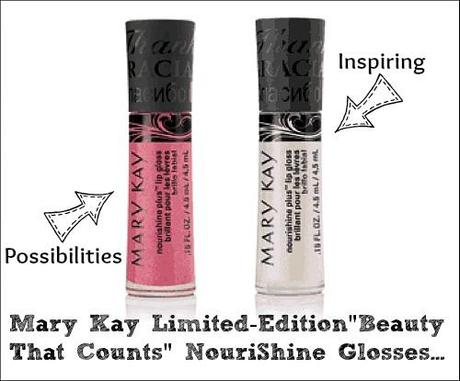 Nothing beats amazing makeup…unless it's amazing makeup that promotes an amazing cause. In an effort to put an end to domestic violence, Mary Kay is offering two glosses that will not only help bring awareness to this important cause, but will also inspire you to make a difference, one gloss at a time! From now through Dec. 15, 2012, $1 will be donated to The Mary Kay Foundation from each sale of their limited-edition Beauty That Counts® NouriShine Plus® Lip Gloss. Aptly named, two colors are offered: Inspiring (a pearl shimmer shade) and Possibilities (a soft pink shimmer shade).
These non-sticky, light-weight glosses rock the gloss casbah as they're the perfect combination of moisture, color, and shine. And if that's not gloss-tastic enough, the gloss cap highlights Mary Kay's gratitude with "thank you" messages in five different languages. (Merci, Mary Kay!)
To snag your limited-edition NouriShine Glosses ($14 each), head to Mary Kay's website.
Here's to beauty that counts – and changing the world one lip gloss at a time…
Crows' Feet, Cupcakes, and Cellulite does not accept compensation for reviews. Samples may have been provided. Opinions are 100% the author's own.