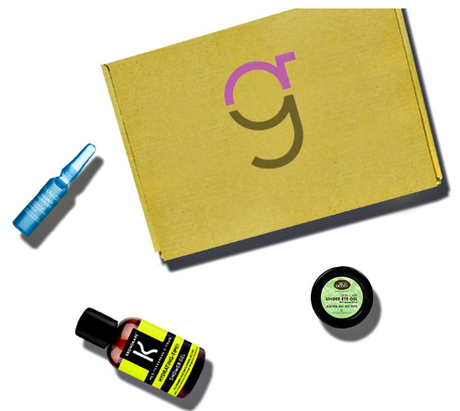 I Love Subscription Boxes and I'm sure everyone loves it. We can try different Brands & their Products at very economical price. Plus, most of the time it is a surprise for us that what we are going to receive. :) It is a TOTAL FUN!

Recently, a new subscription box is launched in India called "" and it is the most affordable box in town, i.e, only for
Rs.208/- (Including Tax). Me & My friends and I guess majority ordered this box because all of us were so curious to know how the box is going to perform at such an affordable price!

Price: Rs.208/- (Including Tax)
Total Products: 4 (3 Full Size + 1 Sample)
This Box lets you fill in your details & choice such as skin type, skin tone or any other preference. But the Let's explore March box was same for everyone so I hope in coming months products will be according to the Choices :) And sorry for the late post as I was trying out the products. 😄
what all I got in my First Glamego Box :)

1) Lass Naturals Foot Care Cream
It is Paraben & Phthalates Free with Ayurvedic Formula. Has Rosy Fragrance and is Price: Rs. 135/- for 100 GM
really effective because I've been using these days. Nourishes your feet very well & makes them soft to touch. But it is a bit greasy so you have to wait for 20-25 minutes before wearing your footwear. :)

2) Kronokare City Detox Facewash
This is Aromatherapy Face Wash without any harsh chemicals and is for all skin types. I've been using this from few days and loving it so far.
Leaves skin oil free & clear. True to the claim of being a refreshing product. My skin felt soft & cool post usage :) I also did a mini-review of it on my Instagram :)

3) Sea Soul - Dead Sea Mineral Facial Kit
I was expecting it to be for Oily Skin but I got it for Dry Skin & I came to know many people got Facial Kit for Opposite Skin. This is a Price: Rs.350/-
6 step facial kit with tiny sachets of 5 ml each. I haven't used it till yet but I will definitely update you with the review soon :)

4) Bio Bloom Mint Lip Balm
This one is too free from all chemicals and it is working so well for me. The way it softly nourishes the lips without making them heavy or greasy plus that minty coolness. Light on lips and is non-tinted :) Buy from Price: Rs.115/- for 8 GM
I'm happy with this.
So overall I'm happy with the products I got & that too at only Rs.208/- except that point that I got the kit for Dry Skin :)
glamego.com
Hope you've enjoyed reading this :) Feel Free to share your views :) Stay Tuned for More and Have a Good Day :)