At first look you may not recognize !!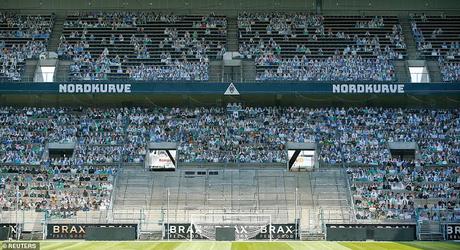 It was year 1996 – the first time Sri Lanka had been in last 4 – 1 lakh strong crowd cheering the home team.Chasing 250+- Sachin Tendulkar played well but not much of support.His school mate Vinod Kambli was not scoring runs but was crying out in the middle for, with the loss ofthe wicket of Aasish Kapoor, the crowd gave vent to its pent up anger at the pathetic Indian batting. When it was clear that the home team would not come out a winner, plastic water bottles and soft drink containers were hurled into the playing arena. With 15 overs to go and India reeling at 120 for eight, it was not possible for the emotionally charged Calcuttans to stand the humiliation any more. The missiles continued to rain for almost 25 to 30 minutes after the match referee, Clive Lloyd of the West Indies, and the two umpires, Cyril Mitchley of South Africa and Steve Dunne of New Zealand, led the teams out giving time for the crowd to calm down.The match was later awarded to Lankans.
Years later – on the morning of first day inFeb 1999,Javagal Srinath and Venkatesh Prasad reduced Pakistan to 26 for 6 yet Pakis made 185.A strokefilled 79 by Sadagoppan Ramesh ensured a small lead.India seemed to be cruising to a comfortable victory when Sachin Tendulkar collided with Shoaib Akhtar and was ruled run out by the third umpire.The final 10 deliveries of an engrossing Test match were played out after a three-hour delay, in front of a handful of officials, dignitaries and policemen. The huge crowd of Eden had been evicted, the empty stands a sad contrast to the first four days of exuberance and enthusiasm.

Crowds in India are different – for close to a decade, 3 stands I, J & K of MA Chidambaram Stadium remain empty following Court orders – violation of building permit (how can such a thing happen ?) – yet Chepauk draws huge crowds.Mahendra Singh Dhoni's ascent to dizzying heights put a small city like Ranchi inadvertently on the cricket map. From the eastern state of Jharkhand, MSD has become the heart-throb of the city; he is one of the most popular persons in Chennai, perhaps even better than some political party leaders.On a Sunday evening (17.3.2019), ahead of a CSK practice match at the M. A. Chidambaram Stadium, the serpentine queues outside the main entrance could be mistaken for an eager audience ramping up to an international match. The team bus arrived at the venue, to delirium. Every spectator on the periphery, unfazed by the gruelling heat and humidity, crowded around to watch – they had come to watch MSD practice.
Dynamo Dresden, who play in the second tier of German football, have put their entire squad and coaching staff into two-week isolation after two players tested positive for coronavirus. The Bundesliga and Bundesliga 2 are due to restart on Saturday, 16 May. It is set to be the first European league to restart following the coronavirus shutdown. "The fact is that we can neither train nor participate in a game in the next 14 days," said Dynamo. On Thursday, the German Football Association (DFB) said the season would resume under strict health protocols that ban fans from the stadium and require players to have Covid-19 testing.
The Bundesliga (German: 'Federal League') is a professional association football league in Germany and the football league with the highest average stadium attendance worldwide. At the top of the German football league system, the Bundesliga is Germany's primary football competition. The Bundesliga comprises 18 teams and operates on a system of promotion and relegation. Most games are played on Saturdays and Sundays, with a few games played on weekdays. 56 clubs have competed in the Bundesliga since its founding. Bayern Munich has won the Bundesliga the most, winning the title 28 times. However, the Bundesliga has seen other champions with Borussia Dortmund, Hamburger SV, Werder Bremen, Borussia Mönchengladbach and VfB Stuttgart most prominent among them. The Bundesliga was founded in 1962 in Dortmund and the first season started in 1963.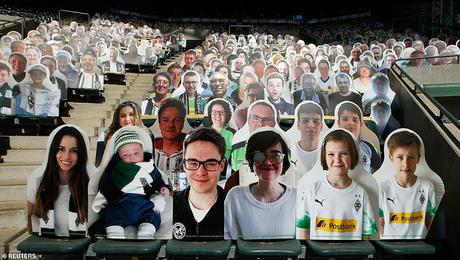 Now for the match on May 16 – the atmosphere's a bit flat! Cardboard figures with fans' photos on are set up by German club as they prepare to play without spectators due to Covid-19.They are making money on that too - Gladbach fans are able to upload photos online and order a cardboard cutout for the stadium for £17.Gladbach's first home game will be next weekend as they head to Eintracht Frankfurt away on Saturday. Life-sized cardboard cut-outs with photos of football fans are packing the stands of Borussia Moenchengladbach's stadium ahead of their first home game since the Bundesliga was suspended because of coronavirus. Gladbach fans have ordered more than 12,000 of the £17 cutouts which have been placed in the stands for their first home fixture at Borussia Park against Bayer Leverkusen on May 23 in a stadium that has capacity of 54000.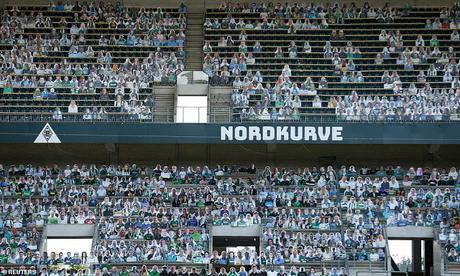 The Bundesliga is the first major European league to get back underway and will be playing behind closed doors, with no more than 213 people, including players and staff, allowed to attend stadiums.Gladbach's first game will be an away fixture at Eintracht Frankfurt on Saturday. The game is set to be crunch tie as they attempt to solidify their place in the Champions League, with Frankfurt just two points below them in fifth.

  

Profits from the 'Stay at home, be in the stands' campaign, kickstarted by fans of the club, will be donated to local charities, it is stated. Six games are set to take place at empty stadiums on Saturday, followed by another two on Sunday afternoon. British broadcaster BT Sport have announced that they will be showing every Bundesliga game for the rest of the season.
As the German league swings back into action, the country reported another 798 cases of coronavirus on Wednesday, taking its total to 171,306, while the death toll rose by 101 to 7,634. It has been one of the most successful countries in Europe at flattening its infection curve and today announced plans to reopen its borders with France, Switzerland and Austria by the middle of June.
Interesting !
With regards – S. Sampathkumar
14.5.2020.