08/30/2011 – by Cynthia Wright
With Tyler tha Creator's already sordid history with the media (well, the media that doesn't share his views – which seem to be the majority), it shouldn't be that surprising that GLAAD released a statement addressing Tyler's win for "Best New Artist" at Sunday's MTV Video Music Awards.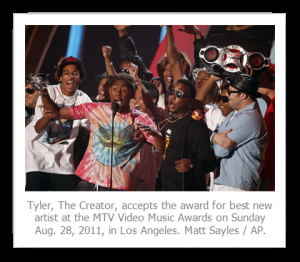 During the course of the show, Tyler gave his fans what they wanted – even though, the censorship board probably had their hands full, Tyler and his group, Odd Future attempted at times to be clever but came across as crass, selfish. Are they reflective of their generation, one can surely hope not or we are in a world full of trouble.
Tyler's use of homophobic and anti-woman slurs would give the majority pause and with Tyler's use of f***** an overwhelming 213 times in the course of one album, we can see why GLAAD is concerned.
Excerpted from GLAAD:

This isn't a case of a few cursory anti-gay slurs over the course of a career.  According to NME magazine,  the celebrated sophomore album of Tyler the Creator and his group Odd Future, Goblin, features 213 occurrences of the word fa**ot and it's variations.  Compare that to Eminem's debut album, The Marshall Mathers LP, which featured 13 total occurrences of the word and the sheer scale of Goblin's anti-gay rhetoric is frankly staggering.

As if that wasn't frightening enough, the album also contains numerous references to rape and domestic abuse against women.  So many in fact, that when Odd Future was given a slot in Chicago's Pitchfork Music Festival, it inspired a coalition of advocacy groups such as Rape Victim Advocates to distribute material at the event to counter the hurtful messages Tyler and co. were gleefully spouting onstage.
While, I'm all for artistic expression and I understand that Tyler's form of rap is a form of "shock rap," how this is benefiting the rap genre is not quite clear. The only winner in all this appears to be Tyler because any attention (negative or not) that he receives is building his brand. The only that is certain – the more attention Tyler receives the bigger his Stan base becomes.