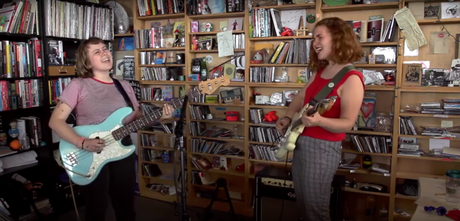 Girlpool
The musical duo Harmony Trividad and Cleo Tucker, also known as "Girlpool," have a lot to say about the rigid expectations girls face growing up in America. Through unsettling harmonies and raw, creaking voices — accompanied only by a bass and guitar — they send a clear message: They're fed up.
The duo's first EP, which was released in November of 2014 with Wichita Records, tackles issues of gender and sexuality from a variety of angles and in a bare, untrained tone allows the listener to really hear what they're saying. The song "American Beauty," for example, examines the imperfect but liberating experience of discovering one's sexuality, and affirms girls' sexual desires. "Jane" empowers girls to speak up and seek genuine, fulfilling relationships: The last line, "If you are a Jane, put your fist up, too," implies that "any old Jane" can defend her identity and dignity. "Slutmouth" pushes back against slut-shaming and gender expectations by bringing in alternating narrations. A boy asks, "Do ya wanna make out?… I heard you had a slutmouth/From the boy down the street." An older woman implores, "Why don't you close your legs?" Trividad and Tucker respond, in their characteristic plaintive wailing, by refusing "just to be made a housewife one day" and maintaining they "don't really care about the clothes [they] wear."
The common thread that seems to unite these songs is the duo's insistence that gender stereotypes and double standards are a legitimate issue by showing that there's more to women than their appearance and reputation, and importantly do so in a space that is less traditionally infused with feminist thought. While feminist thought in the academy and on the Internet are certainly important, music can also be an incredibly powerful conduit for young women to encounter feminist thinking, and one that may even resonate most powerfully with some individuals.
In June of this year, Girlpool released a full-length EP entitled "Before the World Was Big." The album focuses less on the issues young women face and more on a nostalgic examination of what it's like to grow up female. Some critics, including The New York Times, noted that "Before the World Was Big" is more polished and "subtle" than Tucker and Trividad's first release. But the unadorned, painful truths in Girlpool's first songs and their effort to force listeners to hear girls' raw struggles shouldn't be minimized or overlooked. Ultimately, Trividad and Tucker have done much to recognize that all girls have the right to feel and capacity to express themselves.  The duo has been increasingly recognized in mainstream spaces — like an  NPR Tiny Desk Concert in July and a growing online presence — and, hopefully, they will only continue to be acknowledged for their valuable work.