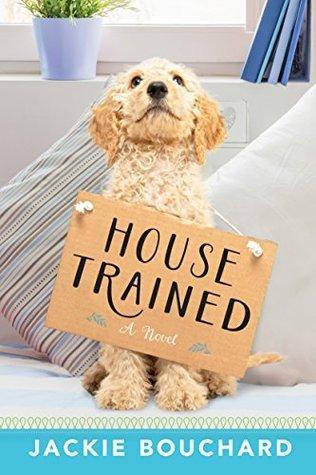 House Trained Published by Lake Union Publishing on October 20th 2015
Genres: Women, Fiction, Humorous, Domestic Life
Pages: 301
Format: Paperback
Goodreads


Alex Halstad, a childless-by-choice interior designer and dog mom, is a true perfectionist. But her orderly life turns chaotic when the teenage daughter her husband, Barry, never knew he had shows up on their doorstep…with a baby girl of her own in tow. While Alex's dog enthusiastically welcomes the new arrivals, Alex struggles with the loss of her steady routine. She desperately needs peace and quiet to get her business back on track before Barry finds out she's spent most of their savings. Meanwhile, the arrival of the girls stirs up old insecurities, and Alex can't help but worry that Barry's ex will make an entrance too. With her tidy life a distant memory, will Alex be able to learn from her dog the true meaning of love and acceptance?

From bestselling author Jackie Bouchard comes a humorous and heartwarming look at how life creates opportunities to love in surprising ways.
This was one of those books that was hard to put down. I hadn't heard of the book or the author before this book, but once I was into it, I found myself reading it anytime I could. 
The main character, Alex is married to Barry and they are childless by choice, but are parents to an adorable labradoodle named Marie. Everything in their lives change when Barry discovers that he is the father to a teenage girl, and grandfather to that daughter's daughter, Ruthie. While it starts out being overwhelming for Alex and Barry, as the story progresses, they overcome their initial shock and learn to love the girls in their lives. Marie loves the girls and she ends up being a live saving dog as the plot unfolds. I really love how the author weaves the family's pup into the story, which turns out making her one of the main characters as well. 
There's also a "sub-story" going on – Alex's strained relationship with her mother. Alex feels that her mother favors her younger sister who has children. After a major life threatening event occurs with Alex, she and her mother clear the air and resolve their relationship.  Alex finally learns her mom truly loves her as her mom shares that she paid more attention to her younger sister because she always felt that Alex always had it together.
Overall, I really enjoyed this book. When I finished this book, I was satisfied with the ending too. I thought it was a good book and liked it very much. I would totally recommend this to women's fiction readers.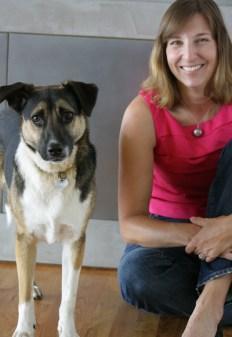 About the Author: Jackie Bouchard, a USA Today bestselling author, writes what she calls Fido-friendly fiction – humorous and heart-warming stories about women and the dogs that profoundly impact their lives. She spent a long time as a creative soul trapped in the body of a practical person. When she was bitten by the writing bug, she managed to leap free of the hamster wheel of corporate America, and now spends her days walking her dog, talking to her dog, and listening for the voices in her head that want their stories told. When the voices don't talk to her, she can often be found staring into the refrigerator. After growing up in Southern California, Jackie moved to Bermuda, where she met her husband. Now back in San Diego, American Jackie, her Canadian hubby, and her Mexican rescue mutt form their own happy little United Nations. Jackie's novels include House Trained (Lake Union, Oct. 2015), Rescue Me, Maybe and What the Dog Ate.
I received a complimentary paperback copy of this book from the publishers and BookSparks as part of the BookSparks 2015 Fall Reading Challenge and the BookSparks "Girl's Best Friend Blog Tour" in exchange for this post, which is my honest review and unbiased opinion.
~ ~ ~ ~ ~ ~ ~ ~ ~ ~ ~ ~ ~ ~ ~ ~ ~ ~

It would be great if you would stay connected with me!! You can follow me on Twitter @DebiL1611, like me on Facebook at 2014 and Beyond, circle me on Google+, follow me on Tumblr, Instagram and Bloglovin', subscribe on YouTube, or connect with me on LinkedIn and Pinterest.

Please make sure to visit my homepage and subscribe to my blog for more great posts on running, fitness and lifestyle topics as well as food, product, music and book reviews, and more!