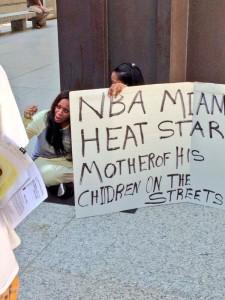 On July 19th, Siohvaughn Funches, ex-wife of Miami Heat star Dwayne Wade, paid a visit to the Daley Center with a handwritten sign that stated "NBA Miami Heat Star Mother of his Children on the Street".  She decided to come to Chicago (Dwayne Wade hometown) to show what kind of man he is. I'm pretty sure she had taken a few doses of the bitter pill before she came up with this idea. I'm also sure she's not sleeping on the street (raised eyebrow). However, she definitely made herself look bad. She's taken on the bitter ex-wife role and suffers from failure to thrive after a divorce.
I do understand that some women really have a hard time getting over heartbreak and divorce. It drains us and takes a while to sink in, but after a month or two most of us get up off our ass and get ourselves together.  They had a very public divorce that mostly made her look crazy as hell while Dwayne Wade and new boo Gabrielle Union came out looking squeaky clean. I'm not sure what happen in their household, nor do I know if she was bat shit crazy when they were together; but in most situations when there's another women involved, the husband will do what he can to make the wife look bad; especially if the new woman is controlling the situation! It was also a double whammy when he was awarded custody of their children.
Most people failed to realize that Dwanye Wade was her high-school sweetheart. They had been together since she was 15 years old. I think she loved him so much that when she found out he was cheating it made her crazy. Let's set the record straight, I think Gabrielle Union took this woman's husband, I think she played a major part in how things turned out, and I think she played a huge role in convincing Dwayne Wade to make this woman look crazy which also included getting custody of kids. The whole "they were having problems when we met line" is BS. After all, she was on Oprah a few weeks ago and basically said she was a mean girl and envious of other women. So to me that translated to, I am a bitch who goes after what I want including somebody else's husband. So let's make her (Siohvaughn) look bad so we come out untarnished and looking favorable in the public eye.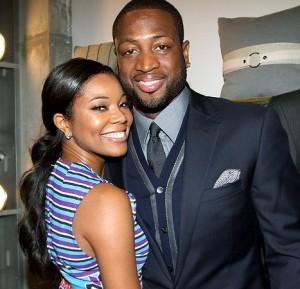 Photo Credit: usweekly.com
If I could talk to this lady, I would tell her to get her ass off the concrete and get it together. Get some counseling and stop harboring on Dwayne Wade. Make a life for yourself and work on getting your kids back. Hell, write a book and tell your story. I am sure you're not homeless with the reported $25,000 that Dwayne Wade gives her a month. You are not the first woman to have her home wrecked by a cheating husband and mistress.  Hell, I wish my ex could pay me $25,000 a month! I should've walked 3 blocks to the Daley Center to see this sad display of failure to thrive.
The underground news now is that Dwayne Wade cheated on Gabrielle Union and got another woman pregnant. You know what I say, KARMA! Can't wait to see how this plays out.
What do you think?
Read more about it here: http://www.nydailynews.com/sports/basketball/miami-heat-star-dwyane-wade-ex-wife-blasts-daley-center-article-1.1404398