Hello Ladies,
Recently, I have become a bit hyper obsessed with my hair. Yes, it's all because of you girls flaunting your gorgeous hair. I am not exactly blessed in the hair department, just that my hair is quite thick, heavy and wavy but it lacks all that luster and healthy shine which I so badly crave for. Did I forget to tell you that my hair is really really dry also...?? (Sighs) So after reading
Tanveer of Addicted to Blush's
post about this hair treatment, I got this one for myself. I have mixed feelings about this product. It worked very nicely for her hair, but I guess my hair is doomed for this lifetime.
What Giovanni VitaPro Fusion Leave in Hair Treatment claims: VITAPRO FUSION Protective Moisture Leave-In Hair Treatment with PureOrganic Technology
·

  

Deep Conditions;
·

  

Penetrates damaged hair to rebuild and repair;
·

  

Infuses hair with protein-enriched botanicals;
·

  

Protects hair from heat, chemicals and bad days.
Vitamins aren't just good for your body. They're also good for your hair. When combined with protein, the result is stronger, healthier, shinier. Vitapro Fusion fuses together the best parts of vitamins with the essential elements in proteins to create soft, manageable, beautiful hair. Professional hair. What a treat.
*Contains a blend of organic oils, ripe-harvested from renewable plants at the peak of their freshness, cold pressed and refrigerated immediately to ensure maximum purity. Infuses each individual strand of hair with vitamins, nutrients and protein for strength and vitality.
Ingredients
- Aqua (purified water) with rosemary (Rosmariuns officianalis) oil, nettle (Uritaca dioca) oil, thyme (thymus vulgaris) oil, birch leaf (butela alba) oil, chamomile (anthemis nobilis flower) oil, clary (salvia sclarea), lavender (lavendula angustifolia), coltsfoot leaf (tussilago farfara), yarrow (achillea millefolium) oil, mallow (malva sylvestris), horsetail (equistetum arvense) oil, soybean protein (glycine soja), tocopherol (vitamin E), trace minerals, PVP, citric acid (corn), sodium hydrozymethylgycinate, grapefruit seed (citrus derived), fragrance with essential oils.
*Certified Organic by Guaranteed Certification Services. No animal by products & cruelty - free.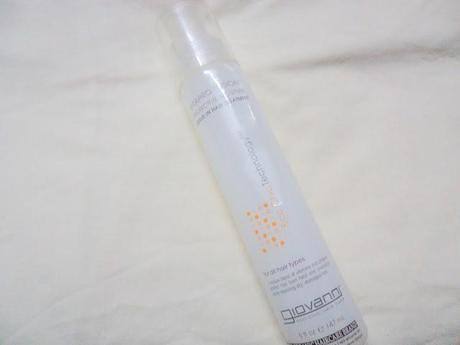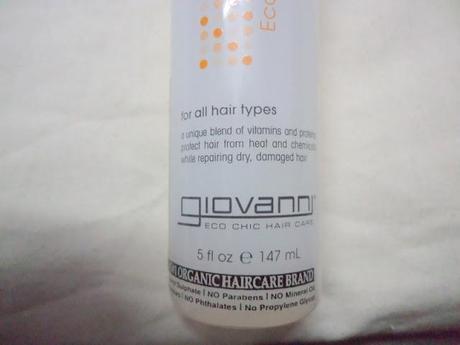 Directions
Spray into clean, damp hair. Leave in. Comb through to distribute evenly and style.
For all Hair Types
Price: Rs. 595 for 147 ml
I tried using this in many different ways. I use 4-5 sprays for my shoulder length hair. The spray applicator makes application a cakewalk. Just spray and comb hair to distribute evenly.
Before Hairwash
When I used it 2 hours before hair wash, it made my hair a bit oily, but afterthe hairwash, my hair was back to being its unruly best. It does help with the frizz but only to some extent, only when I use it before as well as hairwash.
After Hairwash
When I used it after a hairwash on naturally dried hair, it did smoothen my hair and the tangles were also very less. My hair looked and felt much smoother, but the effect lasted only for a day.
Used on my Mother's Hair
I used it on my mom's hair too. My mom had lost all her hair 2 years back due to her chemotherapy and right now, her hair reached her neck. Her hair too, is quite wavy but since its quite short right now, the waves appear more like small curly ringlets. My mom had the most gorgeous hair i.e. jet black, thick, long, heavy and lustrous hair before her illness. When I used it on her hair, it seems to work better for her hair. Her hair becomes more smooth and soft. The ringlets also seem to straighten out and her hair looks like it has been cut in small layers rather then the curls, which she too detests. Let me just say, it works way better for her hair then my hair.
What works for me
·

Ease of application - The spray packaging makes applying it very easy. No need to use fingers. Just spray and comb hair to distribute evenly.

·

No parabens, no silicons, no SLES etc.it's fully organic and certified.

·

Very less quantity is needed. Just 4-5 sprays. This is going to last me for a long time. Maybe 1.5 - 2 years. Absolute value for money. It may look a bit expensive but the quantity needed everytime is very less. I have used it every week, before and after hairwash for almost 3 months now, and the quantity in the bottle still looks the same.
·

  

Easy to carry. No fear of liquid spilling and leaking while traveling.
What did not work for me
It has little benefit for my hair. I have used it in a lot many ways, varying the quantity from 8-10 sprays to 4-5 sprays, but the effect is always the same.
In my opinion, I think it will work great for girls with normal hair. Girls with dry, very dry and frizzy hair may give it a pass. I think I need something really heavy duty to moisturise my hair. Maybe L'Oreal Professional Expert Serie Intense Repair Masque. What do you suggest ?