Today's review is about the Giordano Libero 1.6 Men's Road Bike 700C and here I will try to provide you with all the information I believe you need to know about this men's road bike before you decide to buy it or not.
Please remember that this post is only a review about the Men's Road Bike. If you try to find deals and discounts for this road bike for men online then you can Click Here to get the Giordano Libero 1.6 model at a great discounted rate today…
Short Description About The Road Bike
The bike is an ideal choice for people who want to enjoy biking without the expensive price tag. This handsome Italian-inspired road bike is built around a handcrafted 6061 aluminum frame, which is both lightweight and sturdy, and this model has an overall weight of 24 pounds.
You Might Also Like: Schwinn Protocol 1.0 Men's Dual-Suspension Mountain Bike Review
The Road Bike features a Vitesse alloy 700c 32-hole rims complete with 700×25 black road clincher tires that offer comfortable and smooth rides. In addition, its alloy side-pull back and front brakes allow you to pull it to a full stop very easily.
Once fine tuned, the Men's Road Bike flawlessly shifts thanks to its Shimano ST2300 STI 16-speed shifters with built-in brake levers. It also comes with pedals that have VP plastic body with alloy cages, sturdy 700cc wheels, high-tensile steel fork, dual water bottle mounts, replaceable derailleur hanger, 1-1/8 inches alloy threadless stem and 16-speed Shimano STI drivetrain.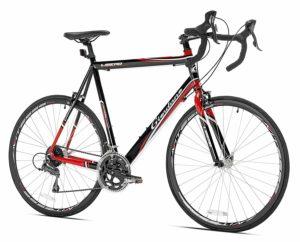 Other Important Details
Shipping Weight: 25 pounds
Average Score: 4.2/5
Percentage Of Reviews That Are Positive: 87%
3 Useful Reviews from Other Users:
Great price for great bike.
This is a very good road bike for the price, the only recommendations I would say is to change the breaks as they are not that great of quality…
Really good beginner/medium level bike
Really good beginner/medium level bike. I use it to commute everyday + one triathlon (though I didn't do it yet, I'll update if something went wrong)…
Perfect bike for those wanting to test out the road
Perfect bike for those wanting to test out the road cycling scene without spending too much money. You can get this bike and all necessary accessories…
The Pros And Cons Of The Giordano Libero 1.6 Men's Road Bike
The Pros
Even if you don't have a clue on how to use tools, it is moderately easy to put this road bike model together.
It looks really great. If you don't know its price, it's easy to mistake this as one of those high-end road bikes.
This is fortunately lightweight. It would even be easy to lift and carry it in a flight of stairs.
It shifts pretty well and doesn't wobble even when cars rush past you.
The Velo seat is surprisingly comfortable and has a good design.
This is a reliable and fun entry level road bike at a reasonable price.
The Cons
It is a pretty decent road bike, but making a few upgrades would it make even better.
The tires are not that hard-wearing and prone to flats.
Its brake system doesn't have enough stopping power, which could be resolved by changing the brake pads.
The Bottom Line
The Bike is a good option for those who want to experience road biking without having to spend big—like $700, more or less. Most consumers agree that this is well worth the money they spent, including the money they spent on fine tuning its components.
For the price, the parts of this model are pretty sturdy and fully functional. Although it's easy to assemble, you might want to consider getting the help of a professional for your safety and to enjoy this bike more.
Overall, we wouldn't hesitate to recommend the Giordano Libero 1.6 Men's Road Bike to anyone and we are sure that you will find this model super affordable.