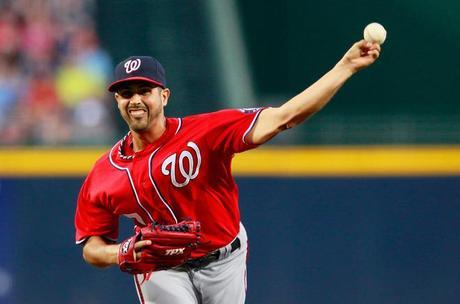 Photo: Getty Images/Kevin C. Cox
- Adam Parker
Who would've
thunk
it?
The Washington Nationals are currently the top dogs in the National League East -- a division that also boasts the perennially strong Philadelphia Phillies, an improving Atlanta Braves squad and the new look (and much-improved) Miami Marlins.
But yet, with just under 50 games under their belt, the Nationals are the toast of division, leading the surprising New York Mets by 2.5 games.
How are the Nats' doing this, you ask?
Look no further than young ace Gio Gonzalez, who has been a huge contributing factor in the team's success thus far.
To say Gonzalez has been nothing short of amazing so far would be an understatement.
The 26-year-old lefty is coming off a gem of a game against the division rival Atlanta Braves in which he struck out 10 batters and gave up only one hit over seven innings of work. He now sits with a (7-1) record and a phenomenal 2.04 ERA. He also leads the Major Leagues in strikeouts with 79.
Stephen Strasburg fans may disagree with me, but for my money, Gio is clearly the best starter in Washington's rotation.
Needless to say, he was worth every penny (and four prospects) the Nationals gave to the Oakland Athletics to bring him to the nation's capital.
Did Nats' manager Davey Johnson envision Gonzalez being that kind of pitcher after the team acquired him from Oakland?
"I knew he was a good pitcher and I know he made the All-Star team with Oakland,"
Johnson said.
"I thought he was a little wilder. He basically showed good command all year. He used that changeup off his fastball. He commands both sides of the dish."
Not only is Gonzalez crazy-talented, he's also very humble. When asked about his superb outing, Gonzalez was quick to give credit to his teammates, most notably the defense behind him and catcher Jesus Flores.
"I was trying to pound Flores' glove and go after the hitters,"
Gonzalez said.
"The Braves are good hitters. I was trying my best to avoid contact, sometimes let them put it in play. The defense came in, the catchers did a great job. It was a good team win today."
No doubt the Nationals have struck gold with Gio.
Trading for young pitchers is a very high risk-high reward business venture in baseball these. In one scenario, you could end up like the New York Yankees, who traded for 23-year-old power right-hander Michael Pineda. Pineda has yet to throw a single pitch in pinstripes and is expected to miss an entire calendar year after undergoing surgery to repair a torn right shoulder labrum.
Will Pineda still work out for the Yankees? We'll have to wait and find out.
But in the case of "GG" and the Nationals, well, I'd say that marriage is a home run.
Be sure to follow Beard And Stache on Twitter 
@BeardAndStache
, 
and also Adam 
@Adam_Parker43
, Like our Facebook page 
HERE
!