Remember I said before that I simply love the book, My Kitchen Year by Ruth Reichl at here and here? And I still do...
I have no doubt at all that THIS recipe will make a good ginger cake and I'm totally right!
It is so moist and warming that I have to say that it is the best ginger cake ever!!!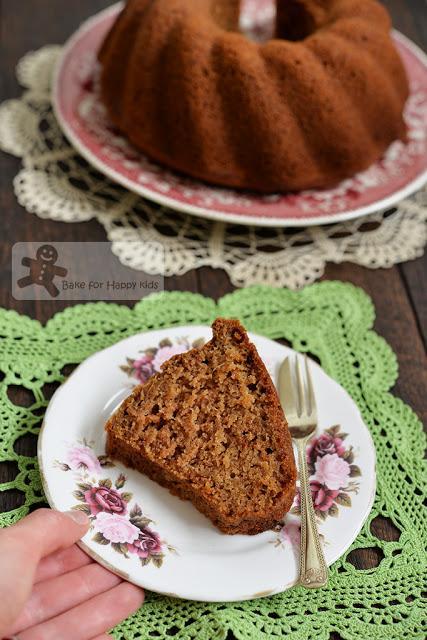 Ginger Applesauce Bundt Cake
My husband, son and I are NEVER a fan of ginger cake but I always have to bake ginger cake for my ginger-cake-loving aunties. For my trips to Singapore, I have to pack boxes of freshly baked ginger cakes into my luggage and bring them along with me back to Singapore. I wonder... why are my aunties love eating ginger cakes so much? I asked myself... because ginger cakes are for old ladies? LOL! I laughed whenever I had this funny thought.
Ok! I should stop teasing my aunties and start baking...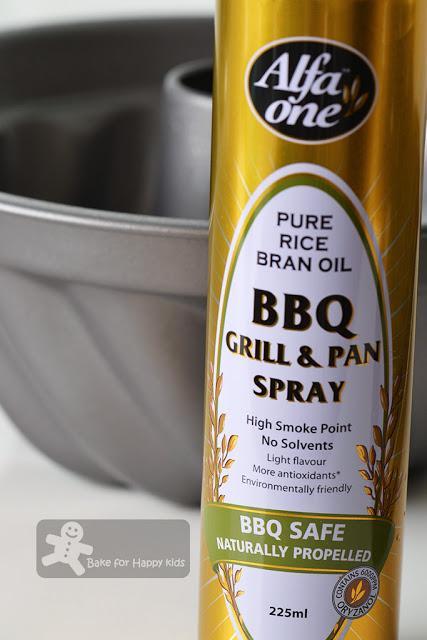 First, I used Alfa one rice bran oil spray to grease a 12 cup capacity Bundt cake tin and lightly floured the greased surfaces.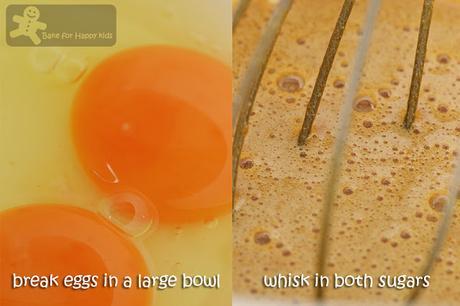 Then I did this.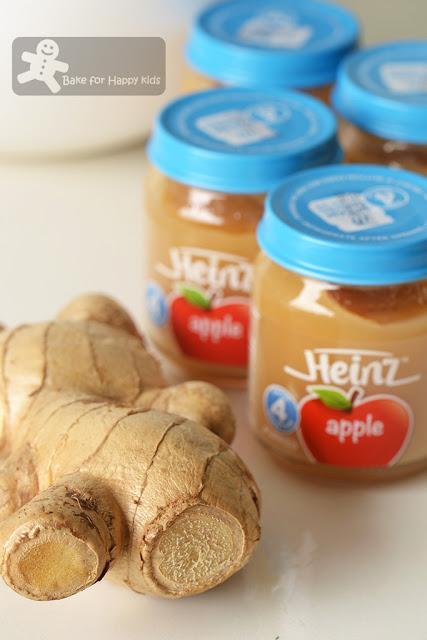 Next, I whisked in the freshly grated ginger and applesauce...
"Mum, why are we buying these baby food? My son asked when he saw me loading our shopping trolley with 4 jars of apple purée for babies.

"They are for auntie J and K." I replied.
"OMG!!!" Then we had this never ending series of hysterical laughter!!!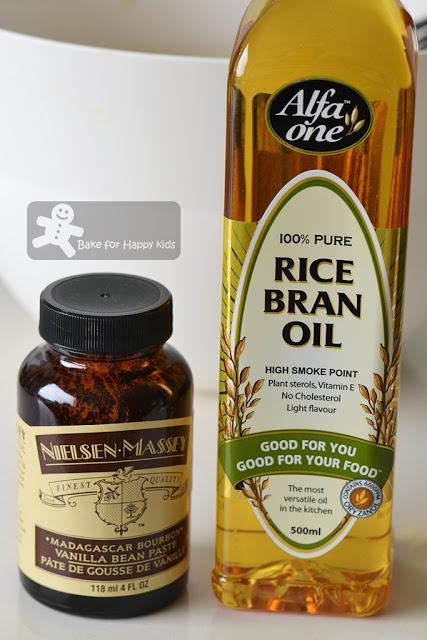 Then, I whisked in Alfa One rice bran oil and vanilla paste into the batter until smooth.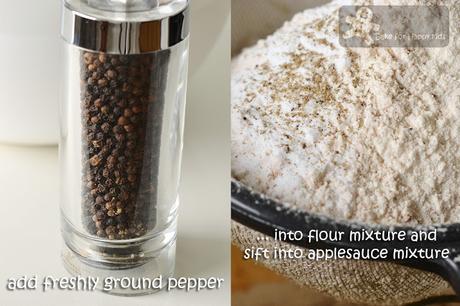 ... and stir gently until everything is JUST combined.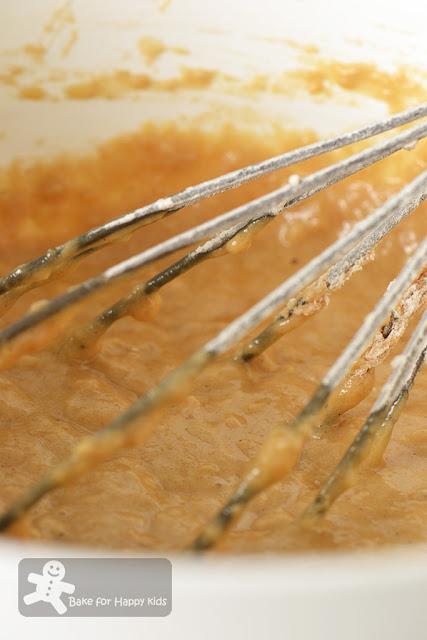 It is important not to overmix the batter.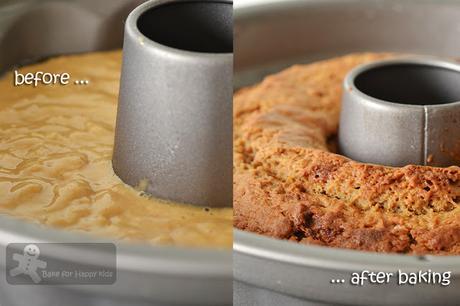 The smell of this cake baking in my oven is so warm and beautiful.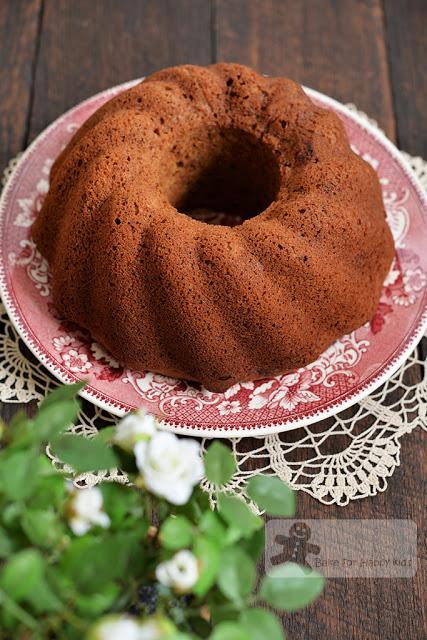 I was like "Wow" when I removed the cake from the baking tin.
The deeply coloured crusted cake looks so rich in its flavours and texture.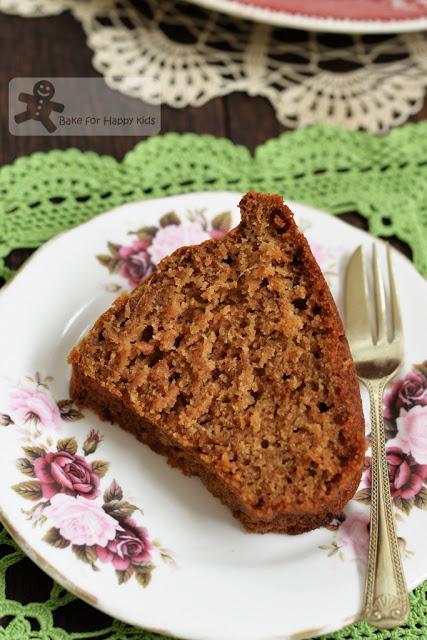 The original recipe suggests serving each serve of this cake with a spoonful of caramel glaze but I just like it simply on its own.
Are you a ginger cake lover?
Yes? Then I have to scream to you... You MUST BAKE THIS RECIPE!!!
No? When I had my first bite of this cake, I had to double check with myself... Am I a ginger cake lover? Have I converted myself into a ginger cake lover? Or is the olde me growing to love the warmth, comfort and hugs from this moist and yummy ginger cake? Confused??? Not really because I'm 100% sure that this ginger cake is truly lovely! So why not try baking this recipe? Who knows? You might convert yourself into a ginger cake lover... LOL!
Here's the recipe that is mostly adapted from the book, My Kitchen Year by Ruth Reichl, here, here and here.
Make one large 12 cup (3 liter) Bundt cake
For the cake:
1 1/2 cups unsweetened applesauce* (I used Heinz baby apple purée 4 x 110g)
2 large eggs
100g (1/2 cup) caster sugar (original was 200g, 1 cup and reckon this sweetness is just right for us)
100g (1/2 cup) light brown sugar
1/2 tbsp (or more if desired) ginger, peeled and freshly grated - Yes that I had to add MORE (like the entire large ginger) for my aunties!!!
160ml (2/3 cup) neutral vegetable oil, preferably Alfa One rice bran oil
1 tsp vanilla extract or paste
300g (2 cups) all purpose or plain flour
1 1/2 tsp baking soda
1 tsp salt
freshly ground black pepper
2 tsp ground cinnamon
vegetable oil spray, preferably Alfa One rice bran oil pan spray to grease* Due to time limitation, I can't make my own apple sauce to bake this cake and reckon that the use of this sugar free and preservative free baby food kind of "applesauce" is equally awesome!
To bake the cake:
Preheat the oven to 180°C / 350°F. Grease and flour a 12 cup Bundt tin.
Break eggs into a large bowl. Whisk in both sugars until combined. Add ginger and applesauce. Whisk in oil and vanilla and mix until smooth.
Combine flour, baking soda, salt, a few grinds of pepper and cinnamon in a medium bowl. Sift the flour mixture into the applesauce mixture and stir gently until just combined.
Pour batter into prepared Bundt pan and bake for about 45 mins or until cake bounces back when you press your finger into it.
Cool cake slightly for 15 mins before removing it from the tin and allowing it to cool completely on a wire rack.
Cut and serve. You can eat it on its own or pour or drizzle a spoonful of caramel glaze on every slice of the cake you served.For me, I just like to eat the cake on its own... plain and simple with a cuppa but if you interested to make the glaze, here's the recipe...For the glaze:1 cup (250ml) cream3 tsp light corn syrup or golden syrup1/2 cup brown sugara pinch of salt1 tsp vanilla extract or pasteTo make the glaze:Pour cream in a heavy-bottomed pot. Whisk in brown sugar, corn syrup and of salt and bring mixture to a boil. Turn heat down to medium and continue to boil for about 15 min, whisking in every few mins.
When glaze become thick and smooth, remove it from heat and stir in vanilla. Use glaze to drizzle the cake while it is warm or cooled to room temperature. Both are equally nice.
Happy Baking
Please support me and like me at Facebook...
I'm baking this Bundt cake for our LAST bake-along with Lena from Frozen wings and Joyce from Kitchen Flavours. We have baking for the past 5 years and we are now baking the theme, Bundt cake for our 5th Bake-along anniversary and that's it! Thank you for support our blogging events for the past years and we hope that you had enjoyed baking with us.
We won't be using the linky thumbnails for this bake-along. If you wish to bake-along with us, you can publish your post as usual and leave a comment in our blog post.