It was with great anticipation that I headed down to my favorite home town venue on Friday. I was to see a band relatively new to me but who I was very excited by; The Ghost Riders in the Sky.
First on stage were a band from Cambridge called Meet Me At Dawn. As soon as they graced the stage, I spotted that bass wielding Ross was sporting a Pink Floyd t-shirt – good taste, that man!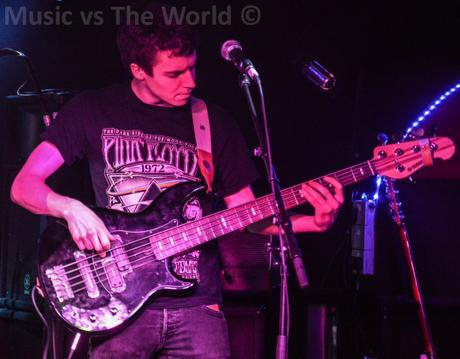 An excellent choice of opener, Meet Me At Dawn launched into a set of punk-rock tunes, deep lyrics in abundance and a heavy hint of Green Day's style. I was impressed, and made sure to tell them post-gig. I'd love to see them in their home town as I can imagine they pull a great crowd in!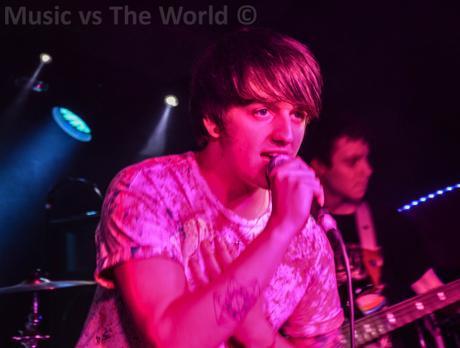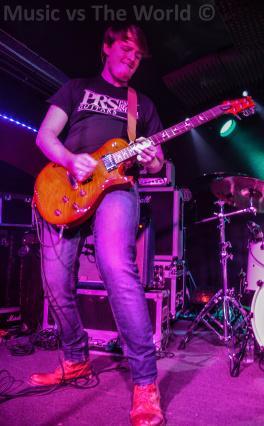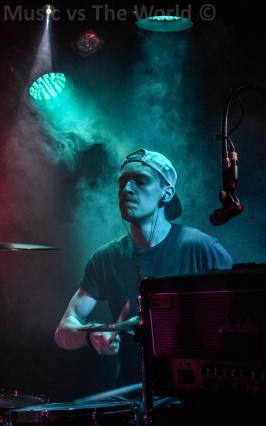 Meet Me At Dawn's self-titled EP is available now on Bandcamp, and their new single "Heartless" is out soon in all the usual places.
Next up were Cambridgeshire based Phoenix Calling – I'd heard very good things about them, but never had the chance to see them. They supported Young Guns on their recent UK tour, been featured by Johnny Doom on Kerrang! radio, and have headlined regional festivals such as The Willow Fest, reportedly going down a storm!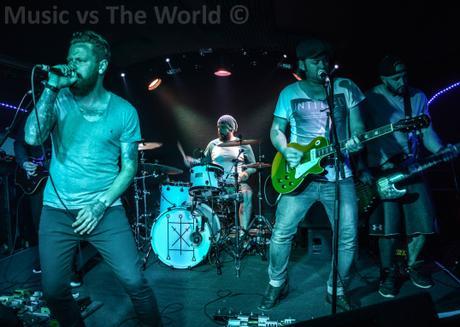 What immediately struck me was their unbridled energy – vocalist Steve was all over the stage; getting photos of him was a challenge, but one that I enjoyed immensely! What these guys did particularly well was get the (albeit small) audience on side – the room suddenly filled with joy when they performed their mash-up of I'm Yours, One Love and Prince of Bel Air – anyone who can make a Jason Mraz song sound good has my vote!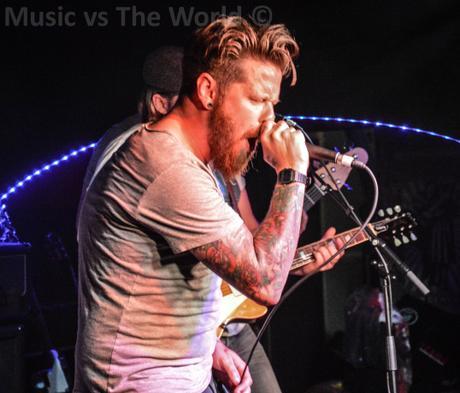 Powerful, compelling tunes are what makes up Phoenix Calling's set. They somehow manage to compress warmth, intensity and fun into one package. The band's rapport is genuine and heart-warming, and their passion for what they do is palpable.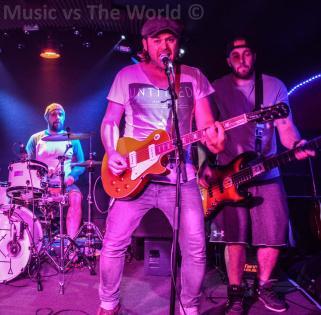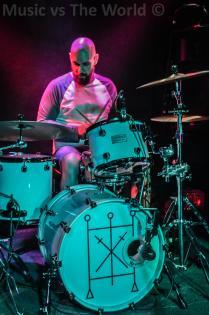 You can buy their album "Forget Your Ghosts" here and see them live at various shows up and down the country, including a very recently announced gig on 2nd July at Festival Too supporting The Vamps!
Finally, the band I had been so looking forward to seeing, The Ghost Riders in the Sky, crept almost nervously onto the stage.
When I first stumbled upon them, the fact that their band name was taken from a Johnny Cash song had not gone unnoticed – I figure that anyone who likes his work is onto a good thing. I then learned that the band is the brainchild of former Gallows guitarist Steph Carter (brother Frank was also in Gallows – you may also associate him more recently with The Rattlesnakes…) and my interest increased a fair few notches!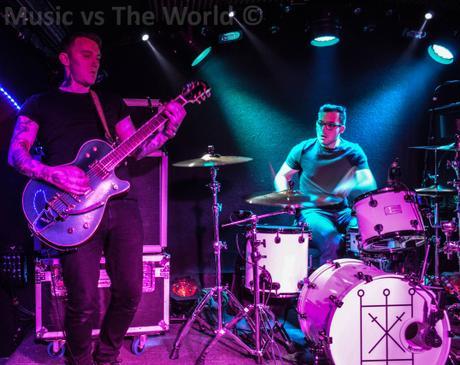 Fronted by singer Gillian, who I heard someone describe as a cross between Audrey Hepburn and Hermione Grainger, and with the band on an equal pegging looks-wise, this was to be a gig with something for everyone in the eye candy stakes, at the very least!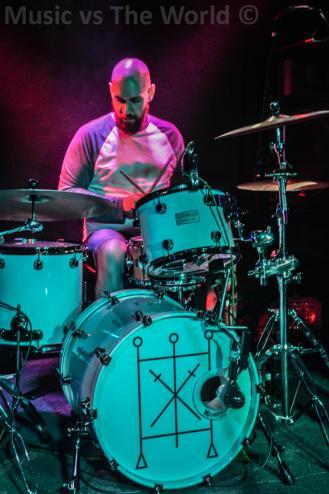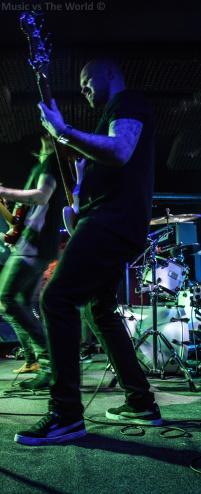 It may have been the sum of being shattered after a hard week at work + insomnia + out of work "stuff" + a few beers = a hypnotised state, but I doubt I'd have felt quite so mesmerised if some shoddy pop group or mediocre covers band had been in attendance. From the very first note, I felt as hooked on the music as the band looked.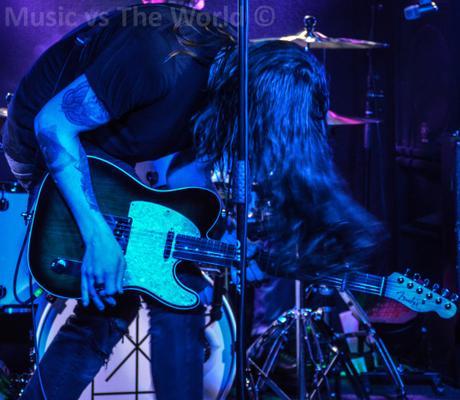 Every song was gracefully delivered, each note eloquently pronounced, and whenever I looked at a different member of the band they were fully immersed in what they were doing – I doubt that even an earthquake at 9.5 on the Richter scale could have stopped them playing.
Gillian has got a cracking voice – in places, she reminded me of Suzanne Vega, and at one point I thought of Maria McKee when singing "If Love is a Red Dress". Beautiful, and matched perfectly to the both the searing rock music and that with a more sympathetic, tender feel.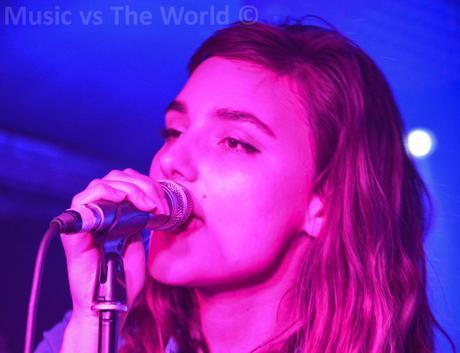 Carter describes their genre as British Americana, and having witnessed it live that makes complete sense. It's a definite departure from his work with Gallows – it's not so deliberate that it feels forced, though, and therefore has a natural honesty to it that is very attractive.
In essence, The Ghost Riders in the Sky brought another world to Stamford that night. I have no doubt that they are absolutely made for bigger things, but conversely they suit this venue perfectly – I just wish more people had been there to witness this phenomenal evening!
New single "Wastelands" is out now – have a listen…
You can buy (in Gillian's words, not mine) "t-shirts and vinyls and CDs and bullshit and bullshit" here – I bought "The Death of Everything New" album on vinyl, and am waiting for some time alone when I can be fully engrossed in it.
New favorite band? I think so!