To say I was apprehensive about my attendance at an Exodus show is an understatement. It was to be the first experience I was to have of Thrash Metal in a live setting, and I was afraid not only of coming out in twenty million pieces but also that I simply wouldn't like it. I had familiarised myself with their music and band history, but nothing could have prepared me for what I was about to witness!
The night commenced with London's own The Heretic Order. Dressed in theatrical cloaks, masks and makeup, they prowled onto the stage in the dark to the strains of a haunting instrumental. This set the scene perfectly. They absolutely delivered on their claims to be a "classic metal sounding beast", and the audience were totally on board from the start.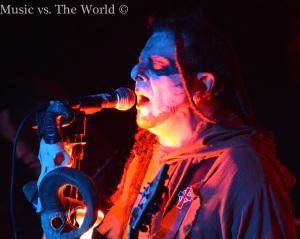 This is a band relatively new to the Metal arena, having formed in 2014, but they are gaining kudos and momentum in equal measure and are working very hard to prove themselves. Their debut album "All Hail the Order" is due for release on 25th September 2015, so be sure to check that one out!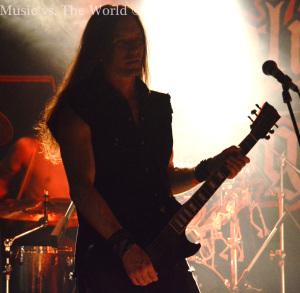 The next band on stage was
English Dogs
, back on tour for the first time since their 2012 USA & Canada shows. However, they were last in the UK with 3/5ths of this lineup back in October of 1987, so this was a highly anticipated set of shows for an incredibly patient audience!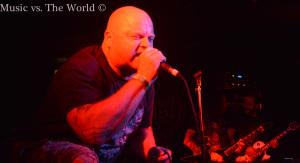 Following a devilish 60 second excerpt from the movie "Halloween", English Dogs launched furiously into "Forward Into Battle" to start their half hour set.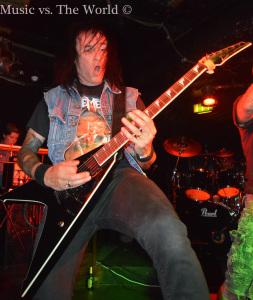 Adie Bailey's stentorian roar and innate ability to get the crowd involved, Gizz Butt's unwaveringly nimble and insanely skillful guitar playing (he can do things with a guitar most musicians I know can only dream of), Spike's superb balance of attack and control on the drums, Angus's fervid execution of the bass lines, and Phil's precise, robust guitar riffs provide an incredibly tight, unflinching array of songs which clearly gratifies and indulges a hungry audience. A superb return to action!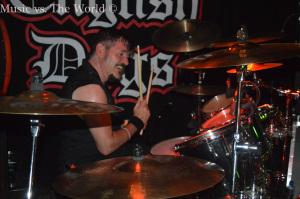 English Dogs have upcoming shows later this year in Dublin, Belfast, Norwich and Wakefield and with any luck that won't be the last we hear of them!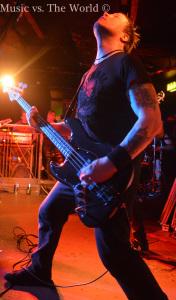 Set List:
Forward Into Battle
The Final Conquest
Ultimate Sacrifice
Gorgonised
Ambassador of Fear
Wall of Steel
The Thing Will Arise
The Chase is On
Survival of the Fittest
Finally, it was time for Exodus. The crowd were chanting their name and throwing the horns around like there was no tomorrow – a good philosophy in my book.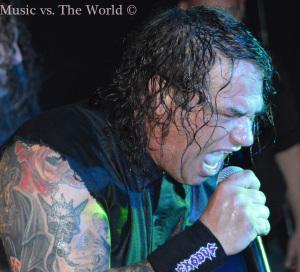 This lineup of Exodus includes the welcome return of much loved, and arguably best, frontman Steve "Zetro" Souza. At one with the feverish, rabid crowd from the moment he stepped onto the stage, he proceeded to further secure their affection by simultaneously urging them to partake in "good, friendly, violent fun" but also to look after each other in the process.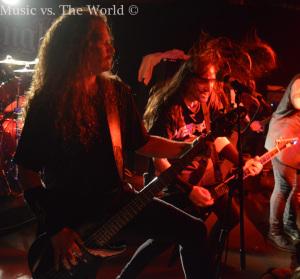 From first to last, Exodus dispatched an epic helping of sonic assault, with a setlist spanning all albums including their latest "
Blood In, Blood Out
". The only lament was the lack of songs from the "Fabulous Disaster" album, and the fact that "Last Act of Defiance" was saved for the Manchester show the night afterwards.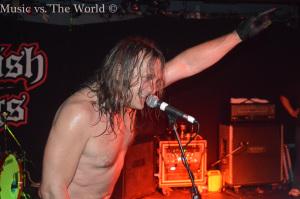 Tom Hunting's relentless and adamant drum skills give Exodus a powerful advantage over lesser Thrash bands. Bass player Jack Gibson swaggered around the stage like a demented General Custer, all without dropping a single note. Guitarist Lee Altus fixed his wide eyed stare on audience members from behind his dark mane, and seemingly effortlessly played through fifteen of the most intense, intricate songs I've ever heard. The Gary Holt shaped hole (he's on tour with Slayer) was expertly filled by the rather excellent Kragen Lum of Heathen.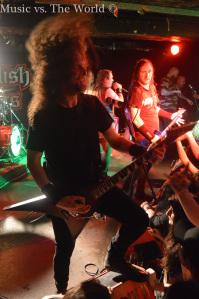 A highlight of the set for me was "A Lesson in Violence", which became even more brutal than usual when English Dogs guitar virtuoso Gizz Butt was invited onto stage, adding an extra lashing of prowess into the musical inferno.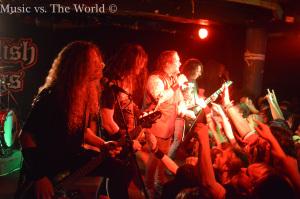 The confined circle pits moving in a clockwise motion around The Underworld's central ceiling pillar and constantly rolling tide of crowd surfers and stage divers only served to add to the glorious spectacle that is an Exodus show.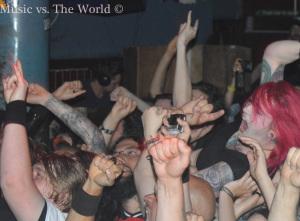 My conclusion following this live music experience is that people who listen to "ordinary", or "mainstream" forms of music should at some point in their lives experience a full on Bay Area Thrash Metal show, to fully appreciate the extreme levels of skill, personality, comradeship, and head crushing, ear-bending power that is peculiar to this form of heavy metal.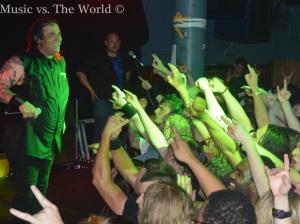 Set List:
Black 13
Blood In, Blood Out
Iconoclasm
Children of a Worthless God (Preceded by 'Raining Blood'/' Indians' tease)
Piranha
Salt the Wound
Pleasures of the Flesh
Body Harvest
Metal Command
Blacklist
A Lesson in Violence (With Gizz Butt from English Dogs)
Bonded by Blood
Encore:
War Is My Shepherd
The Toxic Waltz
Strike of the Beast