What happens when you put two of the biggest bands in the world in a room together with 13,500 rabid fans? The answer was provided on Saturday night at Sheffield's Motorpoint Arena, when both Whitesnake and Def Leppard graced the stage for our entertainment. What did we get? A spectacle of the highest degree.
Of course, the night didn't start with either of those bands. The support was provided by Black Star Riders, who were formed in 2012 by the most recent members of Thin Lizzy who wanted to record new material under a different name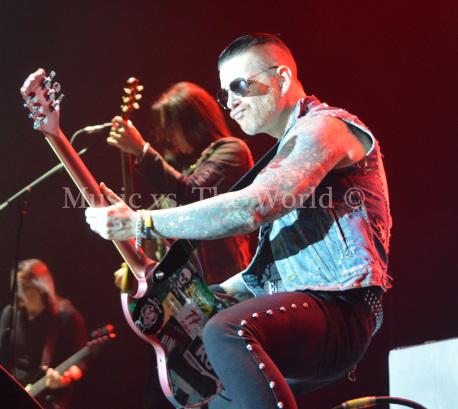 This band has a killer lineup – the legendary Scott Gorham on guitar along with a very energetic, charismatic Damon Johnson, Ricky Warwick on vocals doing a convincing Phil Lynott impression during the Thin Lizzy tunes, Jimmy DeGrasso on drums (who has also played for Ozzy Osborne and David Lee Roth's bands to name but two), and exciting bassist Robbie Crane who stepped into the shoes of one Marco Mendoza last May.
Performing nine songs with barely a pause to take a breath, they displayed their vehement prowess with spirit and gusto. It was an absolute thrill to hear the four Thin Lizzy songs included in the set, particularly The Rocker for which they were joined by Def Leppard's Vivian Campbell to give another harmonic layer of guitar sound. There was an almost lump in the throat provoking nostalgia when BSR ripped into "Are You Ready" – a window in time for those of us who never got to experience Phil Lynott and Thin Lizzy.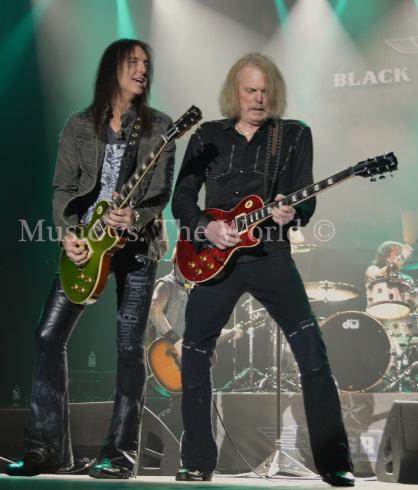 Black Star Riders' own material was very reminiscent of Chinatown/Renegade era Thin Lizzy recordings, with some ebullient twin lead harmonies from both guitar players. This is definitely a band I would go out of my way to see again.
Whitesnake were simultaneously brutal, with Tommy Aldridge on drums and Joel Hoekstra's ferociously tight guitar playing, and subtle, bringing in superb four part backing vocals to enhance Coverdale's occasional gruff, raspy tones.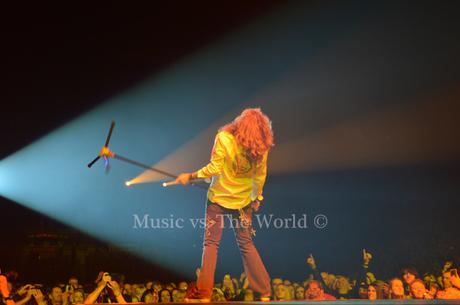 The inclusion of several choice Deep Purple cuts was an ace card; opening with no less than "Burn", and including "Mistreated" mid way through their set were the highlights for me.
I would have liked to have experienced some of Whitesnake's older classic "Trouble"/"Love Hunter"/"Ready & Willing" era numbers as well as the obvious hits which were present.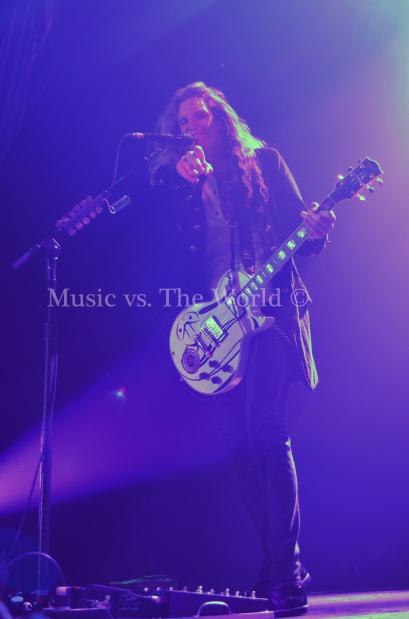 A swaggerful potency I'd only heard about, but when witnessed up close, Whitesnake proved they do indeed possess such a quality. No mere hard rock band this; something way more sophisticated and multi-faceted, with world class players armed to the hilt with a back catalog of songs spanning 40 years.
The horn throwing, camera phone waving, singing at the top of their lungs crowd were buoyed and energised by the emotion and power emanating from the whole band.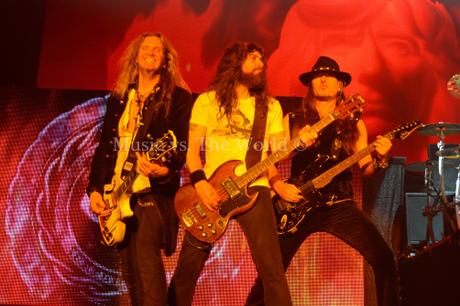 It would be fantastic to see Whitesnake in a more intimate setting such as a concert hall, where they could be truly up close and personal with their crowd instead of the cavernous environment of an arena.
Following a highly charged set, Coverdale gave a particularly poignant farewell, saying "Don't let anyone make you afraid!" before playing outro "We Wish You Well" from the iconic "Love Hunter" album.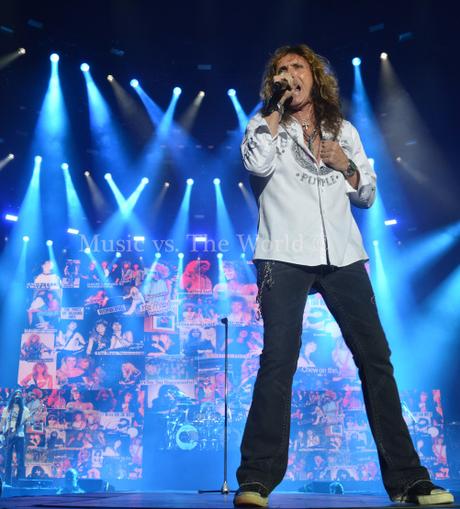 Def Leppard were completely in their element. With decades of experience behind him, Joe Elliot is the ideal frontman. Strutting around the stage like a peacock in his finest attire, he knows exactly how to present himself and work the crowd at the same time.
Guitarist Phil Collen's physical confidence mirroring his guitar playing, Rick Savage's strategic, tight basslines and the rambuctious lead guitar of Vivian Campbell, who I recall fondly from the Dio days, all make for a polished and perfective formula for a band who are at the top of their game.
Rick Allen's life changing injury has been well documented, and it was good to see in person that it didn't stop him from providing an expressive and colourful drum solo. Years of experimenting and adaptation have seriously paid off.
As the evening went on, I felt I would have liked to have heard less of a Greatest Hits package, and more of an adventurous selection of songs. Having said that, they did throw a couple of nice surprises in. The highlight of the set for me was the instrumental "Switch 625" from the superb "High and Dry" album. Having seen footage of 1983-86 era shows, the older material is considerably more feisty and exuberant with songs from the first two albums kicking some serious ass.
All in all, this was a noteworthy nostalgia trip. Def Leppard played what people wanted and expected to hear, and those people were by no means disappointed.
*Photos of Def Leppard to follow!*
Words by Fi Stimpson / Music vs. The World. All images were taken by and are copyright to Fi Stimpson / Music vs. The World – please do not use any image without prior consent.