Reviewed by and photos taken by Tracey.
An exquisite creature, Jesca Hoop steps delicately and somewhat precariously onstage in an elegantly outlandish outfit: all Victoriana ruffles atop an aptly hooped skirt, part rigid corsetry, part deconstructed birdcage. As if such a cage could hope to contain this rare Californian songbird.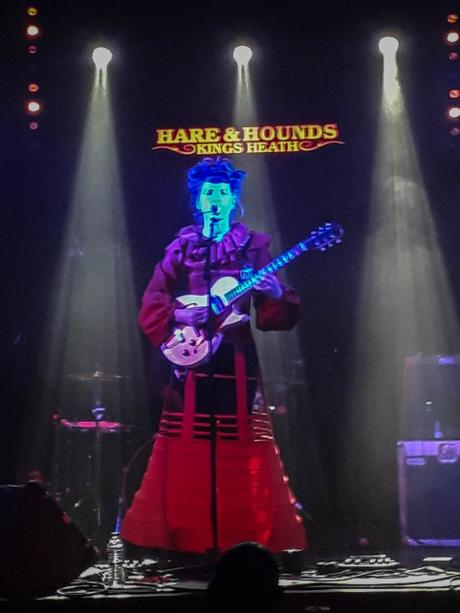 Beneath the lattice grid of her skirt is a perfect black lycra silhouette; an alluring metaphor for being able to see beyond the top layer to the bones beneath. Her songs, ethereal folk tales, murder ballads, sorrowful love potions and incantations, are far more than the sum of their parts. More than just her pared back guitar style and trilling, quivering voice. They fill the room and seep into your psyche.
Opening with the title track of her latest album "Memories Are Now", her voice sends a hushed chill across the small pub room, candles flickering on bistro tables occupied by a silent, awestruck crowd of a hundred or so. She commands the stage with an understated sense of theater but in an ocean of calm. The stage lighting, though, is a little harsh for so slight a figure and her delicate features are illuminated in blue for the entire set lending an extra otherworldly charm to the proceedings.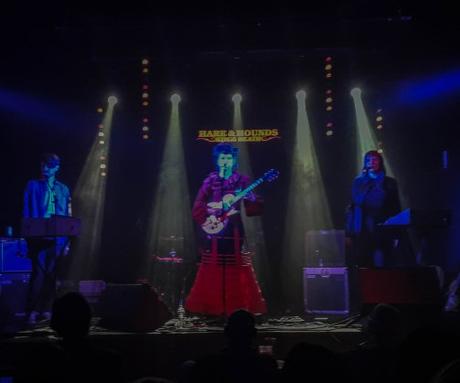 It was with curious excitement that I bought my ticket for tonight, not having seen her live before and having mainly only listened to her collaborations with Guy Garvey or Sam Beam. Her band tonight are one half Californian and one half Texan. She, of course, now lives in Manchester. For 9 years she declares dolefully. But she thinks Birmingham is colder and darker than Manchester and that's why we invented Heavy Metal. In Manchester, she tells us, they only sing sad songs. But are we happy she asks? We Are. Probably happier than Manchester. We're happy and yet her mournful songs get under your skin. 'Hunting My Dress' (which she jokes should be renamed 'Where's My Skirt') is bittersweet, stark and haunting. And the cold, bitter refrains in 'The Lost Sky' stab at your heart, all prickled staccato.
There is no easy exit from the stage at the Hare and Hounds and after the last song of the set, she stays at the back of the stage pretending to be invisible whilst trying to bite off an irritating hangnail she'd bemoaned a song earlier. She appears to be having a conversation with herself. Gesticulating, questioning, replying. On her return to the blue spotlight for the inevitable encore, she dedicates the next song to a musician friend; a well-known drummer familiar to most in the room who is recovering from a stroke. This is news to us; we are suitably dismayed. She prays for good news, wipes away a tear and sings the beautiful 'City Bird'. After the gig, I searched for news of said drummer's fate. Nothing. Not a peep. Did she make it up? Does she feature a different drummer in each city of her tour? Does she have some strange Spinal Tap tendency to kill off drummers? Anyway, I digress. For her finale, she sings a swooning a cappella song:
"You're sitting out there / Did you know what you were in for? / The change in the air / When you stepped through the door"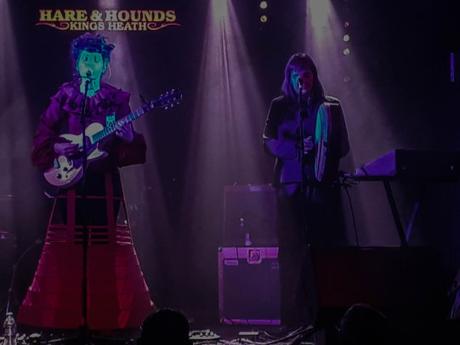 There is a reverential hush in the room – a perfect silence. She'd had a brief inaudible exchange with her band mates in-between songs earlier on in the set and then looked back to us and apologised, "Sorry I forgot you were there. Do you ever do that? Wake up from a strange dream and you're not where you thought you were?" Yes totally, I do that. And no, I'm not sure we did know what we were in for, nor do we know when we shall awake from this strange and beautiful dream.
Advertisements
&b; &b;