If you watch enough horror, eventually you start to realize that a monster isn't just a monster. The supernatural is always a conduit for something completely natural in the real world, something still terrifying but blown into monstrous proportions by screenwriters, directors, make up geniuses, and special effects mavens. When Steve asked me to put together a list of my five favorite monsters, he surely didn't realize he'd be getting a list straight from Durkheim or Foucault. But there you have it. Here are my five favorite movie monsters, and their contextual sociological meaning.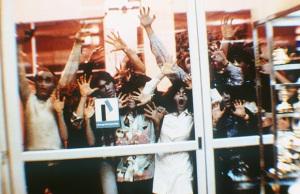 5. George Romero's Zombies
The zombie genre has been overrun with a lot of brain-dead films. But at their very best, zombies are a wonderful vehicle for social commentary. Of course, sometimes this can be used in outrageous and embarrassing ways (see: White Zombie, 1932, and its interpretation of tribal culture). For George Romero in 1978′s Dawn of the Dead, zombies reached their apex of sociological meaning. Granted, it isn't subtle but that's not the point. Its lack of subtlety endows the film with gobs of humor as Romero mercilessly skewers 20th century America and its suburbanized mass-consumer culture. The timing was perfect, coming just as the baby boomer generation was departing the free-wheeling, rebellious hippie era and entering the United States of Reagan. With one brilliant decision- placing his film in a mall- Romero asks his generational cohorts, "What happened to you guys, man? You used to be cool." Lousy yuppies.
4. Godzilla
The original Gojira (1954), and really all of the classic radioactive monsters cooked up by Toho Studios, are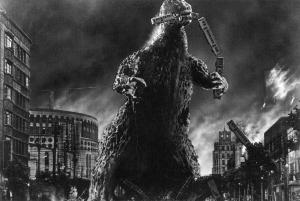 Sociology 101. In the post-World War II film world, Italy nurtured neo-realism to illustrate that, despite their involvement with Hitler, they too suffered on the homefront. The French fixated on the horrors of the war. However, in Japan, something else was brewing. Because of the atomic bomb, they took on real life horrors that no other civilization had ever witnessed. If ever a situation needed to be shrouded in metaphor before reaching the big screen, it was Japan in the post-World War II era. Enter Godzilla, a radioactive monster who arrives from the sea, then cuts a swath of destruction that includes several islands, the navy, and finally reaches the mainland. In other words, Godzilla was the US military, and the radioactive pollution is tied directly to it. Godzilla and the Monsters (which sounds like a band name created by Gary King) were a brilliant snapshot of exactly what terrified Japan in the 1950s.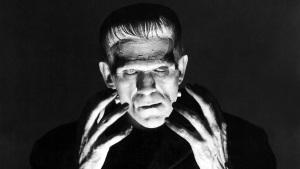 3. Frankenstein's Monster
What I find fascinating about the cinematic Frankenstein's monster is that he has strong roots in at least two other places. The first and most obvious is Mary Shelley's novel, which the film borrows from thematically quite a bit. The second is the classic Jewish golem. Both involve taking inanimate matter and re-animating it into new life. And in both instances, the new life wreaks havoc, most notably on the maker. The only major step from golem to Frankenstein's monster is the involvement of science- in particular, the science of cutting open corpses and seeing how they tick in the 19th century- with just a dash of a God complex.
Both of those concepts were absolutely horrifying to people from the 19th century on into the early 20th century when James Whale brought the monster to life on the big screen. It resonated especially in America, a very devout Christian country whose moral sensibilities would rock to their very foundation at the notion of a mad scientist playing God. And tying medical science into the equation doubles down on fears of the era. While medical science had progressed reasonably well in the 18th and 19th centuries, it wasn't until doctors started opening up bodies and using corpses that real progress was made. To the average schmoe on the street in the late 19th and early 20th century, this is a horrific concept- taking a loved one and ripping apart their entire earthly being for corporeal knowledge. "MEDICAL SCIENCE IS ALIVE! IT'S ALIVE! AND NOW IT'S GOING TO DESTROY US ALL!!!"
2. Japanese Ghosts
Ok, ok… a ghost isn't a monster, per se. But it's still a fun and scary enough concept to make someone go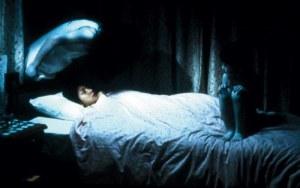 boom boom in their britches. The beauty of the Japanese ghost story is how deeply rooted it is in Japanese culture. Unlike Godzilla and the radioactive monsters, there was no natural disaster that created the folklore of Japanese ghosts. No, these supernatural beings are actually quite natural. They're tied to the importance of family in Japan. Traditionally, Japanese families are protected by their deceased ancestors as part of a social bargain. The living family gives the deceased a proper burial, with proper funereal rites, and the deceased return to keep harm away from their living ancestors. If the dead aren't given a proper burial, however, or if they die violently, all hell breaks loose.
As you can see, this process leaves a massive chasm open for ghosts in Japanese culture. They can be protectors, they can be harbingers of doom, and they can wreak havoc. And the entire theme is tied to something that every family deals with quite regularly. Everyone dies (not just in Japan, but everywhere, except for maybe Batman), and everyone must face the mortality of their family members at some point. It makes the whole concept enormously relatable. Since the Japanese have been perpetuating this mythos for centuries, they understand the entire ghost genre better than anyone. There's a reason that 95% of the Japanese ghosts you've seen wear white and have jet black hair. It's a practice that goes back centuries, and has continued on through classic Japanese ghost films like Kwaidan (1964) and Kuroneko (1968) and even on to modern films like Ju-On (2002).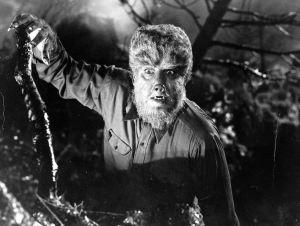 1. The Wolf Man (and werewolves in general)
I could write for days about the genius of The Wolf Man (1941). The entire film was allegorical for the Nazi regime. It was written by Curt Siodmak, a Jew exiled from Germany during the rise of the Nazi state. Thematically, it's all about the way that his seemingly normal German neighbors and friends turned on him almost overnight. They were completely normal when the sun was up. But on the full moon, they turned hideous, seeking to destroy whoever bore the "mark of the beast." It just so happens that the "mark of the beast" in Siodmak's film was a pentagram, purposely designed to look like the star of David that marked Jews in Germany during the era.
Digging deeper, it's biblical. It's about faulty genes. It's about the sins of the father, and his father before that, and his father before that, being visited upon the sons. Go another level down and you've got the heart of why I love werewolf films in general. They're metaphors for transformation, for finding the deep, dark, terrifying parts of our own souls that we didn't even know existed. These aren't just monsters. They're humans, wrestling with the better angels of their nature and ultimately losing in appalling ways. In Wolf (1994), it's the depths that he'll go for survival and success. In Ginger Snaps (2000) and quite a few others, it's the shocking journey through puberty into adulthood. It's a delicious built-in character arc that makes the characters more enticing to us, the viewer… and ultimately reminds us that the scariest thing out there is the damage that we can cause all by ourselves.