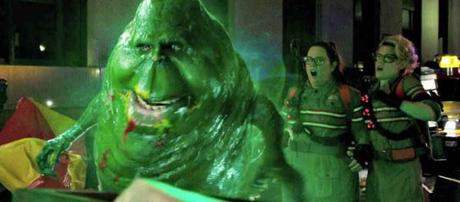 What Sony is currently facing with Ghostbusters is an all-too-familiar story these days: Confronted with dwindling domestic box office returns and record low attendance Hollywood turns its weary eyes toward Italy, Russia, India, Germany, France and Japan and all of those other individual territories which add up to make the all-important international market. However, the cost of mounting a worldwide release is so extreme and our social media-obsessed attention spans so remarkably short that the studios throw as much money as possible at production and marketing budgets, hoping to hook us with universally understandable action spectacle and a near constant stream of promotional materials. As a result, the movie in question must absolutely perform at peak potential to turn a profit, and if it doesn't the collapsing home video market probably won't be riding in as a savior a year down the road.
And, wouldn't you know it, Ghostbusters is not a peak performer, not even close. If it hadn't cost so much it would be a different story, but with a production budget of $144m and marketing spend of $100m it's falling at an alarming rate in the U.S. and Canada and now looking elsewhere for financial salvation.
DOMESTIC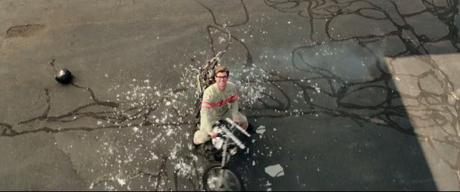 After
Ghostbusters
' $46m opening set career highs for nearly everyone involved, it plunged on par with Adam Sandler's
Pixels
and Melissa McCarthy's
The Boss
in its second weekend, and then dropped even further than either of them in its third weekend. It has a current domestic haul of $106m, which is not too horribly far behind the summer's current action-comedy king
Central Intelligence
($125m). The difference, though, is
Central Intelligence
cost nearly $100m less to make, and turned into one of the leggiest movies of the summer, impressively benefiting from strong word-of-mouth with a 3.5x opening-weekend-to-total-domestic-gross multiplier.
Ghostbusters
, on the other hand, is fading fast, certainly more rapidly than any of director Paul Feig's prior movies:
Its clearly front-loaded in ways no Feig movie has been before. Sony can at least take comfort in the fact that Ghostbusters will soon pass Spy (a 20th Century Fox release) in domestic gross. However, at this rate of descent it's not coming close to either The Heat or Bridesmaids:
Yet those all cost so much less to make. It's a reminder of how Ghostbusters' budget shapes the narrative and morphs expectations, making it more comparable to a Marvel Studios origin story movie or a Mission Impossible sequel.
In fact, here's how Ghostbusters stacks up next to recent (2011-present) live-action films with a similar budget level ($135m-$150m), regardless of genre or month of release. I selected 2011 as the cut-off year because that's when China's entire entertainment industry started a five-year growth rate of 17% per year, hitting a record $6.8 billion in film box office revenue in 2015 compared to just $1.51 billion in 2011. Not coincidentally, the international market has accounted for at least 69% of the global box office per year over that stretch, and every film on this list leaned on the international market for over half, in some cases as high as 70% of their worldwide haul.
As I previously acknowledged, this is a knowingly imperfect comparison. Films of different genres (or those at different stages in their franchise history) don't follow identical box office patterns. Plus, time of year and level of competition matters, and while all of these films were in the same production budget range that doesn't mean their marketing budgets were the same. Plus, the secondary merchandising opportunities for something like Ghostbusters vastly differs from something like Fury Road.
That being said, after 17 days Ghostbusters has fallen too far behind those successful films in its budget range. I have to widen the parameters to find its closet comp, Prometheus, Fox's $130m-budgeted franchise revival which sat at $108m domestic after 17 days and topped out at $126m. Prometheus made up for that with $276m overseas, enough to get a sequel, but low enough that the sequel is taking 5 years to arrive. Will the international market similarly answer Ghostbusters ' call?
INTERNATIONAL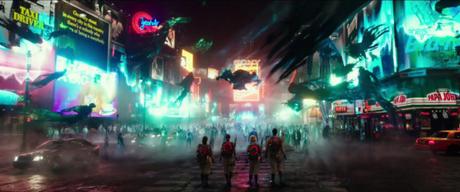 It's going to be tough. Comedies don't travel well. Case in point:
Central Intelligence
has a tepid $77m in foreign box office right now compared to a domestic cume of $125m. On top of that,
according to IMDB
Ghostbusters
does not currently have a release date in 2 of the top 10 international box office markets, specifically China (#1) and South Korea (#5). There have been similar films (i.e.,
Fury Road, Prometheus
) to get by without China, but they did so thanks to big performances in the UK, where
Ghostbusters
has a so-so $12m after 3 weeks
.
Still, Ghostbusters is at least faring better than Central Intelligence, accumulating $51.7m international over 3 weeks, including $7.9m in Australia and #1 openings in Russia and Italy this weekend. Major markets like Germany, France, Mexico, Spain and Japan are either just around the corner or lined up for the end of August. However, that break-even point of $300m worldwide is not going to come easy, and even if it does there are those who dismiss the oft-quoted $300m target as transparent Sony marketing spin to cover how far in the hole they truly dug themselves.
But, hey, at least they're selling a lot of toys.
Ghostbusters worldwide haul as of 8/1/16:

Source:
Deadline