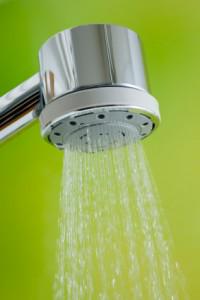 With both environmental and financial savings to be made, getting green at home is pretty much essential these days. The green mantra reduce, reuse and recycle isn't limited to composting and rubbish filing on collection day, it can be applied to every room in the house – including the bathroom. Here's our guide to green bathrooms.
Water Saving Showers
If everyone in the UK cut their shower short by just 1 minute, we could save £133,000,000 a year in fuel bills and 1 million tonnes of CO2 as a nation. Water saving showers are a great way to reduce usage even more – the design incorporates a high use of aeration within the spray, which reduces water use and can save the average family up to £125 in annual utility bills.
Energy Saving Light Bulbs
Energy saving light bulbs are standard practice in many homes, with new homes required to install at least 80% of fittings as energy savings. However, there are still energy guzzling designs on the market, many of which come in the guise of bathroom, strip and spot lights – shop wisely.
Water Efficient Toilets
Up to 30% of all household water used is via the toilet – low or dual flush toilets are designed to use approximately 6 litres less water than standard models. Toilet hippos are a great way to reduce usage in standard designs by being placed in the cistern and reducing water volume by up to 50%.
Grey Water Recycling
Incorporating grey water recycling into the very fabric of a home is still a costly affair, but is logical and efficient, with water from the shower, sinks and bath are used to flush toilets. Alternatively, green warriors may choose to siphon used bath water into a water butt for use on the garden.
Solar Heated Water
Up to 25% of annual energy costs are attributed to heating water for bathing, washing etc. Solar water panels are a great way to combat this energy use – easily installed, ideally on south facing roofs, the free energy of the sun is used to heat water, which can be used for ambient heating, or heated a little further for washing.
Half Size Baths
Sacrificing a bath all together can save huge amounts of energy and water, but simply cutting the proportions of the bath can also drastically reduce waste. Half size baths are a great compromise, quite literally half the length of a standard design, they use half the resources but allow the user to get completely under the water.
This Guest Post was provided by Homebase – buy everything you need online for new bathrooms.