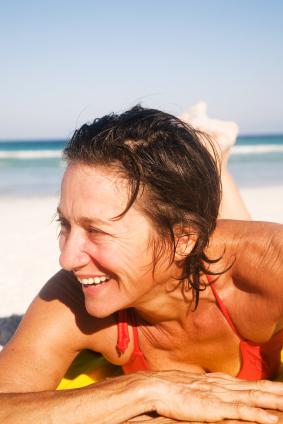 With bikini season just weeks away, you may have started to sneak secretive glances at your pasty, pale skin and decidedly frumpy midsection, hallmarks of a long winter spent indoors and under the cover of flannel pajamas.  And the constant food-pushers (otherwise known as your mother and aunties) present at every holiday meal probably didn't help either.  But with warmer weather and more revealing clothing fast approaching, it's time to start thinking about how you can get your problem areas under control (unless you want to completely give up and move to Iceland).  Here are a few tips and tricks to get you into beach-body shape before the heat wave hits.
Reset your alarm.  By getting up half an hour to an hour early every day (and maybe going to bed a little earlier to compensate) you can definitely find the time for a daily workout.  You don't need to overdo it with 7 days of hardcore sculpting (unless you want the Insanity body); intense cardio every other day followed by recovery workouts should do the trick (leaving you one day of freedom from working out).  Unless you pencil this in on your schedule, you're likely to shine it on.  So give it as much import in your day as a meeting with the boss (which you wouldn't dream of skipping, no matter how hard it is to haul yourself out of bed).
Cross train.  Doing the same routine over and over will only show results for a few weeks (if even that long).  Instead of sticking to the boring treadmill, spice it up with a spinning class, Vinyasa yoga, or a heart-pounding hour of Zumba that will turn your legs to jelly.  By switching up the way your body moves (and how hard you're breathing), you'll show better results and tone your whole body (instead of just your legs).
Add weights to your workout.  Want to see faster results from your efforts?  Adding some weight to the equation can give you a boost.  You can either do this by adding ankle-straps and grabbing some light hand weights or you can actually go to the gym and get a routine going on the weight machines (use this in place of your recovery workout after cardio days, but maybe give yourself an extra day off in the middle of the week).  You may notice slight weight gain at first (muscle weighs more than fat), but more muscles means you look better, lose inches, and eventually, burn more calories so that the pounds start coming off again.
Go sugar-free.  Sugar is one of the worst culprits when it comes to unwanted fat and weight.  It burns fast, leaving you largely unsatisfied (and wanting more), but it also goes straight into storage (you know where).  So opt for artificial sweeteners in your coffee and tea (stevia is all natural, unlike chemical alternatives, and zero calories) and stick to fruit when you need a fix for your sweet tooth (keep some grapes handy to munch on instead of M&Ms).
Frequent the farmers market.  Your local farmers market will likely return with the summer months and you should make a habit of going on a weekly basis.  There's nothing like delicious, organic, fresh fruits and vegetables to make sticking to a diet easier.  If you find yourself looking longingly at the sugary snacks in the vending machine around the middle of the afternoon, come prepared with a baggie of super-sweet strawberries and blueberries or even some crunchy carrots and celery with low-fat peanut butter or Ranch dressing for dipping.  You'll be amazed at how much better these items taste when they're grown without chemical pesticides and fertilizers.
Breana Orland writes for Fatty Weight Loss where you can find articles on health and nutrition in addition to information on diabetic foods and the Bob Harper diet.