Organic Hair Origins Hair Salon
From hair care to skin care, I believe that choosing organic is the way to go. Especially since there's so much artificial and chemically mixed products around. The last time I did an eco hairdo makeover was at JJ Hair Identity. This time, I'm heading to the newly opened Organic Hair Origins Hair Salon.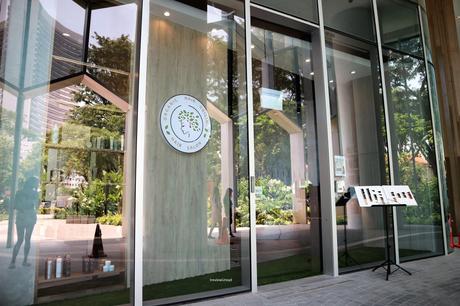 Organic Hair Origins Hair Salon
7 Fraser Street
#01-20 DUO Galleria
Singapore 189356

Facebook | Tel (+65 6909 8402) | Email: [email protected]
Taken from Organic Hair Origins Salon Facebook
How to go
By MRT:
walk towards D, Exit "E" towards "DUO" Level 1.

walk straight towards "Virgins Active GYM" / "Blossom Floral shop".

Facing "Virgin Active Gym", walk diagonally right facing main road #01-20.

Note: The shop numbering at DUO is very very high up so if you're trying to find the numbers. Look up.
First Impressions
When I first stepped in the salon, it have a modern and open concept to it. I like how it had a basic colour scheme of black, grey and light brown throughout the salon. Its chic boxy styling chairs shapes room the as the gentle spotlights shined overhead. I like how the circular mirrors stood out from all these straight lines and gave the space a slightly more affable vibe.
Aside from the layout, one of the first thing I noticed would be the organic products this salon used. Promptly displayed in the front sits various Natulique Certified Organic Hair products.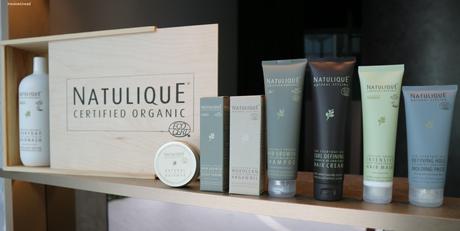 Natulique Certified Organic
Similar to JJ Hair Identity, Organic Hair Origins Hair Salon uses Natulique Certified Organic Hair products for their customers' hair. These organic hair dyes and hair care help to lengthen one's hairs' lifespan. They contain certified organic ingredients that not only aids in protecting your hair but your scalp too. Gone are the days where bleaching and dyeing of your hair will lead to damaged roots.
With Natulique products, neither your scalp or your hair will be irritated or dried out after usage. Additionally, these products are:
100% Ammonia-Free

100% PPD Free
100% Lauryl Sulfate Free

100% Parabens Free
100% Resorcinol Free
98.02% Derived from natural sources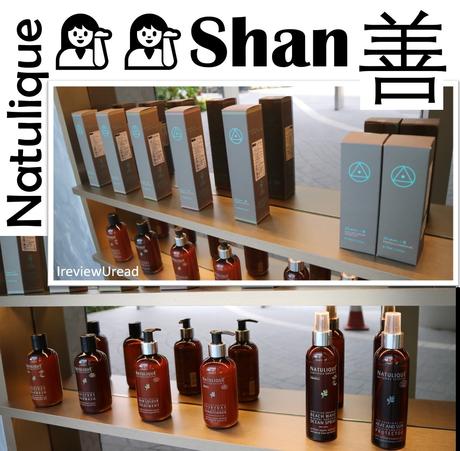 Shan | 善 Hair Care
Besides utilizing the Natulique Certified Organic range, another organic hair care range was used as well. Shan | 善 Hair care is a new organic hair care brand from Taiwan. This eco-friendly brand not only uses green packaging like bubble bags but they reject animal testing too.
GMO
Animal-testing
Animal Ingredients
Sulfate Surfactants
Environ. Hormones (NP)
Thickeners (DEA Deravatives)
EO Derivatives
Colorants
Formaldehyde
Phthalates
Their hair care ranges are free from: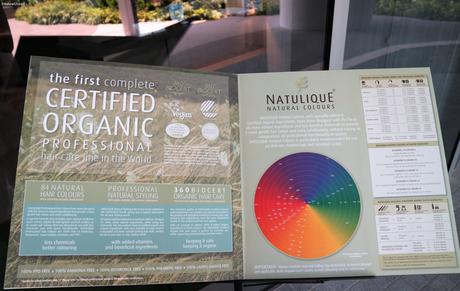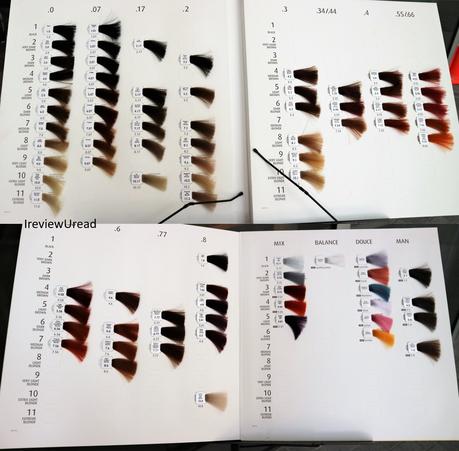 One of my favourites is the Camellia Essential Hair Oil that I've received from my Beauty Keeper Taiwan beauty box. It not smells fascinating, but it's gives my hair a soft and smooth finish as well.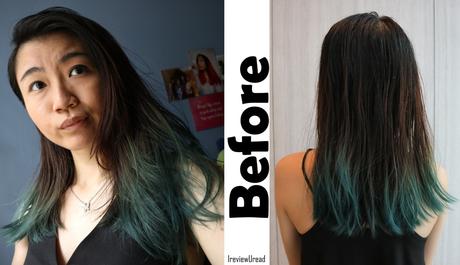 Who says you have to limit your colour choices when going organic?
One of the misconception when it comes to eco or organic hair care is that you can only choose dull colours like black or brown. With 84 natural hair colours, you not only get to try out bright and bold colours like lemon but you get an extra layer of conditioning as well.
Before - Hair Condition
When I arrived at Organics Hair Origins Hair Salon, my hair was of 3 shades - natural black at the roots, brown in the middle and green at the bottom. The bottom was green due to the mixture of the blue dye and the yellow/orange bleach from my pink hair days. Since the pigment from the blue dye was too strong, it stayed in my hair even when I stopped using colour shampoo. To have permanently have green hair is both a blessing and a curse at the same time.
Due to the love hate relationship with my hair colour and length, I decided to snip off the green part and change the colour altogether. I have always bleached half of my hair and never gone full blonde. Thus, in this hair transformation, I decided to go all out.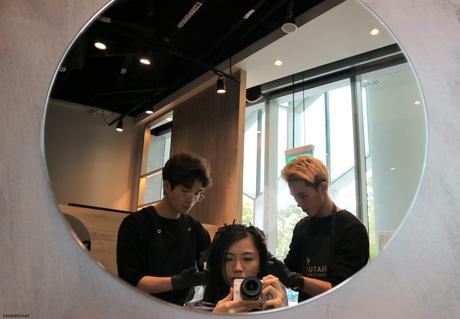 After much thought, I decided to go with blue because I look good with blue hair. Plus, I did tried a wide spectrum of hair colours before in my life - My hair might be either dying or dead by now:
My scalp seemed rather oily in this photo for the last time I wash my hair was a day ago. In addition, I do have oily + sensitive scalp. Although the greasy hair look ain't trending anymore, it's good to not wash the hair before bleaching and dyeing. The natural oil helps protect the scalp and my already dead hair from further damage during the whitening and colouring process.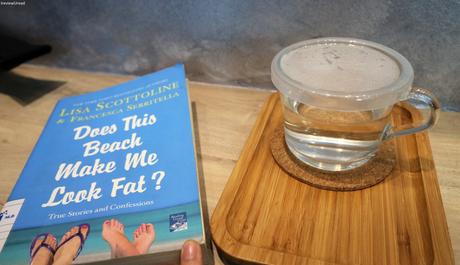 Let's start!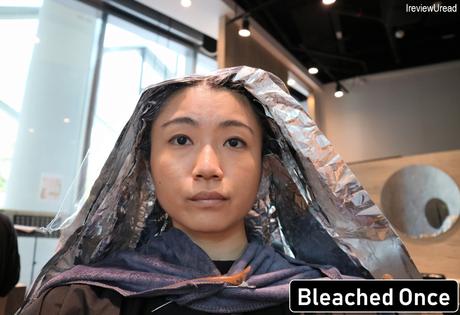 Assigned to me was the manager of Organic Hair Origins Hair Salon. His assistant, Howard, would be assisting him throughout the intensive transformation. After a brief consultation on my preference and what my hair might not be able to handle, John quickly jump into action.
A tip for those of you looking to bleach and dye your hair for the first time. Bring a book, bring a snack, download a few movies for it would be a very long journey. That chair you're sitting in then would be your home for many hours. As a consumer that have been through the journey of bleaching my hair before. I was prepared.
Bleaching Process - Natulique Permanent Bleach
*Another reason as to why your scalp might feel itchy during the bleaching process is because of the cuts and irritation on your scalp. This could be cost by scratching or slight injury on your scalp.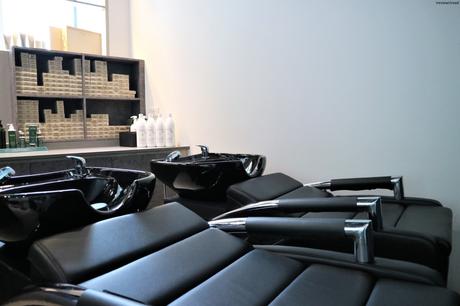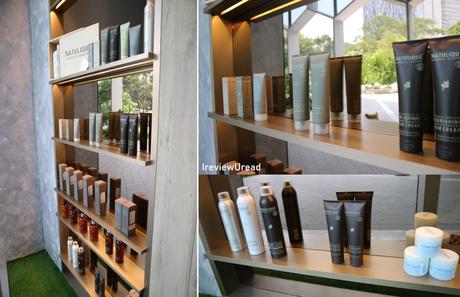 Using Natulique Permanent Whitener, John and his assistant evenly spread the bleach across my hair and wrapped it with foil. Since my hair was naturally dark, they hard to administer a stronger bleach formula to rapidly lighten it.
Natulique permanent whitener is ammonia, lauryl sulfate and parabens free. It is not only natural but it allows up to 7 levels of lift without compromising on the results. Additionally, the bleach have added nutrients that help protect the hair and the skin. It is no wonder my scalp did not feel tingly or itchy* when the roots were being bleached.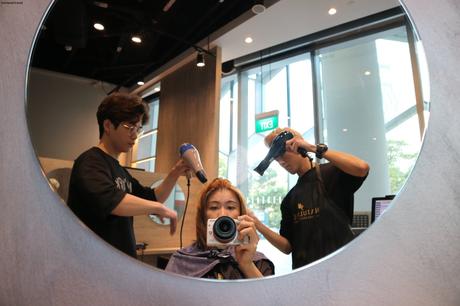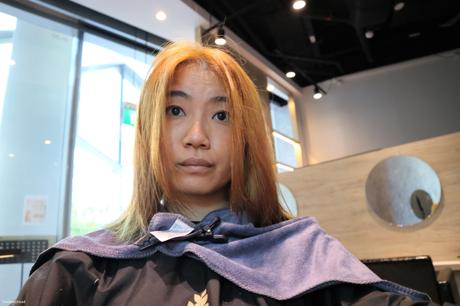 Washing my hair with Natulique Shampoo and Conditioner
After 30 minutes, it's time for them to rinse my hair with the specially developed Natulique shampoo and conditioner. Natulique shampoos and conditioners are not only certified vegan-friendly and cruelty-free but they are fully packed with nutrients, vitamins and oil too. These abundance of nourishment aids in restoring moisture and nourishment for one's hair, allowing you to never have a bad hair day again.
John's assistant, Howard, overtook the rinsing process this time. He gave me an excellent scalp massage while washing off the bleach. Using the balls of his fingers to pinpoint the nerve endings on the scalp. He then apply adequate pressure before moving his finger in circular motion to release the unwanted tension in my temples. The best part is, he did not forget about one's sore neck as well. I live for such luxury.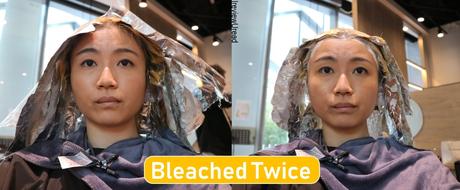 Drying process - Round 1
After rinsing off the bleach, it's time for them to dry it before the next step. To increase efficiency, both John and Howard partake in the blow drying process. A process that once again made me feel like a queen.
Since I mentioned that I wanted to go for the short hair look, John quickly snipped of half of my hair. Since this was an estimation of what my hair length would be like, no exact trimming was done yet.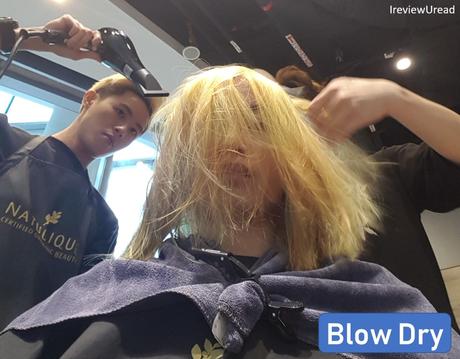 It was great to see my hair of a shorter length once again. With Singapore's humidity and my maturation, I believe that this look suits my current lifestyle the best.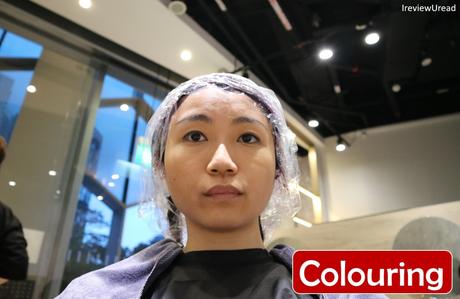 Bleaching Process - Round 2
Since blue was a rather light colour, a second round of bleaching was required. At this point of time, my hair was starting to feel rather dry - a natural setback from bleaching your hair. However the show must go on. We went ahead and do a second round of whitening to my orange hair. This time, the bleach was not as strong as the first time and it was left for at least 25 minutes. My roots were also covered to ensure no random black spots could be seen when I flip my hair.
If you're wondering why are there foils and cling wrap on my head, it's to help shorten the waiting time when lightening my hair. Since foil act as a heat conductor, it encourages the hair to lighten more quickly.
Another 30 minutes have past and it's time to rinse and dry my blonde hair. I took a quick toilet break, where I took a selfie. Do you think blonde suits me?
Natulique Natural Hair Colour
*They bleached it twice but it still refuse to bulge
**Do you know hair are made up of mostly dead cells? Now you do.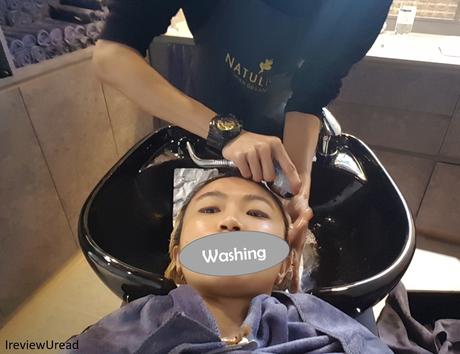 As the sun sets behind me, we've finally reached the last few steps of the transformation process - hair colour application. Using Natulique professional hair colour, John and his assistant evenly spread the colours across my hair. What I like about Natulique professional hair colour is how it not only gives off a berry-like fragrance but it is also made of certified organic and natural ingredients too. It's natural formula includes:
These ingredients work together to provide extra protection and conditioning for one's hair and scalp.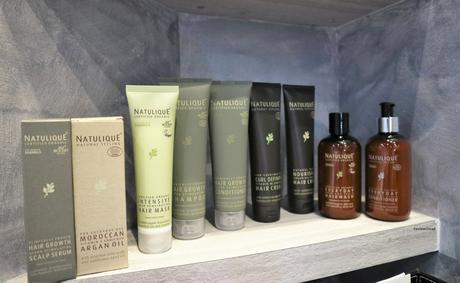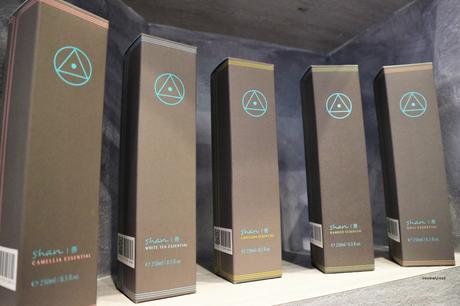 Hair Colour Application Process
Before the colour was applied, John trimmed and even out the hair shape before moving on to sectioning my hair. Initially, John wanted to give me a dual colour hairstyle however because of how stained the previous green was in my hair*, that was not possible. Thus, a darker shade of blue was chosen to be spread all over my dead cells.**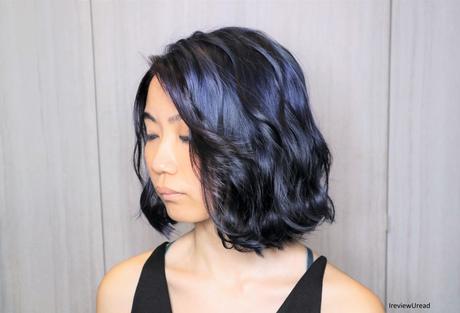 The Final Wash Off
The third and final time I head back to the basin area was also the last time I get to experience the amazing scalp massage from the stylists. Do you know that by massaging your scalp during your bath, you encourages blood circulation and hair regrowth. Massage away!
After Care - Natulique Certified Organic Hair Care + Shan | 善 Hair Care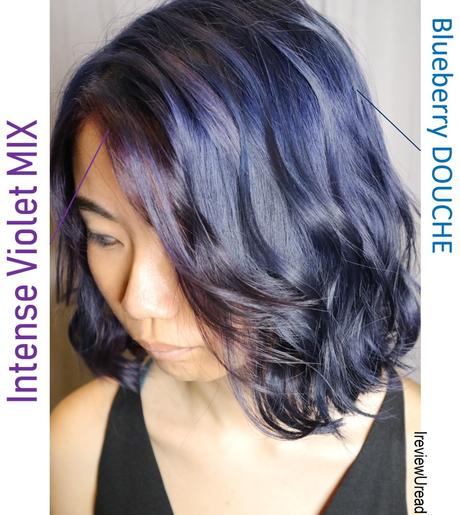 What is the perfect hair care routine without after care? Using Natulique Certified Organic Hair Care and Shan | 善 Hair Care*, hair protecting oil were applied before styling. These products not only smell fabulous but they help moisturize my dry hair as well.
*Shan | 善 Hair Care produced various assortment of products such as the Goji Berries range White Tea hair care range. Personally, I'm using the Camellia Essential Hair oil to keep my hair in tip top condition. Psst. It smells so good!
The Final Product
*Joking, I don't do such things. Even if I did, it's totally an accident.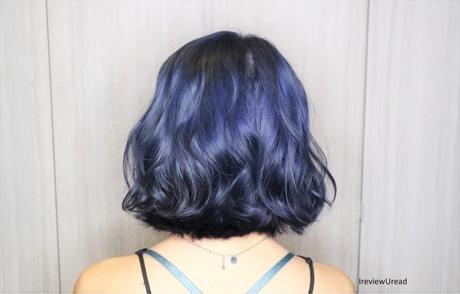 In order to get rid of the stubborn green bleach area at the tip of my hair, John proceed to trim them away. Suddenly, I'm in a "hair don't touch your shoulders club". Although it was probably an inch difference as to what I usually get, it still felt very fresh. Especially how John styled it.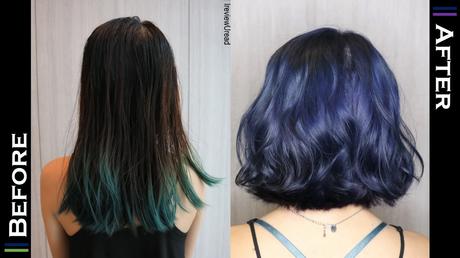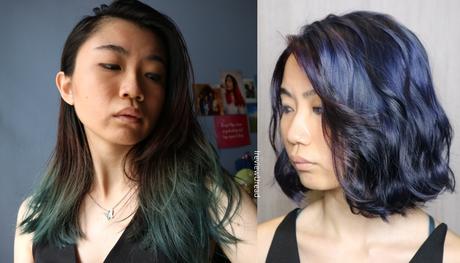 I love how he gave my hair a wave texture. It reminds me of my drastic haircut I did in 2014 / 2015. One day, I just got sick of these long locks making me feel and look so old. So I cut it. Best decision ever. These days, I let my hair grow long because I'm too lazy to cut it or maintain the length.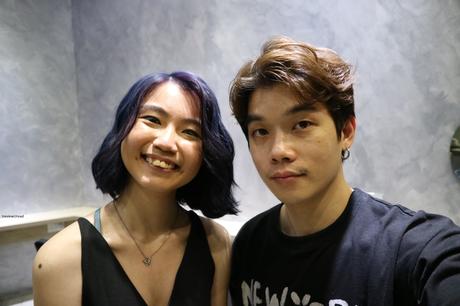 Violet + Dark Blue Hair
Due to my hair condition after 2 rounds of bleaches, my stylist was unable to gave me the dual hair colour that he envisioned. Nevertheless, he did leave a surprise for me. He did colour a stripe of intense right at my fringe area and a layer of violet below all these blueberry hair.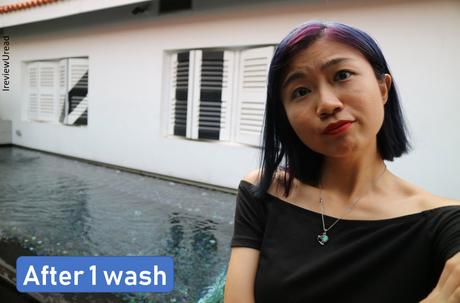 Photo taken at XYHotel Bugis. Yes, they have their very own indoors pool.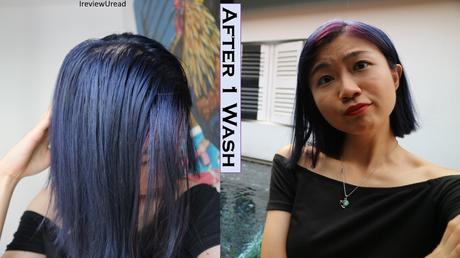 While others have a hidden rainbow, I have a hidden violet pop! The perfect reason for me to flip my hair in people's face more often*
I love how the colour turned out to be. It's such a deep and vibrant colour. If you look closely, you'll noticed how John didn't curl the back of my hair. By doing that, he allowed the intense violet portion of the hair to peek out under the blueberry curls. The perfect marriage between purple and blue.
Before vs After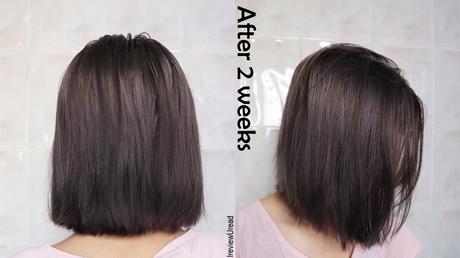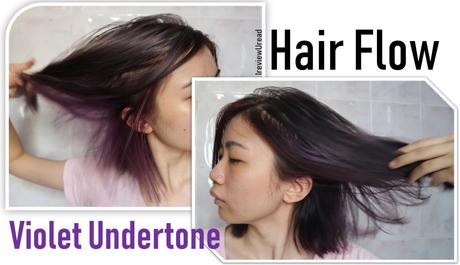 Before I came in the salon, the bottom of my hair was dead, damaged and stained from my previous hair dye experiment. It was also long and weighing me down. After, I left the salon, my hair was rejuvenated, beautifully styled, alive and glowing once again. It's not only dual coloured but it made me looked age appropriate. I love how my hair did not feel or look dry after whitening it twice - the upsides of using organic products.
Thank you John!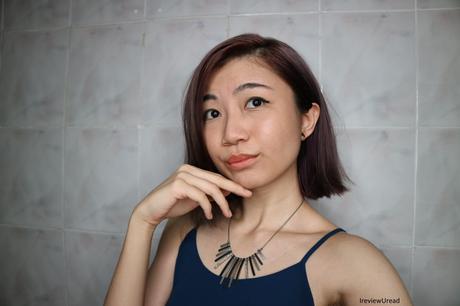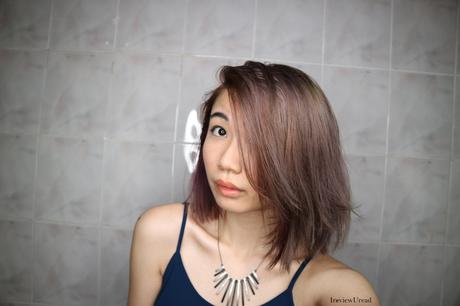 Huge thanks to my stylist/Organic Chemist, John, for this fabulous hair style! He was so patient throughout the day. Answering various questions that I had for my newly bleach hair and giving me the space to space out throughout the 8 hours process.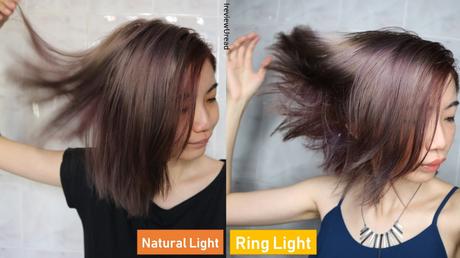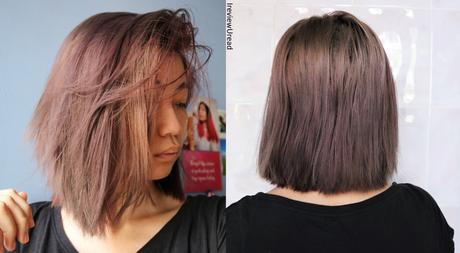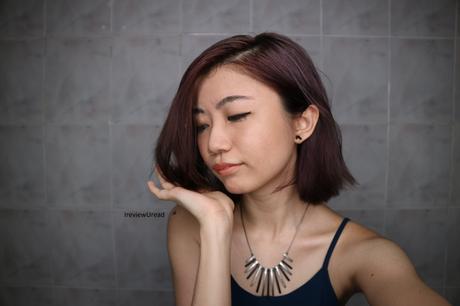 After 1 wash
As advice by John, I was thus to wash my hair every other day and not every 3 4 days due to my scalp condition. Seen in this photos, the hair colour still remained vibrant after 1 wash. The colour did bleed onto the white sheets and towel but that is expected of brightly coloured hair.
I like how you're able to see the violet strip clearly under the light. It matches so well with my blueberry hair, I love it!
2 Weeks Later

The blueberry tone is pretty much gone after 14 days. I was every other day so this is after 7 washes or so. Although there's no bluish tone, I like how it faded into this ash grey - purple tone. It was such cool look.
The bottom of my hair still had the intense violet undertone. I love how it gives people a shock when I flip my hair.
1 Month Later

This is one of the most beautiful fades I've ever seen. Most of the time, my hair fade very unevenly, into this odd colour that no one can describe.
This time, with a mixture of lavender,grey and brown. I feel that the colour complimented each other so much. Plus, my hair condition still don't look and feel that bad.
All in all, I love my experience in Organic Hair Origins Hair Salon. They provided me with such excellence service and wonderful stylists. Additionally, the quality of their work is phenomenal. Once again, shout out to my hairstylist, John, for not only giving me such an amazing makeover but the memorable service as well.
Organic Hair Origins Hair Salon
7 Fraser Street
#01-20 DUO Galleria
Singapore 189356

Facebook | Tel (+65 6909 8402) | Email: [email protected]