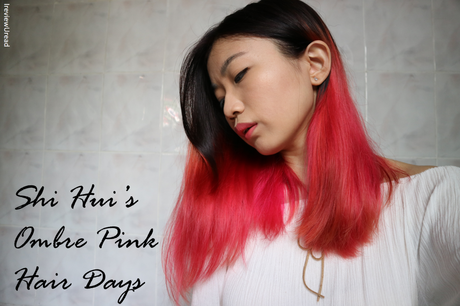 My wish have finally came true
My hair is finally ombre pink! Remember back in this post, I talked about how dyeing my hair ombre pink-purple is one of my wishes. Well, the good gods heard me and now my hair is a beautiful shade of ombre pink. Isn't that wonderful?
Psst. If you noticed how I mentioned about going to C3AFA in the post, well good news for all whom are interested. I recently came back and will be posting the footage in Vlog 7! Do subscribe so that you will be the first to know when vlog 7 publishes.
Now coming back to the main aim of this post, my ombre pink hair! Ever since my hair became thinner, I have been more particular about using organic hair care. Thus, finding a hair salon in Singapore that uses organic hair dye is critical for me. Therefore when I was chosen to do my hair at J & J Hair Identity Salon, one of the organic hair salons, I was thrilled!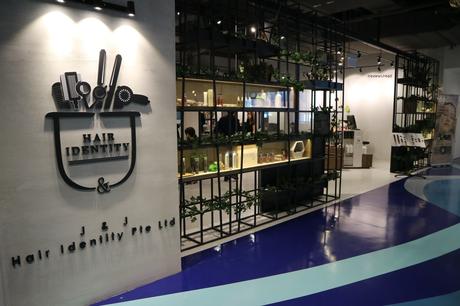 J & J Hair Identity Salon
J & J Hair Identity Salon is one of the only organic hair salons Singapore that uses ECOCERT certified hair care from Natulique. This Katong hair salon uses organic hair care products and even organic hair dye.

Before I get into the Natulique products, allow me to take you on a virtual tour of J & J Hair Identity Salon.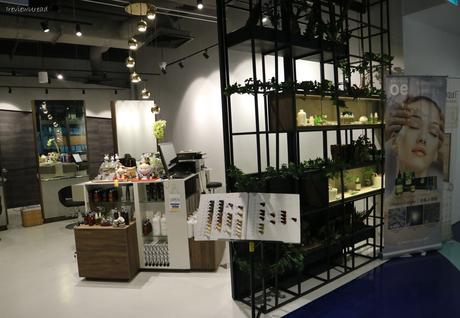 I like how open the interior of the salon is. There's no wall separating the interior and exterior. This help make the salon look bigger and airy. A great way to open up the area allowing the salon to look honorable. Besides that, I like how the separator were designed with multiple straight lines. Plus, they had this vines crawling up the gates. It made the place look so modern.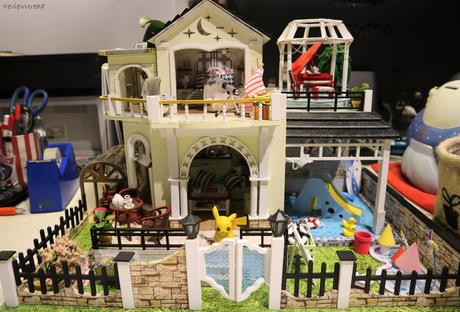 The aesthetically pleasing counter
Moving on to the counter, you can see this handmade mansion by one of the directors there. It was fantastic. Pikachu is so happy with it! In my experience of making miniature houses, I understood how much patience was needed to build one. Especially one this size. Thus, I was very impress not only with the intricate details around the house but with the patience of the person. With such patience and attention to details, it is guaranteed that the director that did this will give your hair a stunning makeover.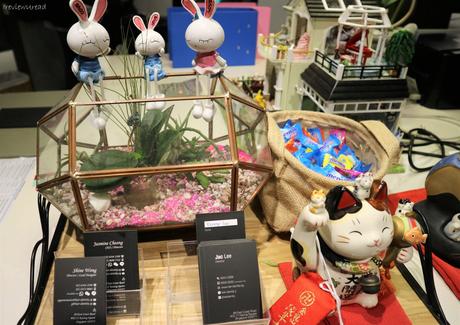 Next to that is a terrarium and a fortune cat. I swear, this salon have the coolest decorations.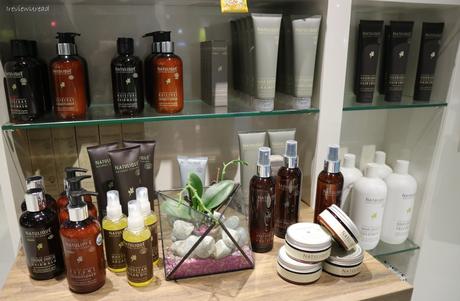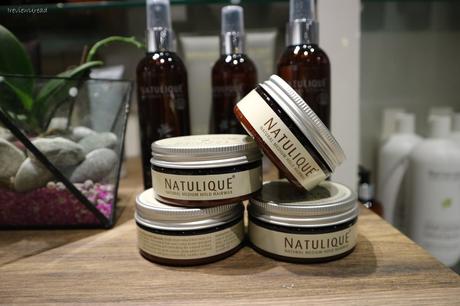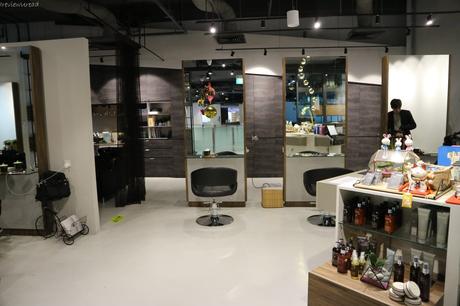 Right next to the counter are various Natulique products, ready for customers to swoop them home. I like how there is another terrarium in the middle of the products. After all, plants help make the area look livelier an brighter.
The Stations / Seats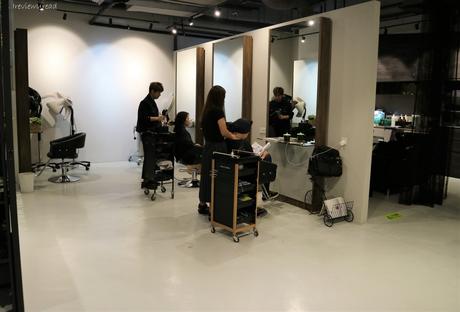 Moving away from the counter, you can see the first 3 stations* in the salon. I like how every station are separated from each other. This gives customers their own private space in the salon. Additionally, it contributed to the open concept salon. In the mirror, you could see the cool spiral lights above the counter - beautiful.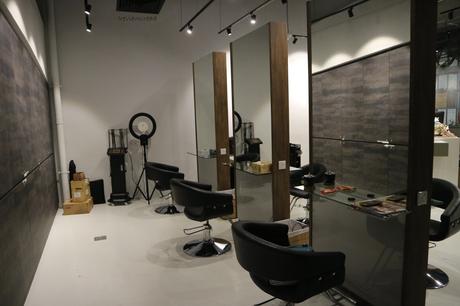 On the other side, you can see 4 other stations. Although there's a wall behind each mirror, I like how the mirrors were still individual mirrors. Allowing the customers on this side of the salon to have their own private spaces as well.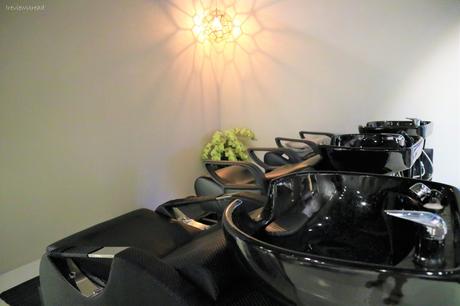 At the back there are another 3 stations. That makes a total of 10 stations available in the salon. Seen more clearly in this photo, you can see each seat have a small glass table for your stuff. I like how that table is glass for glass makes any table look stylish.
The Washing Area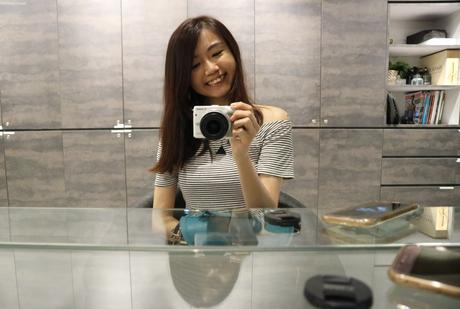 Located behind the wall, there are 3 washing areas available in the salon. Following the theme of the salon, the washing area was decorated with a beautiful light that reflects hexagons off the walls. It's the little things like these that makes everything better.
Choosing of the hair color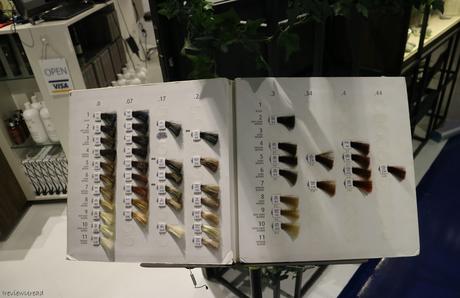 As I take in the modern look of the salon, I returned to my seat at the back - I was moved to the front of the salon later for better lighting. Presenting my look before the transformation.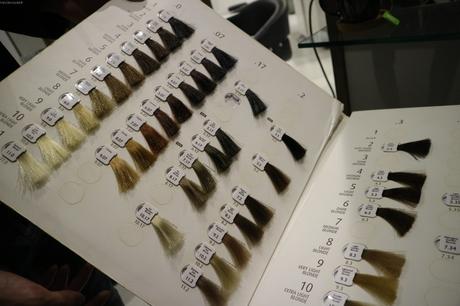 Seen in at the front of the salon, there's a color chart. These professional organic salon hair colors contained certified organic ingredients. That means, no damage to your hair even though you may be dyeing or bleaching it. That is the power of using the right products. Even something as harmful as bleaching your hair could be done without any damage.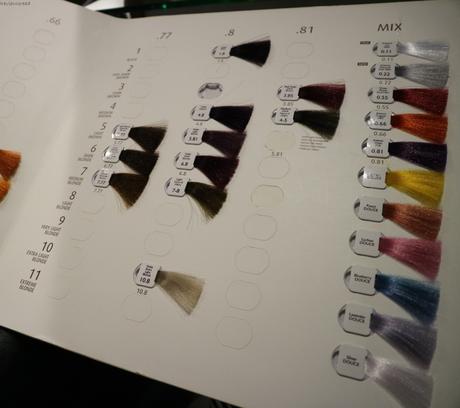 These are all the variation of blondes and browns that you can do.
*Undertone could be only seen after bleaching. For light pastel colours, it is better if the undertone is yellow or clean undertone. Many people ended up with red undertone so now we have to pray.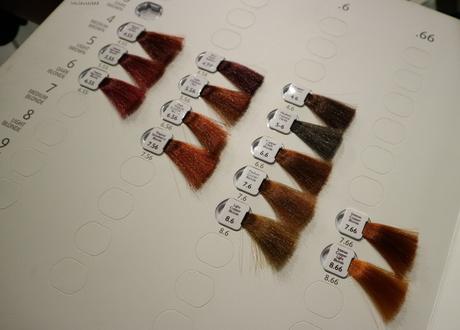 From this section, I would be dyeing the Lychee tone for the bottom halve of my hair. Depending on how yellow or red my undertone* turned out to be, the end colour will vary.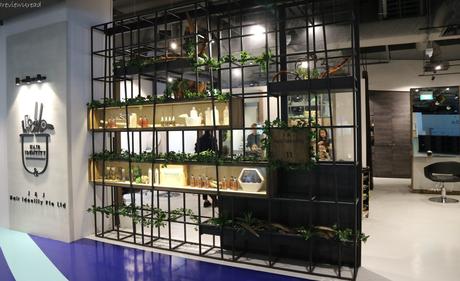 From this section I would be dyeing Red violet auburn to the top part of my hair. As advised, it would be very very dark - almost black looking - but I still went ahead with it.
Natulique Products
100% Ammonia-Free

100% Lauryl Sulfate Free

100% Parabens Free

98.02% Derived from natural sources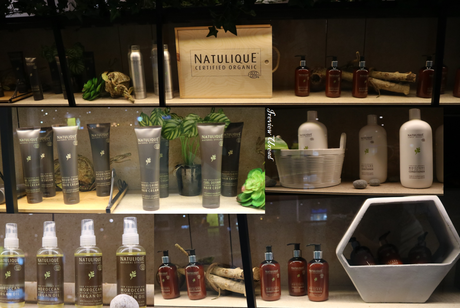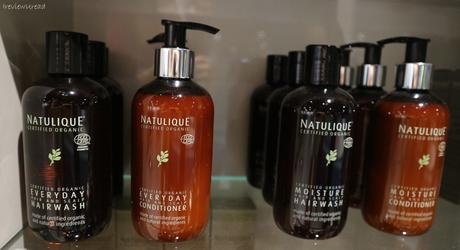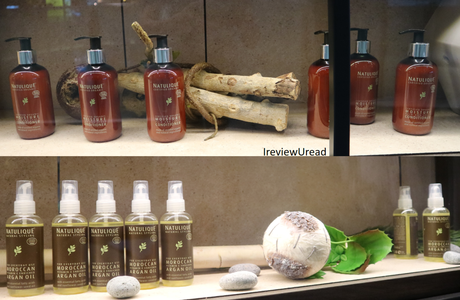 The products that will be used to bleach and dye my hair are from Natulique. Natulique produces organic hair dye and organic hair care to ensure the longevity and health of one's hair. Natulique's products contains certified organic ingredients in them. This ensure that your hair won't be damaged or dried out. Plus, they won't irritate or dry out your scalp too. Finally you don't have to worry about your scalp being exposed to harmful chemicals for Natulique products are:
Displayed attractively at the front of the shop, Natulique products are decorated with many natural elements. This harmonize with the products organic ingredients, illustrating them for all to see.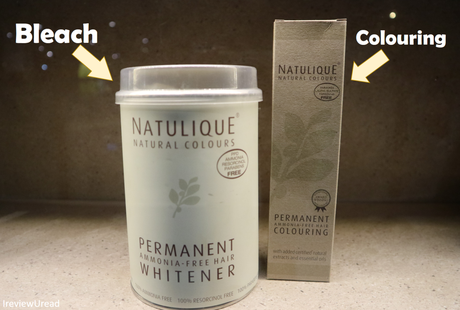 Natulique Shampoo and Conditioner
Certified vegan friendly, Natulique shampoo and conditioner are cruelty-free. That means, their products are not tested on animals and there's no animal ingredients in their products too. They believed that no one and no animal should suffer for beauty.
Their hairwash and conditioner are all specially developed to restore moisture and nourishment to the hair. They each have their individual characteristics that is suitable for the different hair needs. Another perk of using organic shampoo is the amount of nutrients, vitamins and oils in the shampoos. These amount of goodness provides an abundance of nourishment, turning your hair healthy and beautiful.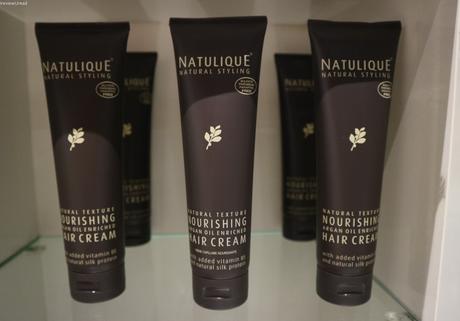 Natulique Permanent Bleach and Colouring
Unlike other bleach and dyes, Natulique permanent whitener and colouring are ammonia, lauryl sulfate and parabens free. This provides a more gentle hair colour and extra conditioning to the customer's hair. It's natural formula includes: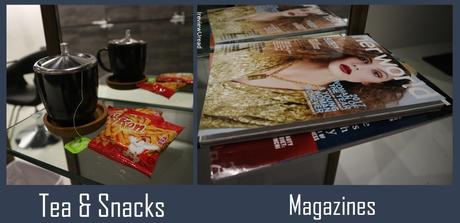 The exclusive natural based permanent colouring is even available in a 75ml recyclable aluminum.
Natulique After Care
After whitening and colouring your hair, it's time to work on the after care. Natulique natural texture nourishing argan oil enriched hair cream is recommended for bleached hairs. It helps with detangling and taming frizzy hair. With the combination of Argan Oil and Natural Silk Protein, the cream protects and strengthen thin or damaged hair. Besides that, Vitamin B5 (Pathenol) gives the hair a healthy look and creates a firm hold for the hair.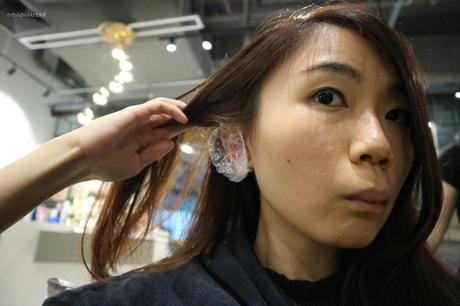 J & J Hair Identity Salon Ambience & Services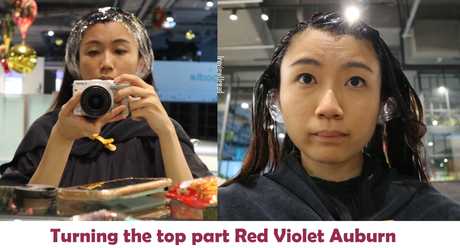 When I arrived, the salon was swamped with customers. Despite being busy, they still took the time out to serve me some refreshments and entertainment. As I sat in my station, I could hear the friendly exchange between the customers and the stylists. If I had not known, I would have thought it was an exchange between 2 friends. The palpable conversations made the salon felt warm and comfortable. The best kind of feeling if you're going to be in the salon for hours.
As the rush hour dies down, the director, Jac, came over and sincerely apologize for the delay. I was impressed by such service. Thereafter, we had a consultation on the hair color I was aiming for. He explained to me how different undertones affects the colour of choice. Therefore people often change their desired colour after bleaching. With that, we agreed to aim for pink until my hair's undertone show otherwise.
Thereafter, his assistant came over and hook these ear covers. I find them so cute for they look like mini shower caps.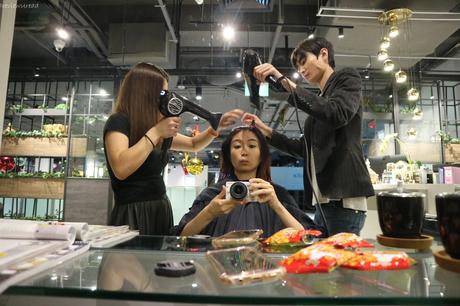 The Assistant to the left and Jac to the right
Colouring the top Red Violet Auburn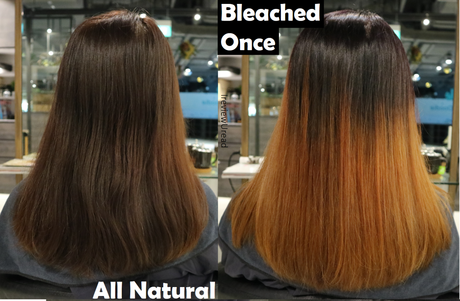 Next, the assistant used Natulique's permanent ammonia-free hair colouring to colour the top part of my hair Red Violet Auburn. Thereafter, it was covered with a cling wrap. Unlike other hair dyes, the Natulique's hair dye did not have a pungent odor. In fact it have a sweet fruity scent. I would said it smell like berries being crushed up and put on my hair. It was an appealing scent for me.
After the dye finish setting in, it's time to rinse off the dye. I like how the assistant paid close attention to the customer's welfare. She ensured that the water temperature and the amount of pressure she was applying to my head massage was to my preferences. Additionally, she made sure that I was hydrated and not dying of hunger. That is also the reason why you see multiple packets of ever changing snacks on my table.
Before we move on to the next step, blow drying of the hair is needed. This is because hair colour and hair whitener sticks on to dry hair better than wet ones. There's only one word to describe the experience of two person drying your hair for you at the same time - Luxury. If I was a millionaire, I would hire multiple people to blow dry my hair every time I wash it. Wait, I won't even wash my own hair for someone else can do it for me. Oh, the life of a millionaire.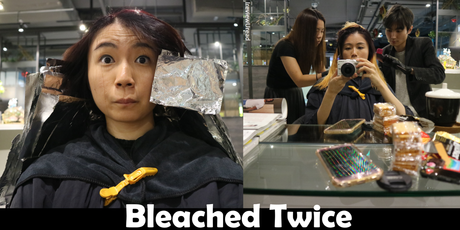 Bleaching the first time
As I enjoy my millionaire life fantasy, it's time for the director, Jac, to present his handiwork. Using Natulique's permanent ammonia-free hair whitener, the bottom part of my hair is bleached the first time. Unlike the dye, the organic bleach smells like ordinary bleach. Plus, it was oddly adding weight to my hair during the process. I am not sure if that's because of additional aluminium or other objects for I'm afraid that if I turn my head everything will be destroyed. With that said, I held my head up high and continue to read my stack of magazines while the bleach settled. After awhile, it's time to rinse the bleach.
Going from dark brown, the bleach did quite a good work stripping down the colors. It looked between the range of orange to light brown. I like how there is a gradient look to the bleached parts. This made my hair and the colouring look more natural as opposed to dip dyeing. Futhermore, my hair did not feel damaged at all. In fact, Jac and his assistant was able to comb through it without any trouble.
Bleaching the second time
After a quick toilet break, I am back for round 2 of my bleaching. This time, aluminium foils was placed to ensure that the bleach penetrates deeper. Subsequently, it's time to wait for the bleach to be activated. A little advice for those who hope to achieve ashy colors or pastel hair colors - bring something to do. As Jac said, it's not the colouring process that is difficult. It's waiting time for the bleach and the colour to set that is long. Despite the advances in technology, there is still no way to reduce the waiting time of hair colouring and whitening. Thus, the only thing we can do now is wait.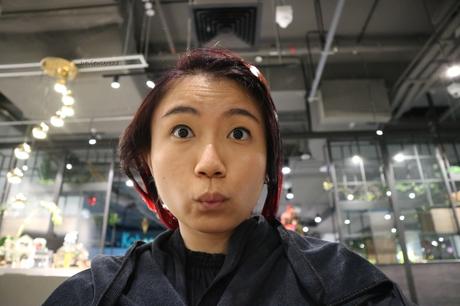 While waiting, I did notice how nice and quiet the salon is - a great place to concentrate on some work. It was also packed with various zen decorations. Throughout the session, Jac did try to entertain me by making small talks. He was friendly, authentic and considerate. Asking me if I needed to charge my phone or if I needed more water. I am glad that I was assigned to Jac and his assistant for they were both very professional and caring.
Finally, it's time to wash off the bleach. After washing off the bleach, Jac's assistant mask the area that was bleached. She head off to refill my tea and even made me a milo for it's almost dinner time. After a few minutes, she came back and wash it off.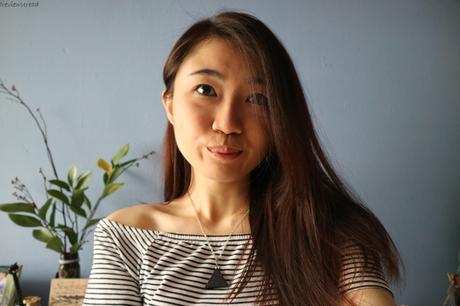 This time as Jac and his assistant blow dry and comb through the bleached part, it felt different. In fact, it felt like they were wrestling through an uphill battle to get that area detangled and alive again. At that point of time, I was glad I did not choose to bleach my whole hair twice.
Coloring the bottom Lychee / Pink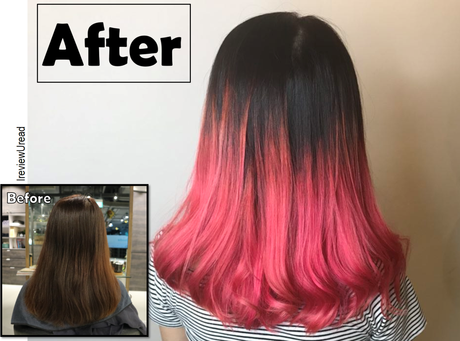 Lastly, it's time to colour the bleached areas Lychee. After the experience of detangling my hair, I was afraid that my hair would never be smooth again. As I await for the pink dye to set, I did enjoy the wonderful fruity berry scent from the dye. A few minutes later, it's time to wash off and have my hair dried by them one last time. There goes my sneak peek to the millionaire lifestyle. On the other hand, after almost 6 hours of lounging, I can finally unveil the final look.
The Transformation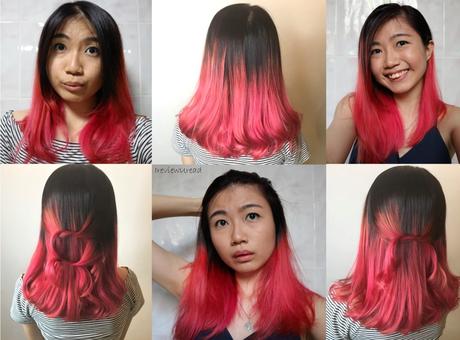 Presenting my before photo. Before I head to the salon, I have dark brown and slightly red hair. It was messy but felt rather smooth.
Now the transformation! I like how the colors have a huge contrast against each other. It's like ying and yang. Besides that, you can see parts of the yellow bleach so that when the pink eventually fade, my hair will look more natural. As compared to the lychee color from the color chart, the pink I had looked more vibrant. This is due to the mixture of the yellow bleach undertone and the pink colour. This mixture turned out better than expected for I was rather fond of this colour.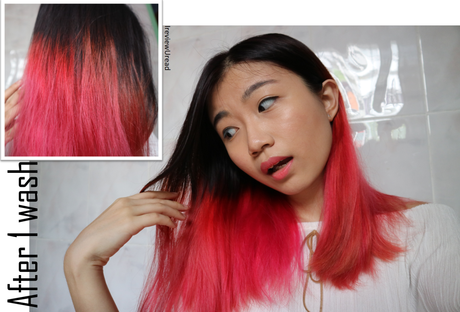 Initially, I was afraid that the bottom part of my hair will feel very dry and become tangled up. However, as seen from the photo, it looks rather healthy. As a matter of fact, there is even a shine to it. Additionally, it did not feel dry at all. It was so moisturising and smooth.
If you look closely, you would have spotted that even at the bottom of my fringe have pink dyes to it. I like how Jac even paid attention to such details. His handiwork is brilliant. Plus, the styling looks amazing.
Although it's not as obvious as in the photos, there is a slight red-violet hinge at the top part of my hair. It's the kind of colour that could only be seen under the sun or bright lights. I like it better that way for it gives one the mysterious vibe. Plus, you can have various different tones of hair be it you're under the sun or under dim lights.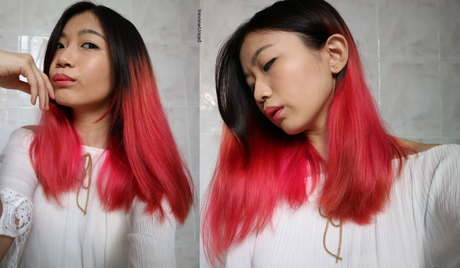 After 1 wash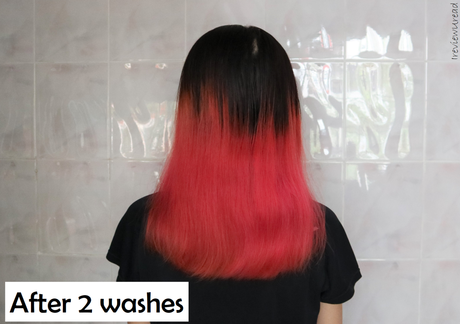 Since hair dyes fade more quickly the more you wash it, it is recommended that you wash it less often. Some wash their hair once a week but with Singapore's humidity and my oily scalp, lasting an week is not an option for me. Therefore, I have switched my hair care routine to washing it every 2 - 4 days. Depending on how greasy my hair have become.
Thus, instead of showing you what my hair look like daily, I will show you what it look like after a few washes. It's better right? Ok back to analyzing my hair.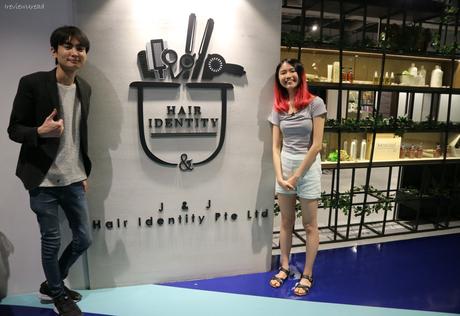 As seen my hair looked almost the same after one wash. Maybe you can see a little fading at the sides where the bleach tries to pop out. On the whole, it still looks rather vibrant. The texture even felt soft and moisturizing. It was so easy to comb through.
After 2 washes
Fading is evident after the second wash. You can see the slight yellowish bleach tint in the midst of the pink. Despite that, I find the colour still rather natural. On top of that, my hair still felt soft and easy to comb through. I did notice that the top part of my hair have faded to be more reddish than violet. This is good for it will blend in with the bottom half.
Let's sum it up
All in all, I love the aesthetics and ambience of J & J Hair Identity salon. The place looks modern, open and inviting. It was also a great place where you will be treated like a queen/king. The directors, stylists and assistants were also very friendly and considerate throughout the service. Additionally, I like how the salon solely uses Natulique organic hair care products. These products not only have certified organic ingredients but are vegan as well. Therefore, I would recommend J & J Hair Identity salon the to go place for organic hair care.
Thank you Jac Lee and his assistant for my beautiful ombre pink hair!
J & J Hair Identity Salon
88 East Coast Road
#02-11 Katong Square
Singapore 423371
Tel: +65 6344 2388
Check them out : Website | Facebook | Instagram
Read more blogger reviews of J&J Hair Identity on Samplestore
Natulique
Check out Natulique website for more organic hair products and hair colour