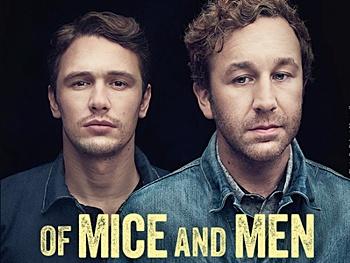 Tickets are now on sale for the upcoming Broadway revival of John Steinbeck's Of Mice and Men. Starring James Franco, Chris O'Dowd, Tony winner Jim Norton, Gossip Girl's Leighton Meester and True Blood's Jim Parrack, the show is scheduled to begin performances March 19 at the Longacre Theatre. The production will play a limited engagement through July 27, with an official opening night set for April 16.
Jim Parrack plays the part of "Slim" in this adaption from Steinbeck's novella, which tells the story of two migrant workers: George (Franco), a sharp but uneducated, short-tempered man, and Lennie (O'Dowd), a large but simple-minded man. Together they hope to one day acquire their own piece of land. But when Lennie stirs up trouble on the job, George must choose between protecting his friend or continuing to strive for the American dream.
Of Mice and Men first premiered at Broadway's Music Box Theatre in 1937, starring Wallace Ford and Broderick Crawford. The show was revived in 1974 at the Brooks Atkinson Theatre, starring James Earl Jones and Kevin Conway.
source: broadway.com