I seems like it's getting more and more popular to get some collar in your life, I mean, to put some collar in your outfit, I mean, put on a collar. The Peter Pan collar has gotten more popular recently as seen by
Louis Vuitton
for example. Even though I like that kind of collar it does make you look very cute, and as I do prefer to look more fierce than cute, I found some different style collars I really like. They come in all sorts of different materials and shapes. It could be a part of your outfit attached so it looks like it belongs to what you are wearing or you could wear it as a jewelry.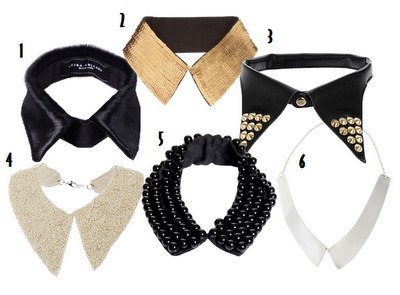 1. Black Pony Hair Collar by AKIRA $38.90
2. Gold Sequin Collar by ASOS £15
3. Spike End Collar Necklace by Topshop £20
4. Bead and Perl Collar Necklace by Topshop £16.50
5. Carrianne Pearl Beaded Collar by Boohoo £10
6. Metal Collar Necklace by ASOS £12 
My absolute favorite is nr. 6 because it is so versatile. I could wear that with anything without having to think about matching it with a high enough neckline to go with the tight fitted collars. I guess it is more of a jewelry in that sense, but it still works well with the collar trend as it looks like a collar!