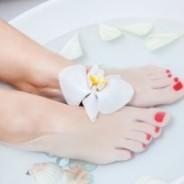 With cracked feet how we're going to do our entire working day work effortlessly so for this we'd like home spa treatment for dry cracked feet.
Dry, cracked feet are unsightly and may become extremely painful if the skin splits. If the heels and toes end up cracking and splitting, you may open yourself up to infection. Smooth, healthy feet look and feel good. Cracked, dry skin on your feet, especially along your heels, is unattractive and can also be painful or itchy.
If you have problems with cracked heels, you might wish to wear shoes that have backs on them. Sandals and shoes are cracked heels worse. After your spa treatment at home, placed on cotton socks to help lock in moisture. You'll wake in the morning with soft soles.
Exfoliate
One of the most important steps in the treatment of dry, cracked feet is exfoliation. When there is a build up of dead skin cells on your feet it won't matter how much lotion you slather on them, because the dead skin cells will act as a barrier to the lotion and the moisturizer won't ever even penetrate the live skin. There are several different methods of exfoliation; you can use a pumice stone, readily available in drug stores, or you can use an exfoliator.
Dry
Make sure you dry your feet completely. Damp feet can bring on cracking. Heel cracking can be caused if you step in a puddle and leave your feet inside a damp environment for an extended period of time. Pay special attention to drying in between your toes where the skin can become painfully cracked and dry.
Soak
Try doing an at-home foot soak. It feels great on tired feet, especially for those who have been standing all day. You can buy packets of oatmeal foot soak, that is great for dry and cracked feet. If you are interested in a natural method, try an at-home foot mask made from mashed oatmeal, bananas or avocados, all of which have soothing and moisturizing properties.
Moisturize
After soaking, exfoliating and drying your feet, you should have delivered to the surface the healthy new skin underneath. Remember, no moister can get through a thick layer of dead skin. Be sure to use a good-quality moisturizer; one that is peppermint-oil based feels fabulous on tired feet, but olive oil, sunflower oil or shea butter will also be recommended. Choose something thick and creamy; watch out for moisturizers that are mostly water and perfume.
The Oil Spa
This home spa treatment isn't just for your dry cracked feet but this could be used to any dry place included in your human body. Just take some petroleum jelly or jojoba oil which might offers your dry cracked feet rest and heals it as soon as possible. Therapeutic massage your feet every day using this Spa and you will see betterment in your feet.
The Salt Spa
For your dry cracked feet this treatment will provides your dry cracked feet the perception of healing and treatment. Set hot drinking water inside a tub and include just one desk spoon salt, two lemons, 1 table spoon moisturizer lotion and some cleaning soap in it.