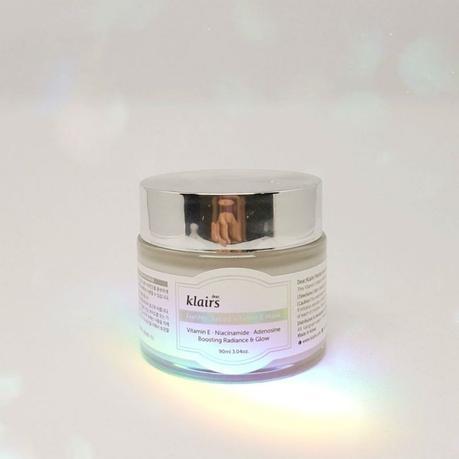 I love face mask, especially those that I could leave on at night and wash off the next morning because I'm often lazy and couldn't wait for 10-20 minutes for a sheet mask. So when Wishtrend emailed me if I would like to write a Klairs Freshly Juiced Vitamin E Mask review, I replied yes right away especially when it contains Niacinamide!
What is it?
Klairs Freshly Juiced Vitamin E Mask is a multifunctional product that can be used as a mask, sleeping pack or daily moisturizer, fortified with the antioxidant power of vitamin E. It works in synergy with vitamin C, that enhances the whitening and antioxidant properties of vitamin C products applied beforehand. It helps to brighten skin, improve wrinkles, and prevent aging.
Main Ingredients
1) Vitamin E - Prevents foreign substances from invading, which can promote aging. It also possesses skin softening properties, soothes inflammation, and even shields skin against sun damage.
2) Niacinamide - This ingredient is great for those with oily, acne-prone skin as it works to suppress sebum secretion for a more balanced complexion, while also stabilizing vitamin C, making the vitamin E mask a superstar when used with vitamin C products.
3) Adenosine - Found in every single one of our cells, to strengthen our skin by promoting collagen synthesis. On a similar theme, it also possesses powerful anti-inflammatory properties, making it effective in wound healing and regeneration, and effectively improves acne caused by oily skin.
Performance
APPLICATION: After the first 3 steps of my skincare routine which are cleansing, toning, and essence/serum, I scoop an adequate amount of the Freshly Juiced Vitamin E Mask and apply it all over my face. It feels sticky, and the product really sticks into the skin! Look how I shake my hand and it still doesn't fell off.
You'll also notice how it forms on your face like a molded mask, especially if you applied it thickly. It's like you're making your own customized mask with this product! And depends on your skin type, the mask will be absorbed eventually into your skin, and it will feel less sticky.
SCENT: The Klairs Freshly Juiced Vitamin E Mask smells like grapefruit. It's soothing like an essential oil.
TEXTURE: I normally talk about the product's texture in the application or result sections of my reviews, but this product's texture should be highly noted. It's not gel but it's not cream either, it's like pudding! But Klairs call it " Shape Memory Cream" and look how satisfying to scoop it. Basically, shape memory means it remembers the original shape, so the product comes back to the same shape as it was. Therefore, this texture helps the product tightly adhere onto the skin, giving an even and flat surface application.
PACKAGING: The packaging resembles the Freshly Juiced Vitamin Drop, which is a minimalist white and chrome silver with holographic labels. It looks elegant but the jar is made of sturdy plastic instead of glass which I like because it's not that heavy. And of course, this also comes with a scoop.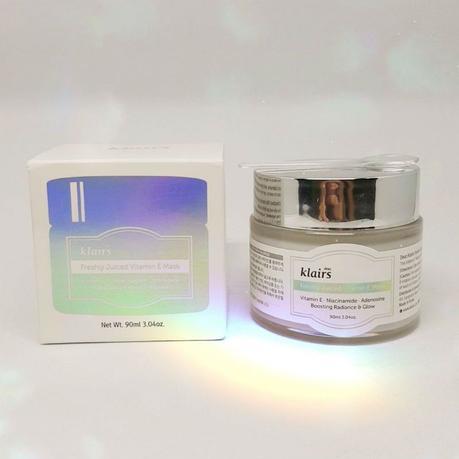 RESULT: In one of the GIFs above, it only took ten minutes for the mask to absorb into my skin however, my face has an oily skin and it actually takes me more than ten minutes for my face to absorb it. I'm not really sure how long it takes because I already fall asleep before I could notice it. But I would gladly say I like waking up to a plump, healthy, dewy-looking face in the morning.
This product promises to brighten, improve wrinkles and prevent aging skin, but I can only guarantee you the brightening effect because I'm still in my early 20's and I don't have any wrinkles yet.
I've only been using Klairs Freshly Juiced Vitamin E Mask for a week, and I could already see a few improvements like the acne on my right cheek vanished without a dark spot! Whenever my acne heals, it always leaves a dark spot but upon using this product, it didn't! And if you observe the photo really well, I think my old dark spots from previous acne had started to brighten a little.
Lastly, if you're going to use acne spot treatment or serum with this product, I highly suggest to use it first and let your skin absorb it before applying Freshly Juiced Vitamin E mask because this kinda creates a barrier on your skin so I feel like the product you will apply after it will not be properly absorbed by your skin.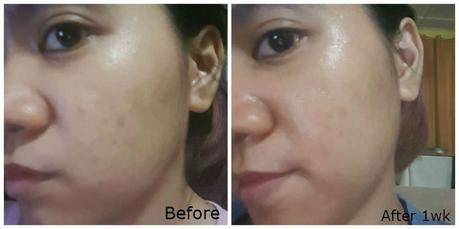 Verdict
PROS: It's a multi-purpose product. You can use it as a mask, sleep pack (which I do) or a daily moisturizer. It brightens your skin as fast as one week. It also promises to improve your wrinkles and prevent aging, but I can't prove that yet. However, it's also lightweight and helps heal your acne. And it works really great with Vitamin C. Lastly, it gives you a healthy and dewy-looking skin.
CONS: It takes a while to be absorbed into your skin especially if you have an oily skin like mine. And it's REALLY sticky. Although the latter might not be a problem for those with normal and dry skin.
Will I Buy It? This is something I could really use for the colder season in my country where my combination skin is more dry than oily, so yes, I could see myself buying this. But for summer, I'll stick to my gel sleeping mask.
Where to buy?
You can buy Klairs Freshly Juiced Vitamin E Mask in Wishtrend on September 22, 2017. I don't know the exact price yet, but I know upon launching it will be available with a 20% discount! Wishtrend ships worldwide with orders over $69.
Since this product is best paired with Vitamin, you can also get the Klairs Power Duo: Vitamin E Mask + Vitamin Drop with 30% discount on September 22 as well. And you can also get the Klairs Freshly Juiced Brightening Package with 34% discount which contains: Gentle Black Sugar Facial Polish, Rich Moist Foaming Cleanser, Supple Preparation Facial Toner, Freshly Juiced Vitamin Drop, Freshly Juiced and the latest Vitamin E Mask. ( NOTE: I'll update this post when I get the prices.)
What do you think of the Klairs Freshly Juiced Vitamin E Mask review? Will you try this product?
**I received one or more of the products or services mentioned above for free in the hope that I would mention it on my blog. Regardless, I only recommend products or services I use personally and believe will be good for my readers.